Hip-hop star T.I. is best known for vividly rapping about his days as a youth hustling on the streets of Atlanta and in his words "having a good time," but a series of controversial killings of unarmed African-Americans -- some of which were captured on video -- has compelled him to step outside of his comfort zone.
In a provocative new music video for his politically-charged song "Warzone," T.I. recreates the deaths of Tamir Rice (a 12-year-old killed by police while playing with a toy gun in Cleveland), Eric Garner (who died after being placed in an apparent chokehold by NYC policemen) and Philando Castile (shot and killed by a St. Paul, Minnesota police officer during a traffic stop) with white victims taking their place.
The visceral and violent clip has already debuted on TIDAL and will appear on YouTube, Vevo and eight other sites on Friday. The goal, T.I. says, is to simply start a serious conversation that has far too often devolved into a shouting match.
"The first thing that [the video's director Laureal Richardson and I] wanted to do was make sure that it was powerful enough to create the type of dialogue necessary to inspire some form of change," the 35-year-old rapper told NBC News. "We just kind of tossed it around and we came up with re-enacting the events and then he came up with the idea of the role reversals."
Related: Hip-hop generation poised to pick the next president
"We wanted to give 'the other side' -- and when I say the 'other side' I don't mean police, I don't mean white people, I mean people who think we're just overreacting, the 'All Lives Matter' people –- we wanted to give them the least amount of ammunition to oppose our message," he added. "And the way to do that, we thought, was to go with the most atrocious of all of the travesties. And don't get me wrong, there are still more that are equally atrocious, but for the purposes of our video ... those were the ones that seemed most effective."
Besides the intense visual spectacle of seeing white people gunned down or choked to death by non-white officers of the law, the video ends with a call to action. "The new racism, is to deny that racism exists," reads a stark title card at the end.
According to T.I., it's the insidious nature of modern prejudice which makes the topic so toxic.
"White supremacy [used to be] in the forefront of America's sights and thoughts. You knew where you stood, what position you held in this country, good bad or indifferent. Now, it is covertly done," he said. "It is covertly done through the judicial system, the financial system, the educational system and some may even say through medicine. So it being so covert -- those who either don't know or want to pretend they don't know can act as if it doesn't exist when it really does. And the only people who ever really see it, feel it, or acknowledge it, are the ones who are affected by it. And that to me is what makes it much more difficult to combat because you can't fight what you can't see."
With "Warzone," and his upcoming new EP "Us or Else," T.I. is using his celebrity platform, charisma and flair for the dramatic, to make the realities of racially-motivated violence unavoidable.
Related: T.I. on KLG, Hoda's rapping skills: You're better together - TODAY.com
In the past year, T.I. has increasingly made his voice heard on sociopolitical issues. He delivered a powerful spoken word performance about violence inflicted on black bodies last October at National Action Network's Triumph Awards, and waded, awkwardly, into the 2016 presidential race, questioning whether a woman would be too emotional to be Commander-in-Chief -- a statement he later retracted.
T.I. is the first to admit that he is "late to the party" when it comes to what he calls "revolutionary art."
"You know Common and Outkast and Public Enemy and KRS One and Lupe [Fiasco] and Kendrick [Lamar] -- those are the ones. I am just the supporting cast in this particular genre," he said. "I felt like more people who stand in my position should be saying something. It seems like the people who have the broad audiences ... I guess for protection of their own success or legacy or brand, they chose not to say anything, and that it was I felt I didn't want to do."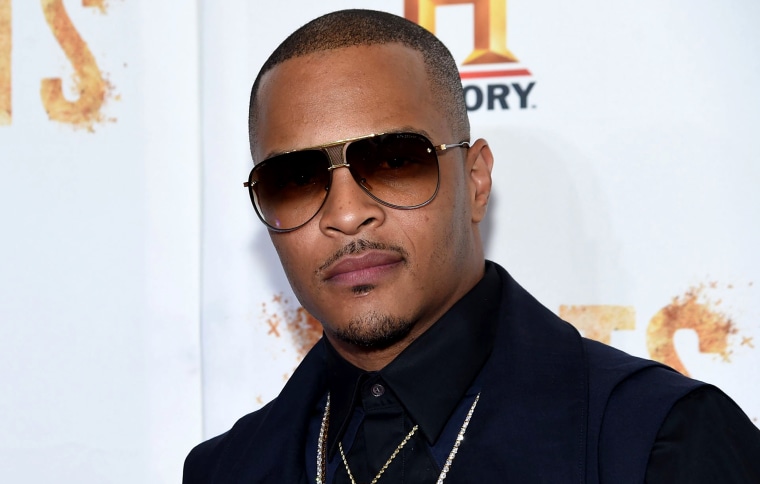 "I didn't want to say 'oh no that might jeopardize my bottom line,'" he added "I felt it, so as an artist we are compelled to do what we feel. We are kind of bound by an unwritten oath that when we feel something we must let it out, and this is the result."
And this is not a one-off for him. Although he plans to return to some of the subject matters that made him famous, he has been privately meeting with past pop figures who transitioned into political activism, like Harry Belafonte (whose upcoming "Many Rivers to Cross" festival he will co-headline), Dick Gregory and Quincy Jones, as well civil rights icons like Andrew Young, to better understand how he can have a prolonged impact on his community.
Related: Black Lives Matter Releases Policy Agenda - NBC News
"I think one of the things that has put our people so far deep into the darkness is the disconnect from our predecessors and so I would like to just feed from the wealth of knowledge that is available," said T.I. "These people have been through things and endured circumstances that gave them life lessons that when they leave this earth you're not going to have these lessons anymore ...so while they're here if you don't take advantage of it you're not just doing yourself a disadvantage, you're doing the generations to follow a disadvantage."
His new message will likely resonate best with a younger generation of music fans, who make up the core of his fanbase. As far as T.I. is concerned, the kind of conversations he inspires are less important than the idea of people talking to one another honestly in the first place.
"The strength is in hiding it, is in pretending it doesn't exist and these things aren't happening and acting like its not a real problem," he said. "Just as it was understood that crack had become an epidemic and there had to be laws and things put in place to make sure that it did not continue to get out of hand -- which it eventually did -- that is where we are now with the abuse of police power and I think something must be done."