Taylor Richardson may just be in the 7th grade but she already knows exactly where she wants to be when she grows up: Mars.
Selected as a Creators Media real-life Powerpuff Girl, a campaign that highlights young girls making big impacts in their communities, she is known as "Astronaut StarBright," a moniker she earned at Space Camp because she's "so bright and is going to the stars." Her power is STEM (Science, Technology, Engineering, and Mathematics). Her mission is to change the world through education, one girl at a time and to become the first African-American on planet Mars.
"I always wanted to be different when I was little, so since no one has been to Mars I always wanted to go," Richardson said.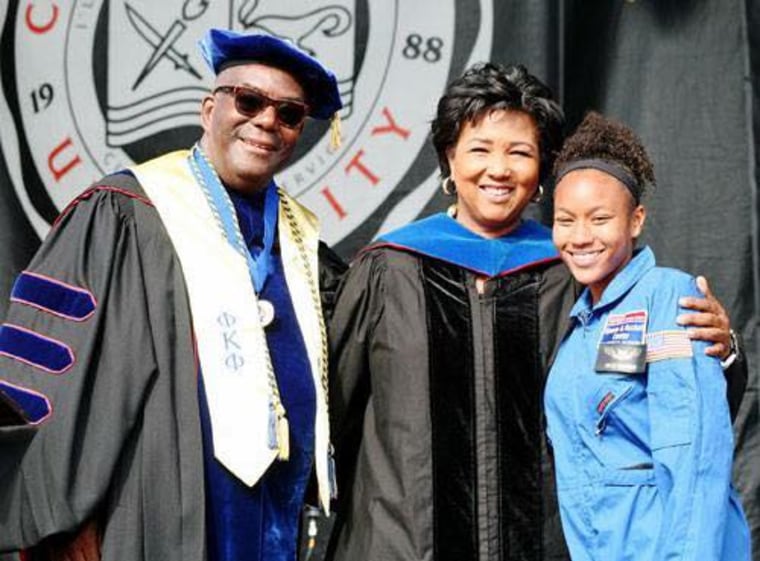 The 13-year-old was inspired to shoot for the stars after reading an autobiography of Dr. Mae Jemison, the first African American woman to go to space. Attending space camps and taking classes in robotics and computer applications, she hopes to follow in her idol's footsteps in a different way. Going to another world with water, ice, and hopefully everything nice Richardson wants to explore and do research on the red planet.
"I want to take lots of pictures, take notes, do research, and bring some rocks back to experiment on them."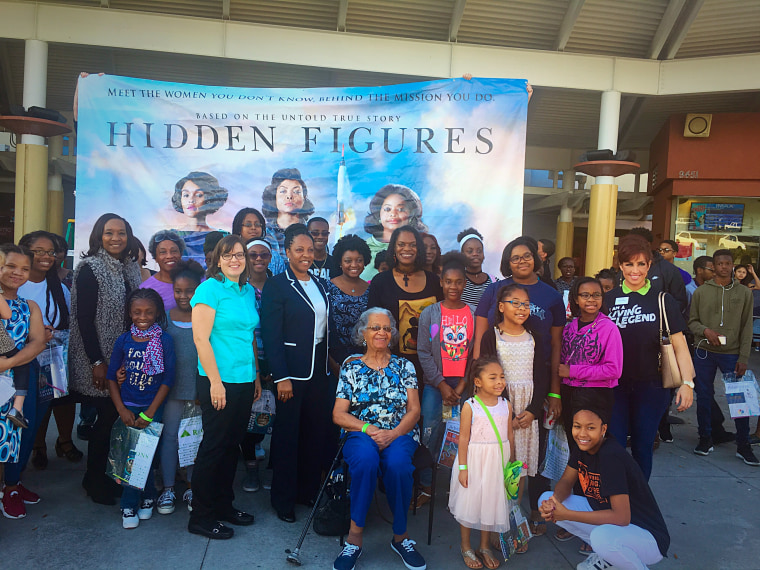 In December 2016, she attended the White House screening of "Hidden Figures." Hearing former first lady Michelle Obama stress the importance of education and being inspired by the movie, she decided to give others a chance to see it. She started a GoFundMe campaign raising close to $20,000 hosting screenings of the movie in Jacksonville, Florida and buying movie tickets allowing over 800 children.
The aspiring astronaut is also donating the funds to organizations such as the Girl Scouts so other children can see the movie for free in states such as Virginia, Maryland, and North Carolina. Not only do children get a free ticket to the movie, they also receive a copy of the book, "Hidden Figures."
Related: Jessica O. Matthews: Techie Inventor Harnesses the Power of Play
"I felt like girls should see this movie so they could know that they can do whatever they put their mind to. As long as they work hard, they can do whatever they want."
She was also so excited when Taraji P. Henson, who plays the role of Katherine Johnson in the movie, gave her a shout out on Instagram calling her an inspiration.
Like many superheroes, Richardson is also human and faces adversity. She was bullied during elementary school to the point she stopped speaking and has been diagnosed with ADHD, which in good-nature she calls "Abundantly Different, Happily Divine." Not letting these setbacks stop her from pursuing her dreams, she is an all-star student. She is learning to speak Chinese and Spanish, participates in triathlons, and worked on an anti-bullying campaign with CEO's of the Jacksonville YMCA.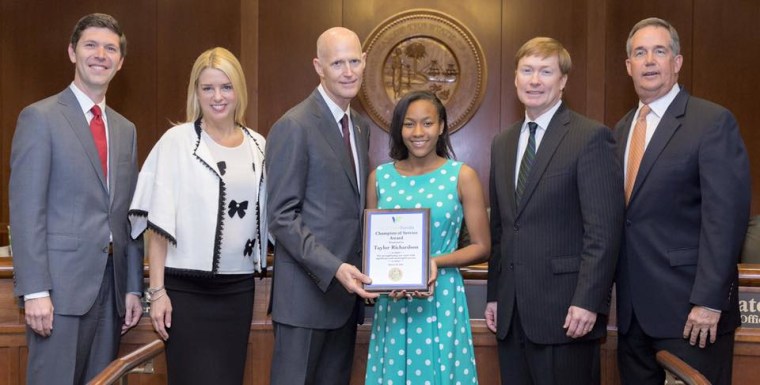 She is also a Mars Generation Student Space Ambassador, a Girl Scout, and a speaker at this year's Generation W women's leadership conference. Last year she was given the Volunteer Florida Champion of Service Award by Governor Rick Scott and was 2016 Martin Luther King Jr. Tomorrow's Leaders Middle School recipient. Her mother Tonja Richardson is proud of her.
"What I'm most proud of is how she handles her failures. She has ADHD, was bullied, was retained, all in middle school," Richardson said. "Now she's like this kid, that's a literacy and STEM advocate. I'm just proud of how she was able to overcome those obstacles and be the young lady that she is today."
Related: Jackie Joyner-Kersee: Track Star Chasing Dreams, Building Community
Before she goes to the red planet, she has goals to accomplish here at home. Having visited four space centers in the U.S. so far, she wants to become the first black woman to visit all NASA Space Centers before she graduates high schools. She is also going to continue her "Taylor Takes Flight With a Book" reading drives, training at Space Camps and aiming for the stars.