ATLANTA - It's a weekday morning in Atlanta. Radio show host Rashad Richey has just signed off from "The Rashad Richey Morning Show."
He and his personal assistant, Nicole English, maintain a steady gait, never missing a beat in their conversation as they rush toward the parking lot situated near the small radio studio specially built for him by the Empowerment Radio Network (the same network that also produces syndicated shows and podcasts for Warren Ballentine, former BET talk show hostess Bev Smith and Speech from the '90s hip-hop group, Arrested Development).
White HTC Android phone in hand and the strap of his leather Kenneth Cole bag slung over his shoulder – his mobile office, if you will – Richey settles into the passenger seat of English's metallic gold Honda CR-V as they embark on the short ride to his next gig.
He fields a barrage of phone calls and texts while she negotiates the route, carefully constructed to most efficiently and effectively navigate Atlanta's nightmarish traffic. All the while they discuss Richey's packed schedule.Invariably, it will include a hodgepodge of conference calls, in-person meetings, public appearances, political strategy sessions and maybe, if he's fortunate, some quality time with his two preteen daughters.
Eight minutes later, like a kid in the school drop-off line, Richey jumps out of the car and makes his way through the double doors leading into the Colony Square building to the secure confines of WAOK 1380 AM. It's time to host "Real Talk With Rashad Richey," part two of his daily double dose of live radio.
"It gets pretty crazy most days, but it's so worth it," says Richey, who recently turned 35. "I've just fallen in love with radio; I believe it can be used as a platform to transform communities and inform the general public."
He rises by 5:45 a.m. on weekdays and is live on the air by 7 a.m. sharp. Just before 10, during the last commercial break of the morning show, he leaves for the second show and doesn't wrap up until 1 p.m. – a total of six hours of live radio Monday through Friday. It's a hectic existence, one that would prove overwhelming for most, but it's merely a typical day in the life of this incurable overachiever who is emerging as an influential voice in black talk radio.
Although the stations he works for shy away from specific numbers, by some accounts his self-described "vast listenership" is estimated to be as high as 500,000 a day, both nationally and abroad, including the radio broadcast, live Internet streaming and the TuneIn and Radio.com smartphone apps.
Arguably, he's the millennials' version of "The Fly Jock," a moniker veteran urban syndicated radio personality Tom Joyner snagged during his early days juggling disc jockey duties as a morning show host in Dallas and an afternoon show in Chicago.
Unlike Joyner in those days, Richey has technology on his side. He doesn't have to "fly the friendly skies" (Joyner reportedly racked up seven million frequent flier miles over the course of eight years) to have his "in-your-face style" commentary and "progressive politics" platform heard across the globe.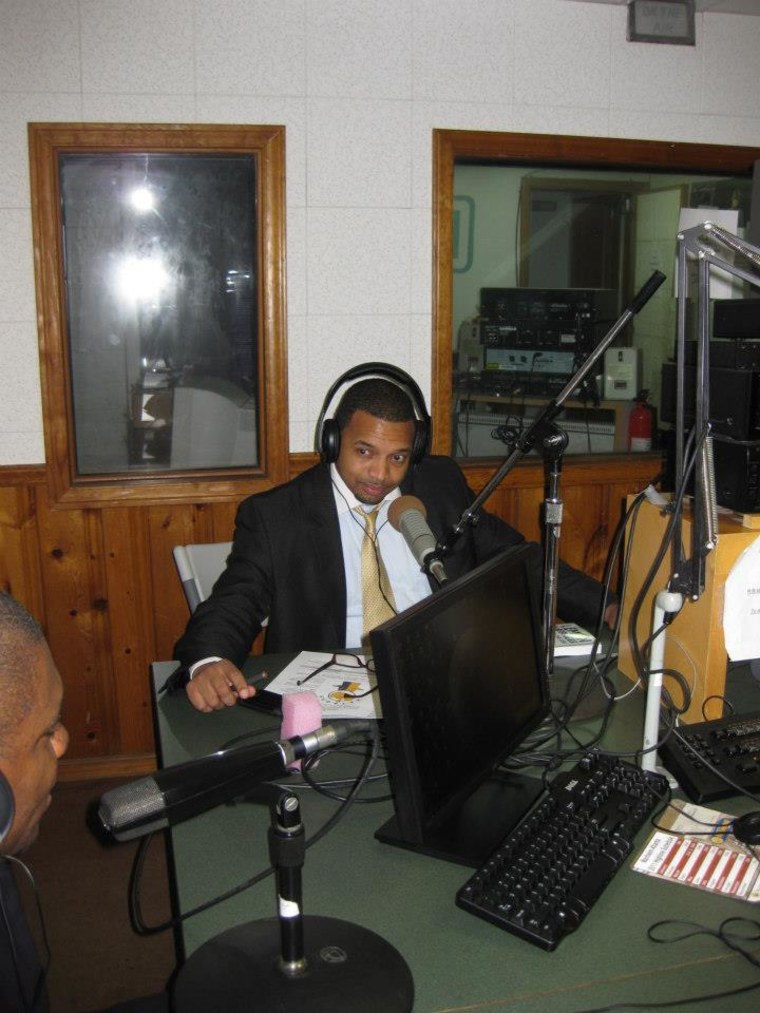 Instead, he flies through the streets of Atlanta between two radio shows in his black Yukon (or English's Honda, depending on the day) carrying out what he believes is his "God-given" mission of serving as an outspoken voice for underrepresented communities and as a hands-on activist focused on the pressing issues of the day – from Ferguson to Flint.
Richey's recent exchange with a caller speaks to his edgy style. In the wake of the recent deadly police-involved shootings in Louisiana and Minnesota, the black male caller asserted that "gun culture" in black music contributes to the combative relationship between blacks and whites, particularly with white police officers:
RICHEY: Don't you think there is gun culture in the music that they listen to? In fact, they are considered the larger consumer group.
CALLER: What I'm saying is...
RICHEY: Well, you said that if we were to just get rid of the gun culture in our music that they would not be so afraid of us. There is gun culture in their music, there is gun culture in the NRA, there is gun culture in their political organizations! Why aren't they being shot?
CALLER: What I'm saying is that I don't go to their clubs and hear people singing, 'raise your guns up!'
RICHEY: They don't have to, they can just look at Fox News for that! Have a good day, sir. Thanks for your call.
Democratic State Rep. Dee Haigler says she genuinely enjoys observing how Richey, whom she considers a friend, interacts with his audience.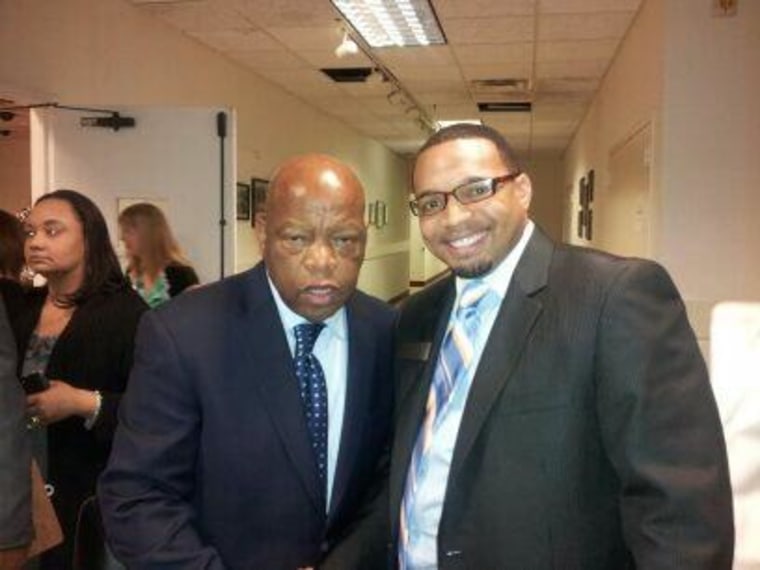 "He has that rawness – he's an authentic voice – for those on the streets, but at the same time he wants to lead a revolution to address disparities in the black community," says Haigler, head of the Georgia Legislative Black Caucus. "That's why he's known as 'The Voice of the People' and 'The Mouth of the South.' He's the voice of the disheartened and disenfranchised; those seeking wisdom and growth need to tune in because Rashad Richey has a message. He's the voice for those who have no voice."
Richey has hosted "Real Talk" since February 2014. Exposure from that show helped him land a yearlong stint as host of "The Rashad Richey Show," an afternoon radio program on the Empowerment Network.
In January, he launched "The Rashad Richey Morning Show," heard on WHLQ 105.5 FM in Chesapeake, Virginia and in a handful of cities like Henderson, North Carolina. He hopes to pick up more radio markets this year.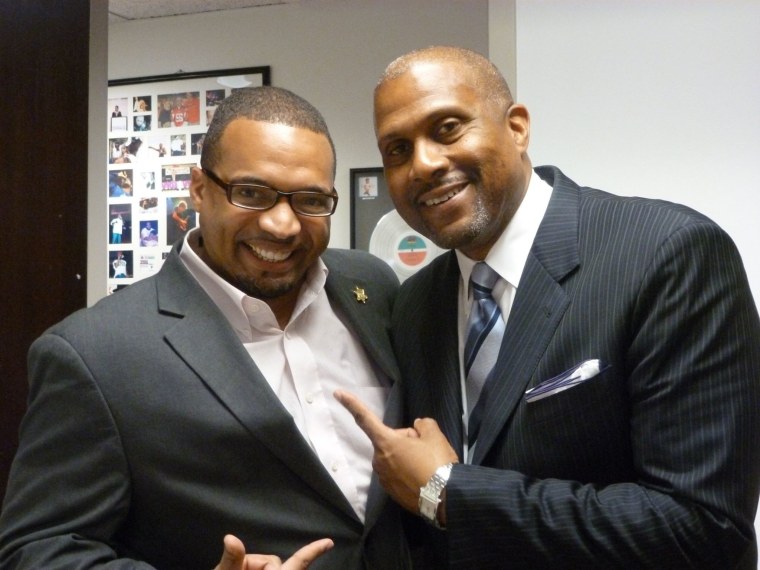 Interestingly, hosting two radio shows isn't exclusively what makes Richey a standout. You couldn't tell by his conservative look – usually eyeglasses, a crisp button-down shirt, a blazer and dark jeans – but before his budding radio career he was a self-described "thug" and "gang banger."
He managed to turn his life around, earning a counseling degree from the Minnesota-based American College of Theology, working as a youth pastor and eventually made his mark in the world of politics.
He likes to say he transformed his "mess into a message" when, after dozens of gang-related arrests, his "God experience" inspired him to begin making better life decisions. At rock bottom he found himself in jail on felony aggravated assault charges for "terrorizing" neighbors whose dog killed a cat that he'd grown attached to. "I pulled a knife on them and basically terrorized them because, in my mind, somebody just killed my friend," recalls Richey.
A cellmate encouraged him to start reading the Bible. "He made me believe through his example that there was a such thing as a living God and that I could have a direct relationship with Him," Richey says. "I accepted God in my life and everything changed from there."
On Christmas Eve 1999, his former foster mother, Albernita Powell, put her home up as collateral to bail him out of jail (he'd been there for 10 months) on the assault charges. He was eventually granted first-offender status, clearing him of all felony charges.
RELATED: 'When Will Something Be Done?' Celebrities Ask Following Latest Police Shootings
He saw it all as a gift from God, threw himself into work at a local church and amassed a large following as a youth pastor. But still he hankered for something more.
For a time he struggled with leaving the ways of the street behind while working behind the scenes as a strategist for local political campaigns, a decision that would almost cost him his career. He worked his way up the ranks of the Democratic Party of Georgia, becoming the political director and later a senior lobbyist – the first African American ever to hold the latter title.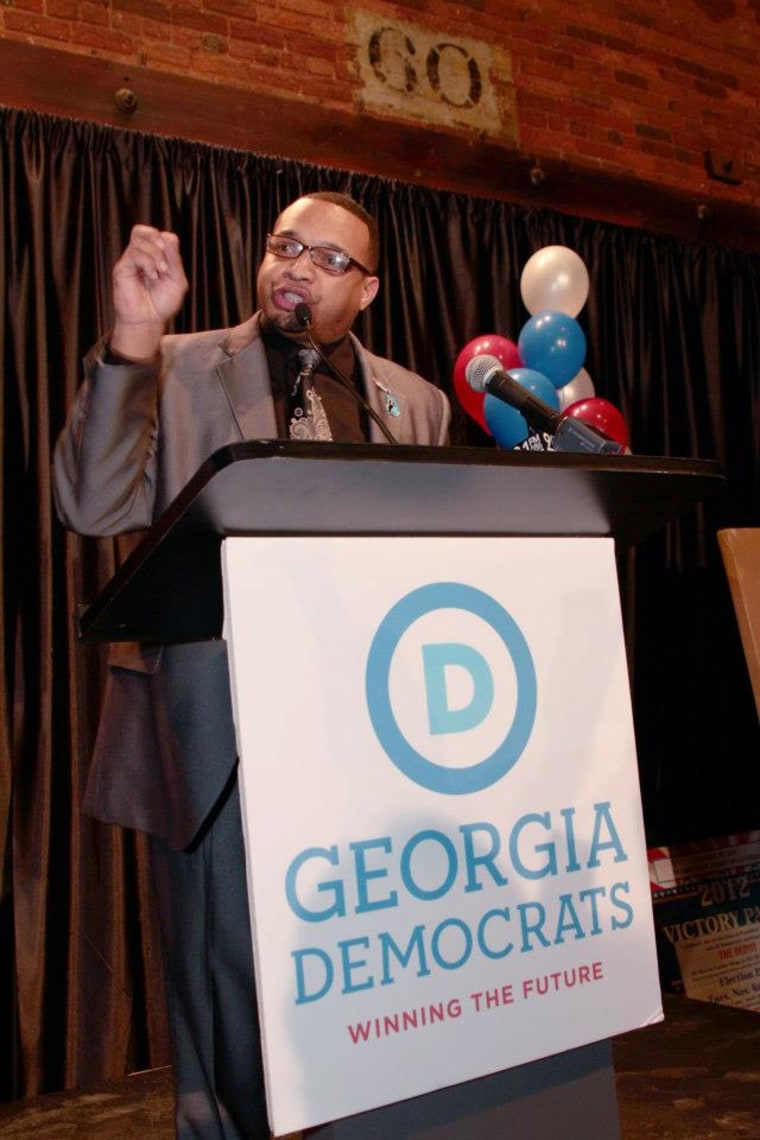 The success was gratifying for Richey who'd grown up mostly an only child in Sylvester and Albany, both mainly rural communities located about three hours from Atlanta. His childhood was abruptly interrupted when his mother put him out at the age of 10.
He moved to metro Atlanta to live with his father (he'll only say that both of his parents had "issues" that they've since addressed). An emotional wreck, he turned to the streets for comfort. "I joined a gang at the age of 13. By 14, I was a hardcore gang banger carrying a pistol," says Richey, who got kicked out of more than a handful of schools mostly for truancy and fighting. He would eventually earn a GED.
RELATED: Baltimore ChangeMakers: From Catching Cases to Building Warriors For Peace
His rap sheet had grown so long, Jahmal Richey says he began to lose hope that his first cousin, who as a child "was always trying to impress us," would ever make something of his life. Jahmal Richey didn't believe Richey actually scored the political career he'd boasted of until a scandal—one big enough to make even Shonda Rhimes blush—erupted in Georgia.
A conservative blogger discovered his criminal record and blasted it to the news media, noting that Richey, then the political director for the state's Democratic Party, "has been arrested 12 times on a variety of charges, including: burglary, driving with a revoked license, battery, family violence, obstructing an officer and violating probation."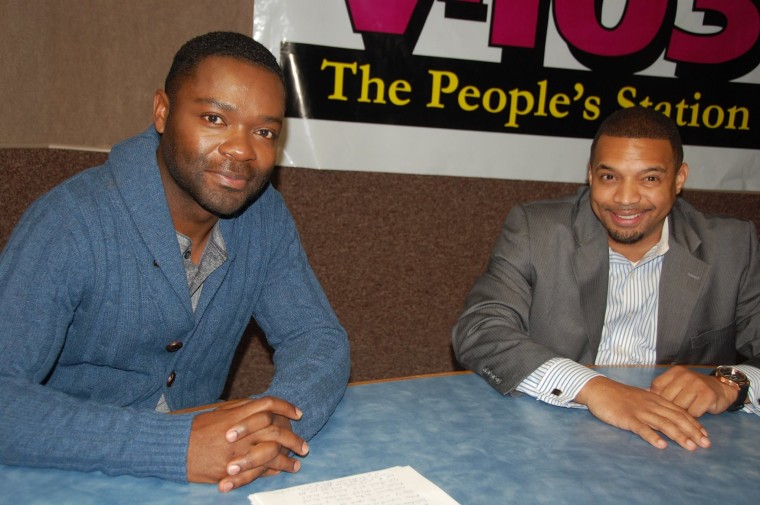 The party responded by coordinating a news conference voicing its support of Richey. That's when Jahmal Richey finally believed his precocious cousin had, once again, reinvented himself. "In some ways I wasn't surprised. This was the same guy who'd dropped out of school for like a year-and-a-half and still aced the SAT," he says.
English, who also serves as co-host of "The Rashad Richey Morning Show", says the same ingenuity, tenacity and passion that helped Richey transform his life, helps him to connect with his diverse audience.
"He is excellent at what he does in the talk show arena, but I think the listeners really appreciate his honesty," notes English. She was a diehard fan before she began working for him earlier this year. "He has been honest about who he is, what he's done and what he's been through and that means a lot. Who he is on the radio doesn't change when he's off the air."
RELATED: VIDEO: Oprah's Rule of Empowerment
Now a highly sought after political strategist (both domestically and abroad), mentor and motivational speaker, Richey says he seeks to fill a void in black radio through his thought-provoking commentary, lively debates and interviews with newsmakers about politics, social policies and life in general.
His fans also seem to appreciate his organic style, which includes producing his own show from concept to content, not allowing guests to script any questions and never pre-screening callers.
When he's not shuttling between shows, part of his penance for his wayward days includes holding monthly "peace summits" for gang members on some of the very same streets where he once sold drugs.
"He's a good person and he loves to help people," says friend and fellow Atlanta social activist Haroun Shahid Wakil. The two work as volunteers for the nonprofit Street Groomers. "He hasn't forgot where he came from. He always keeps it 100!"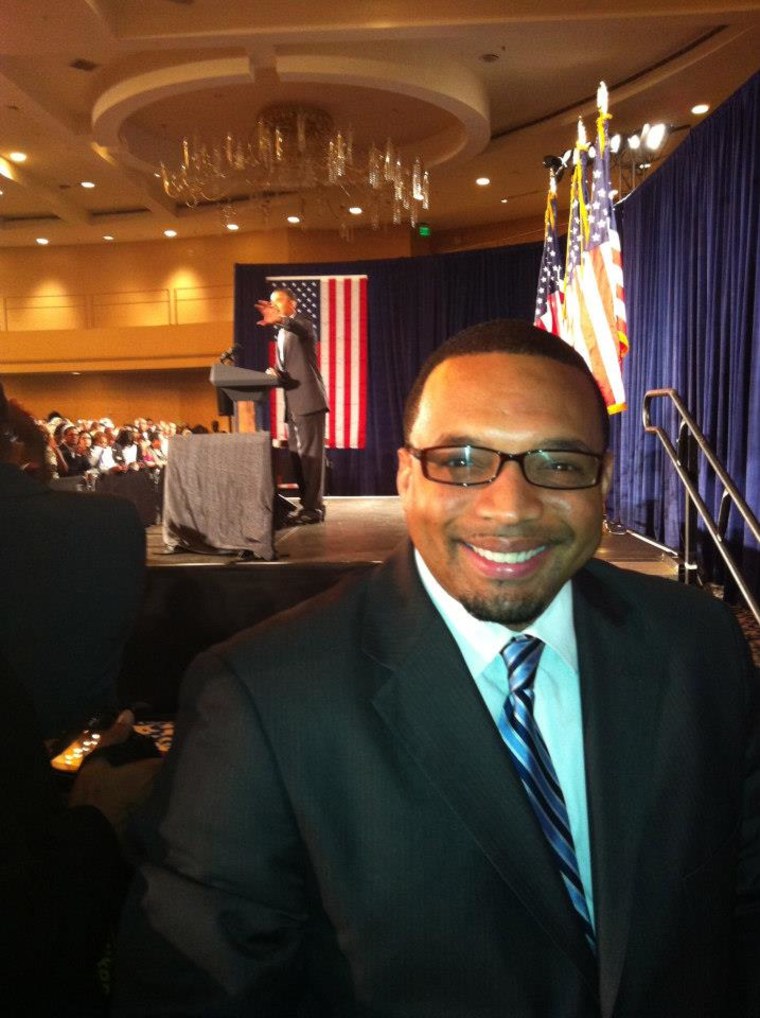 DeKalb County District Attorney Robert James says Richey's "amazing" and "inspirational" story is what makes him efficacious. "He's someone who has been blessed with a second chance and he's made the best of it." Richey mentors young men and women in his Jobs Not Jails program. Participants in the program literally work toward getting their criminal records expunged.
"I think when [the participants] hear his story – and they look at what he's doing today – it gives him a sense of credibility because he's literally been where they've been and worse. He's also young enough to where they don't immediately turn off [listening to him]."
Community service is cathartic for Richey. "I want to take my life – the good, the bad and the ugly – to help young people and not-so-young people, better their lives," he says. "I love helping people – particularly young, black males – but in my heart, it goes beyond racial boundaries. My main concern is getting the message out."
RELATED: White House Summit Focuses on Women in Prison
Incredibly, Richey still finds time to fulfill his duties as a business owner and community advocate with an extensive resume that also includes serving as the Chief Lobbyist for the Clayton County Sheriff's Office.
He also moonlights as a strategist for numerous regional elections, he is working toward certification in Cornell University's Executive Leadership Program and is pursuing a PhD online from Scofield Graduate School.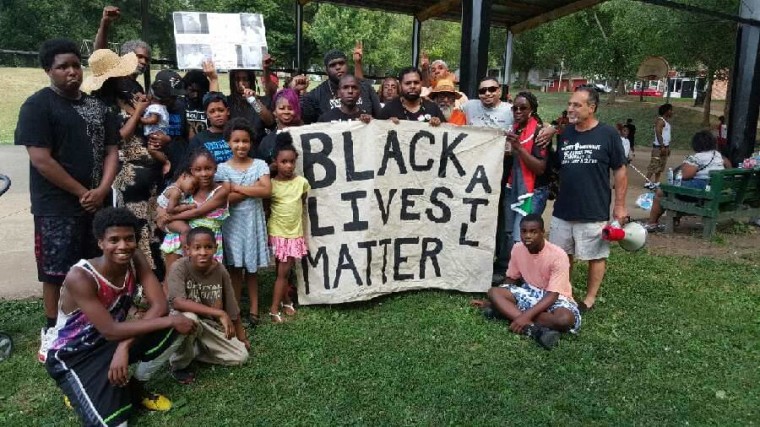 "Rashad is a social activist at heart," adds James, the district attorney. "When he's not on the radio you might find him at a protest. He's genuinely concerned about the community and it shows in the way he lives his life."
As for the future, Richey says he's open to walking down whatever path that God leads him to, adding that there is no limit to what He can – and will – do in his life. Perhaps Richey's daily sign off on WAOK sums up his personal philosophy best.
"Tough times don't last always, but tough people always do."