Grammy Award-nominated singer/songwriter Syleena Johnson is busier than ever. From co-hosting a new talk show and teaching Hot Yoga classes at night to a new music project hitting the marketplace, the real life basketball wife and mother of two sons is performing one hell of a juggling act.
Have her tell it and she wouldn't have it any other way. "I'm loving it and I'm so grateful," the "I Am Your Woman" singer told NBC News during a quick break in a hectic daily schedule. She rises at 4 a.m. to prep meals for the family and make it to the hair and make-up chair by 5:45 a.m. at the Atlanta television studio for her newest gig as co-host of "Sister Circle".
"You know I have an unorthodox career and I want to make sure that I'm being a good mom and very present mom and wife," she explained. Johnson has been married to former professional basketball player Kiwan Garris since 2007. "I get up extra early so I can have some input in what goes on in [my family's] day, and they have a piece of me in their day."
Along with three other cast members, including broadcast veteran Rashan Ali, comedienne Kiana Dancie, and reality star Quad Webb Lunceford, the quartet take on the day's hot topics and interview newsmakers on the nationally syndicated morning show, which also airs on TV One.
The gabfest, which premiered in September, models its format after other female-centric talk shows such as "The View," "The Talk", and "The Real", but caters directly to an African-American female demographic.
Previously co-starring on the reality series "R&B Divas: Atlanta" alongside a string of other feisty singers of her generation, Johnson is no stranger to televised sisterhood. She said the new TV experience is a far cry from the last.
"When I tell you it's night and day, it is night and day," she revealed. "'R&B Divas' was very stressful. With "Sister Circle", we pray together. We go out with the intent to be happy. We come to work with the intent to feel better. Whereas reality television, you don't know what's going to happen. You don't know what you're walking into."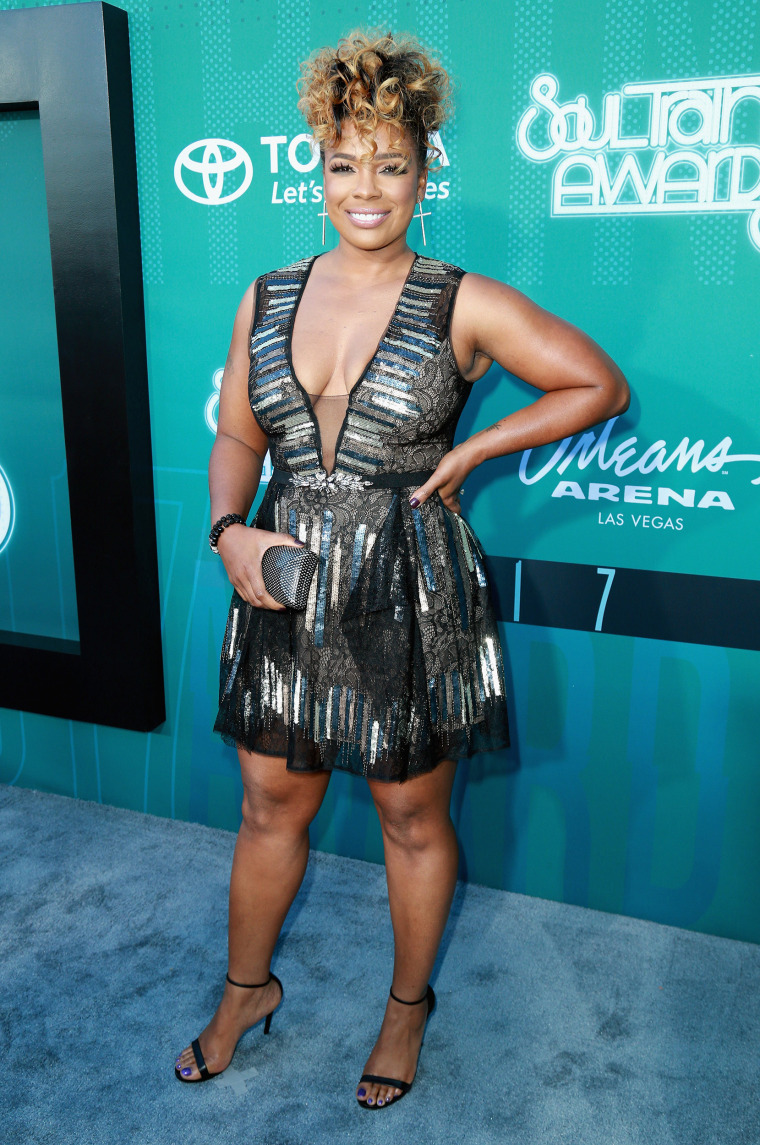 Johnson pulled no punches on the Phil Thornton-produced series, which lasted four seasons on TV One and featured Faith Evans, Monifah Carter, Angie Stone, Keke Wyatt, and Nicci Gilbert of Brownstone. Explosive dust-ups involving Johnson and Gilbert, who was also a producer of the show, are often referenced about on social media and remain popular on YouTube years later.
Though some of the scenes may not have shown her in the best light, she makes no excuses of presenting her authentic self on the show, unlike other reality TV personalities who blame editing and production trickery for exposing their unkind behaviors.
"I think that happens on other shows but on 'R&B Divas,' that really wasn't the case," she maintained. "What you see is what you got with me. Maybe they wish they could've cut out stuff for me."
Through the years, the Chicago area native has collaborated with R. Kelly, Common, and Kanye West on current sounds. But her latest project, "Rebirth of Soul", released on Nov. 10, is a collection of R&B cover songs handpicked by and produced with her father, blues and soul veteran Syl Johnson — whose 1974 version of "Take Me To The River" became a top 10 R&B hit. She puts her touch on classic songs popularized by Etta James, Aretha Franklin, Gladys Knight & The Pips, Jackie Wilson, and Otis Redding.
"Well, my dad and I are like oil and water and we really don't mix, but in the studio and when it comes to music, we can find a common ground," she confessed. "This was something that he came to me to do and I just thought it was a really great idea to recreate music from a time where singing was from the soul, from the heart."
While planning to launch a multi-city tour in December that includes weekend performances, she is also continuing to teach nightly Hot Yoga classes in the Atlanta area, that caters to her core base: sisters.
"I want to teach black women yoga because I want them to like yoga, because I know it can help with their stress levels, which is something that is killing us," said Johnson, who has lost 50 pounds since becoming a public figure. "It's aiding and abetting to heart disease, cancer, diabetes, and all types of disease."