When Deeqo Jibril came to America at 12 years old, she couldn't speak English. She had never seen snow. She had nothing but the clothes on her back.
In 1991, her family fled the civil war in Somalia and lived in a refugee camp in Kenya before starting a new life in Boston, Massachusetts with a few belongings. It was a big adjustment for her and she didn't know what her new life would bring, but she hoped it would be better.
Today, at 38, she could make history as the first Muslim elected to the Boston City Council, representing District 7.
A single mother of four, she went from temp agency to temp agency looking for jobs to make ends meet. She started working for the health department in Boston and worked in affordable housing. By helping other families, she found tools and resources to help her own family.
Now the founder of an African mall that is home to six local businesses in the Roxbury area, she is also an activist in her community, working to ensure other refugees and immigrants have opportunities.
"How many other women are going through [that] do not have the experiences or the training that I have?" said Jibril. "That don't have, you know, somebody that they can lean to?"
She created the Somali Community and Cultural Association to empower Somali women and provide resources for those transitioning into American society while maintaining their culture. She has also held financial literacy programs to teach immigrants and Somali women how to manage their money.
Related: Against All Odds: Ballerina Michaela DePrince's Remarkable Journey
Having her voice be counted as a woman is crucial but the process was something she had to learn about.
"We came from a country where we can't vote. We have to learn democracy, women's rights and ability to vote. Democracy is new to us," she said.
Jibril became a U.S. citizen in July 2008. That November, she cast her first vote in a presidential election for then Sen. Barack Obama. In 2012, she would cast her ballot for Obama once again.
Her passion for civic engagement led her to volunteer for several campaigns, including Organizing For Action, Sen. Elizabeth Warren, D-Mass. and former Massachusetts governor Deval Patrick.
In 2011, she was recognized as an "Unsung Hero" by the Massachusetts Commission on the Status of Women.
"Trump will unify the country, because people are talking to each other. People are more involved and alert."
Seeing the change needed in her own community, she decided it was her turn to make a difference.
"I have seen over and over politicians come to my community during elections. And after we elect them, we don't see them," she said. "And this year I said, 'I'm inspired. The community wants to see somebody that looks like them, that knows their struggles at the table. So I am running for office.'"
Jibril wants other Somalis and immigrants to make their voices heard. Working with organizations such as Mass Vote, she has helped educate others about the voting process. Jibril said some people in the Somali community don't think their voice matters because not only are they black — they are immigrants and Muslim.
"And I said, 'No, no, your voice matters. And it should matter. And if it doesn't matter, we gotta make it matter. You know, you have to demand that your voice is counted. Unless you demand that, we can't [have] access to power,'" Jibril recalled.
Related: The 'Green Book' Was a Travel Guide Just for Black Motorists
She also wants to continue to build trust among law enforcement and the community. In 2015 she reached out to the Boston Police Department to start a conversation among Somali-youth and law enforcement. In 2016, she organized the first law enforcement and community iftar dinner, the first meal eaten after a day's fast during Ramadan.
Jibril teamed up with the FBI to start the first FBI Somali youth academy. She also organized community basketball games between the police and Somali youth to help law enforcement get to know children in the community. She says having an open dialogue among police and the community is working and reduces racial profiling.
"They say, 'Thank you, you created a space where we can discuss what it's like to be black and Muslim,'" she said the youth tell her.
With a country deeply divided on issues like immigration and healthcare, Jibril believes we went six years backwards when President Trump was elected into office. But she is optimistic. "Hearts can change, we need to pray for him," she said.
"We have to be at the table and talk to each other. We came from the creator regardless of what we call him," she said. "Trump will unify the country, because people are talking to each other. People are more involved and alert."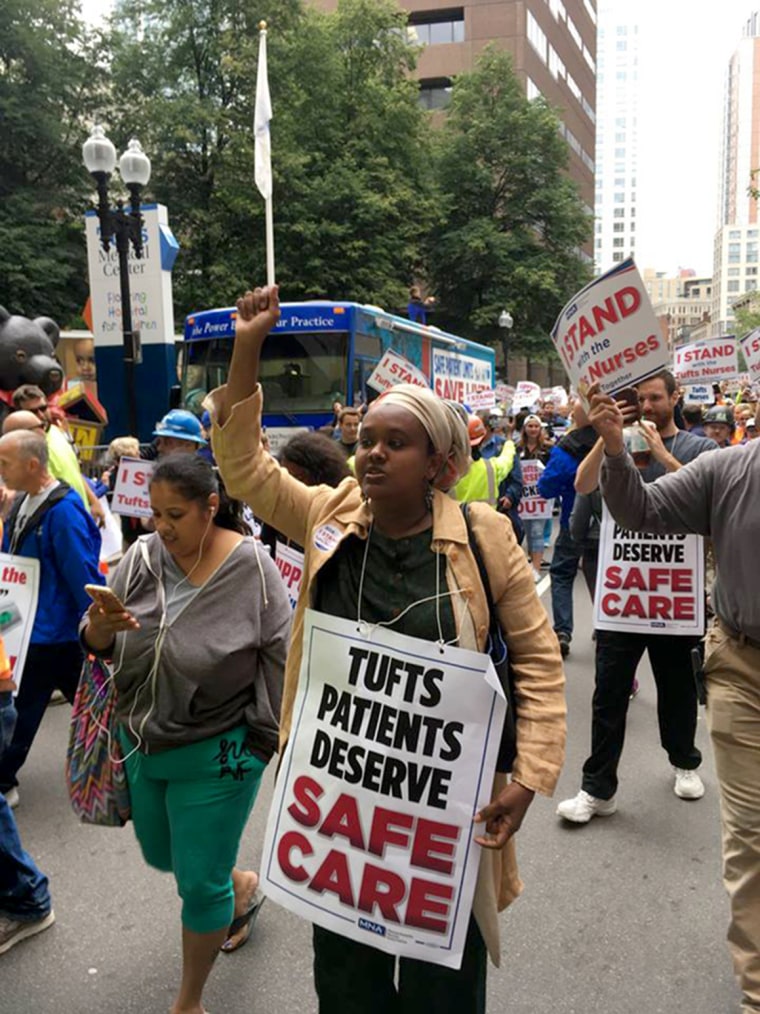 Massachusetts state Rep. Elizabeth Malia, Democrat, recently announced she was endorsing Jibril. Malia has talked with Jibril about her activism and involvement in the Somali community throughout the years. She said Jibril would make "an incredible addition to any of the public policy debates" taking place in Boston and her work with Somali youth is crucial.
"Deeqo is just there. She's there. She works on women's issues, she's been in the community. She's vibrant — that's what really is the big plus," Malia told NBC News. "Young people, the kids that I know of, feel pretty safe talking to her and it's an essential need. I don't think there's anybody who comes close to what she does."
Related: OpEd: It's Time to Cross the Street
She also picked up an endorsement from UNITE HERE Local 26, a labor union group that represents workers in the food service industry across Massachusetts. She said their support means a lot because other unions have turned her down and this group, "represents people like me and we share the same common value."
Jibril encourages immigrants and others who dream of making a difference in the political arena to go for it. She has a message for Somali refugees trying to start a new life in America: "You are welcome, we were built by immigrants and we are newcomers."
"I survived a refugee camp. I survived a lot of obstacles. Overcoming money [problems] and name recognition is nothing to me. And I'm gonna encourage people to do whatever inspires them. Because I was a woman who [was] conditioned to feel powerless. And people told her limitations. And I said, 'no.'"
Looking ahead to the primary election on September 26, Jibril hopes she clenches the nomination, but her advocacy isn't going to stop if she doesn't.
"I am continuing my activism regardless of who wins. I am an advocate for all types of rights. I am a coalition builder. As a public servant it's all about serving the community."