Evoking memories of segregation-era marches for equality in Selma, Civil rights icon Rep. John Lewis and other prominent Democrats within the Congressional Black Caucus testified against Sen. Jeff Sessions on Wednesday, staking a clear opposition to the Alabama senator's appointment as attorney general.
Lewis, Sen. Cory Booker, Rep. Cedric Richmond and others marked Day 2 of a heated confirmation hearing before the Senate Judiciary Committee by telling their congressional colleagues that Sessions was unfit to lead the Justice Department. Minority lawmakers worry that Sessions, a conservative who has voted against measures aimed at criminalizing attacks on gays as hate crimes and the Violence Against Women Act, will not aggressively protect the rights of marginalized groups.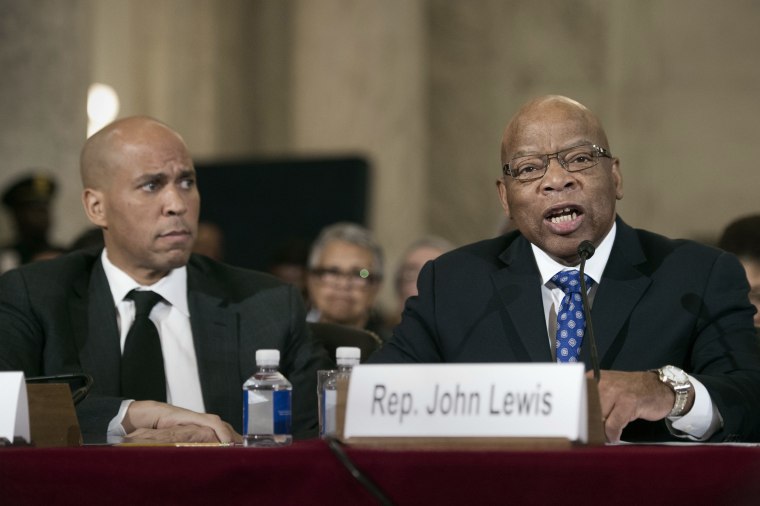 "We need someone who is going to stand up, speak up and speak out for the people who need help, for the people who have been discriminated against," Lewis said.
The clash was history making.
Before Wednesday, no sitting senator had ever testified against a Senate colleague in their confirmation hearings for a Cabinet position. But the break of congressional norms is a marker of contentious confirmation battle ahead for many of President-elect Donald Trump's top picks to lead his new administration.
"I believe, like perhaps all of my colleagues in the Senate, that in the choice between standing with Senate norms and standing up for what my conscience tells me is best for my country, I will always choose conscience and country," Booker said.
Sessions' appointment is shrouded in controversy and tied to allegations of racism that have followed him throughout his career. In 1986, a Senate panel rejected his bid for a federal judgeship, citing allegations from former colleagues who testified that the U.S. attorney frequently used the n-word and joked about the Ku Klux Klan.
Willie Huntley, a former assistant U.S. attorney under Sessions, testified on Wednesday to defend the senator's character.
"At no point in the time that I've known Jeff has he demonstrated any racial insensitivity," he said.
Lewis, who while marching during the civil rights era faced racial epithets, jail and beatings by cops wielding night sticks, spoke passionately about the efforts and sacrifice it took to fight for racial equality and voting rights.
And yet, the struggle continues, he said.
"We've made progress, but we're not there yet," Lewis said.
For years, Sessions was known as a fringe voice on the right in pressing for aggressive immigration enforcement, and even cutting down on legal immigration levels. He has fought to severely limit protections on civil rights and LGBTQ equality.
More recently, Sessions has served as one of the first members of Congress to openly embrace Trump and his most divisive policy points. He publicly supported Trump's early campaign proposals to implement a unilateral Muslim ban. Sessions has since called Islam a "toxic ideology."
If confirmed, Sessions would inherit a Justice Department that for the last eight years has charted an aggressive agenda to combat discrimination against minority groups. And on Wednesday, Democrats warned that those achievements under President Obama could be erased if not guarded carefully.
"The arc of the moral universe does not just curve toward justice, we must bend it," Booker said, in a nod to the famous words of Dr. Martin Luther King, Jr.