It is fitting that a report on the status of black women in American politics was released in celebration of the life and legacy of Shirley Chisholm on what would have been the late congresswoman's 91st birthday.
Chisholm, who died in 2005, was the first African-American woman elected to the U.S. Congress in 1968. Her barrier-breaking campaign for the Democratic presidential nomination in the 1972 contest paved the way for both President Barack Obama and presidential hopeful Hillary Clinton.
"Voices. Votes. Leadership. The Status of Black Women in American Politics," released on Monday by Higher Heights in partnership with the Center for American Women and Politics and Political Parity, discusses both the challenges and opportunities for black women to use their considerable political power to expand their political representation.
"It's important that we invest in black women voters. She doesn't go to the polls alone — she brings her house, her block, her church and her sorority."
"Elected representatives of the people, I believe, must represent the people, not as a matter of theory but as a matter of fact," said Congresswoman Yvette D. Clarke (D-NY), who represents part of Chisholm's New York district and participated in the conference call announcing the report. She said she was particularly concerned about the wave of statewide legislation to enact voter restrictions after the Supreme Court in 2013 invalidated key provisions of the Voting Rights Act of 1965.
"When you look at American politics today," Clarke said, "you feel like you're almost in a time warp." But she added that "it's an exciting time because this work is being done," referring to data and statistics in the just-released report. With more African Americans, more women and more African American women in Congress than at any previous time in history, "Shirley Chisholm would have been proud of our achievements."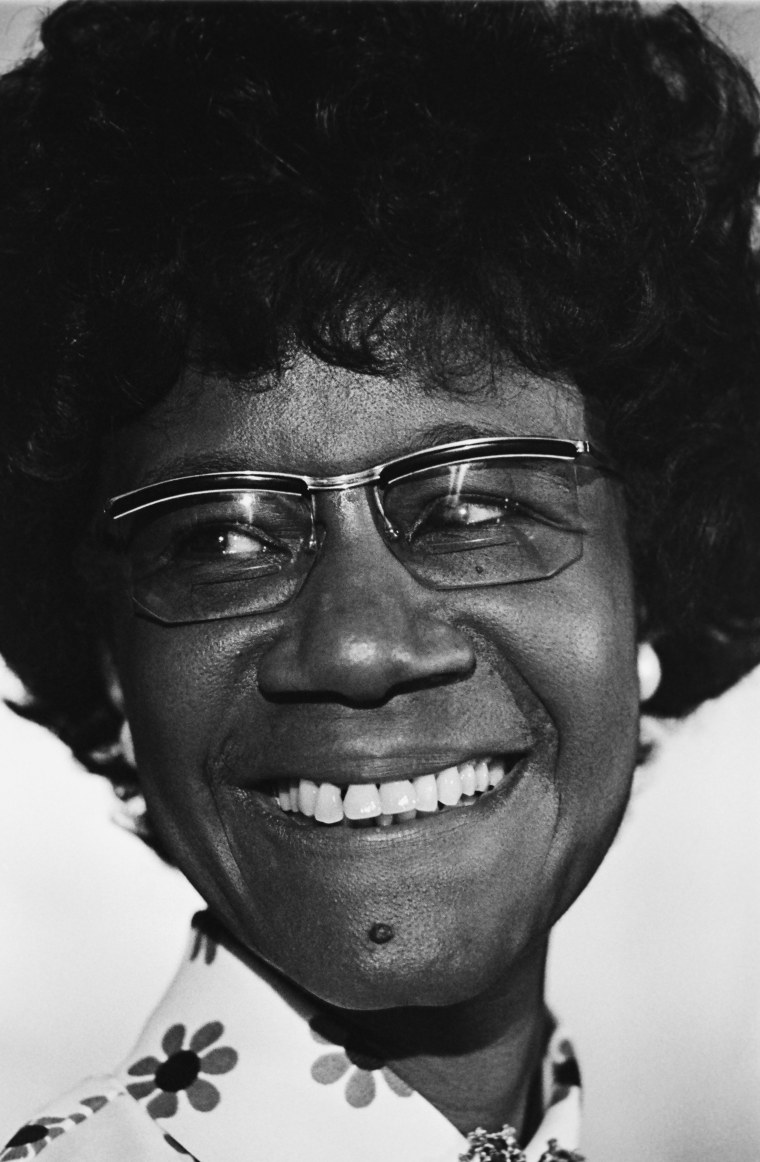 Still, Clarke said, Chisholm would ask: "Why more than 40 years after she entered the Democratic Party primary for president of the United States, this nation has yet to elect a woman of color as president; she would go right to the heart of it because her style, her way of capturing the hearts and minds of Americans was courageous and it was forthright."
"Shirley would see this moment that we're in as an opportunity to reach out and organize and to gain some momentum in transforming our civil society," Clarke said.
The co-founders of Higher Heights, Glynda C. Carr and Kimberly Peeler-Allen, said the national organization focuses on mobilizing and elevating the voices of black women across the country. This new update, after a 2014 report, includes the latest data available from the 2014 and 2015 elections and an analysis of the upcoming elections.
"Black women's voices in and outside elected offices have been essential to promoting positive social change."
Higher Heights partnered with the Center for American Women and Politics (CAWP), a unit of the Eagleton Institute of Politics at Rutgers, The State University of New Jersey, a nationally recognized source of scholarly research and current data about American women's political participation.
In his keynote address to the Congressional Black Caucus in September, President Obama paid tribute to black women, crediting their essential role as leaders in the civil rights movement, praising their accomplishments while acknowledging the continuing struggles for equality in school and at work.
An important ingredient in the president assembling a successful coalition in 2008 and 2012 was the voting strength of African-American women, which the report details:
"Black women have registered and voted at higher rates than their male counterparts in every election since 1998. Moreover, they surpassed all other race and gender subgroups in voter turnout in 2008 and 2012. Black women also turned out to vote at a rate seven percentage points higher than their Black male counterparts in the 2014 midterm elections, outnumbering Black men at the polls by over two million and turning out at the highest rate among any non-white group."
Women continue to be leaders in modern-day incarnations of civil rights movements. Activists Alicia Garza, Opal Tometi and Patrisse Cullors co-founded the Black Lives Matter network that has expanded to affiliated and non-affiliated groups inspiring marchers filling streets from Chicago to Baltimore to Minneapolis to protest police shootings of unarmed black citizens.
After the murders of nine black members of a Charleston, S.C., church, Bree Newsome climbed a flagpole on the state house grounds to remove a Confederate flag. A report this year highlighted black women's leadership in the labor movement and fight for equal wages.
The news, while positive shows much room for improvement, evident as Kelly Dittmar, scholar/researcher at CAWP, presented some of the report's findings. "Black women's voices in and outside elected offices have been essential to promoting positive social change," she said. In addition to being on the front lines, black women have expanded their influence, presence and power in educational, business and economic spheres, she said. But according to new research, "black women's voices are the most likely to be overlooked in governmental policymaking."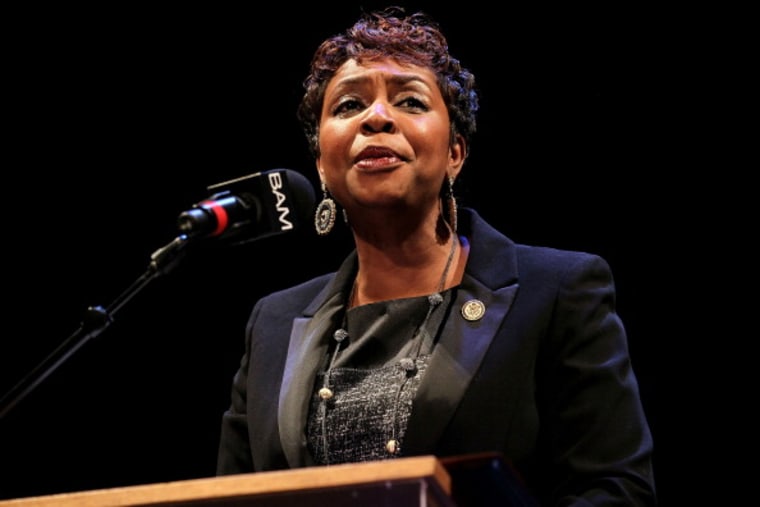 According to CAWP's research, said Dittmar, "Despite being 7.4 percent of the United States population, black women are just 3.4 percent of Congress, less than 1 percent of statewide elected executive officials, 3.5 percent of state legislators and 1.9 percent of mayors in cities with populations over 30,000.
Four black women serve as mayors in top 100 largest cities in the country.
Only 35 black women from 15 states have ever served in the United States Congress.
Only 10 black women from nine states have ever served in statewide elected executive offices, and three states have never elected a black woman to their state legislature.
But electoral gains have occurred primarily in the past two decades, said Dittmar, indicating there is significant opportunity for more growth. Of the 35 who have served in Congress, 80 percent entered since 1993. In 2012 and 2014 black women were elected outside majority-minority districts. Women such as Joyce Beatty (D-Ohio), Bonnie Watson Coleman (D-N.J.), Mia Love (R-Utah) and Gwen Moore (D-Wis.) now represent such districts. Since 1994, the growth of black state legislators can be nearly wholly attributed to black women.
Why does it matter?
When you have black women in office you have greater engagement with all marginalized communities, voices and perspectives not often at the table, according to the research. The report indicates the success of those lessons learned, but also the gaps that persist in the presence of black women and their political power. A first step is acknowledgment of that power.
It's a point that Carr said cannot be ignored by any candidate who wants to be elected in this election cycle. The "post-Obama narrative" is an exciting time for black women, she said. It's not just 2008 and 2012. As the report shows, voting turnout for black women has been increasing for a long time. "It's important that we invest in black women voters," Carr said. "She doesn't go to the polls alone — she brings her house, her block, her church and her sorority."
Recruitment is key to getting more black women on the ballot. Only one state party chair is a black woman, according to the research, an obstacle when it comes to recruiting black women on every level and providing the resources for them to be successful.
Higher Heights has claimed Shirley Chisholm as its "patron saint," and her trademark "unbought and unbossed" leadership an inspiration. "At present, our country needs women's idealism and determination, perhaps more in politics than anywhere else," she once said, in words that ring true today.