Although small strides have been made toward diversifying the U.S. school system over the past couple of decades, a new report shows there's still a long way to go.
At a national level, schools have made progress in the hiring of minority teachers, according to a report by the Albert Shanker Institute, "The State of Teacher Diversity in American Education." The attrition amongst minority teachers, however, is higher.
According to the report, the conditions of the schools teachers work in play a significant role.
"There is this huge heralded success in the growth of recruitment rates for minority teachers but they've been undermined by these high quit rates," said Richard Ingersoll, a professor at the University of Pennsylvania and contributor to the report. "My own conclusion is that we will not really close that gap until we go beyond recruitment and look at retention."
The study looked at the education system on a national level between 1987 to 2012, as well as schools in nine cities (Boston, Chicago, Cleveland, Los Angeles, New Orleans, New York City, Philadelphia, San Francisco, and Washington, D.C.) across America between 2002 and 2012.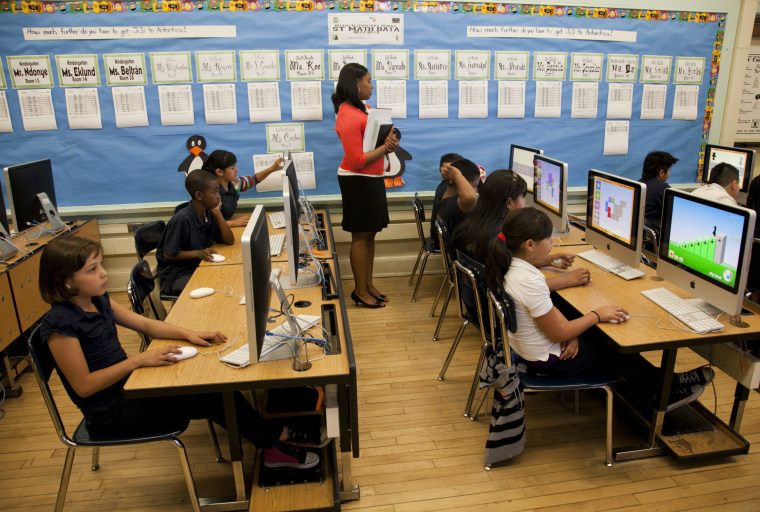 In each of the nine cities studied, the share of black teachers in the workforce declined, at rates from the very small to the quite large—from roughly 1 percent in Boston's charter sector and Cleveland's district sector, to more than 24 percent in New Orleans and nearly 28 percent in Washington, D.C. Losses in the population of black teachers were even greater, ranging from a low of 15 percent in New York City to a high of 62 percent in New Orleans.
The study also found that minority groups are still largely underrepresented in those cities, especially African Americans and Hispanics. Across the cities, Black and Hispanic teachers taught in schools with at least modestly higher concentrations of low income and minority students.
"Let's get the president and others in the room and let's see what we can do to create a comprehensive strategy for diversifying the teaching force."
"Minority teachers are disproportionately employed in predominantly urban, predominantly poor, and predominantly high minority schools," Ingersoll said. "But such schools are not as attractive workplaces… and because minority teachers are the ones teaching at these schools, they have higher quit rates."
According to the report, in schools with better working conditions, retention rates for minority teachers are similar to those of white teachers.
Included in the report's solutions to these issues are the review of legislation that can impact teacher diversity by states legislatures, mentorship programs for novice teachers, and the investment in high-quality teacher education programs at historically black universities, Hispanic serving universities, and tribal colleges and universities.
Leaders in the education sphere are saying that change needs to come sooner than later.
"It seems to us at Shanker Institute and the American Federation of Teachers (AFT) that we've reached a crisis in urban education as it pertains to teaching diversity," said Randi Weingarten, president of the American Federation of Teachers. "We have a very active and aggressive president who's using his last few months to do as much as he can. So I am calling on the president of the United States of America to hold summits for teacher diversity. Let's get the president and others in the room and let's see what we can do to create a comprehensive strategy for diversifying the teaching force."