With the Tribeca Film Festival kicking off this week, there is one project that stands out for being produced inside a place known less for the cinematography and more for the pervasive violence: Rikers Island jail complex.
In partnership with the Educational Services Unit of the NYC Department of Correction and through a program run by Tribeca Film Institute, incarcerated women from the Rikers Island Media Lab spent their school year writing and producing a visual poem in collaboration with students at The Young Women's Leadership School in the Astoria neighborhood of Queens, New York. The work will premiere at Rikers on April 24 and at the festival on April 25.
"Don't let one little situation in your life bring you down for the rest of your life," one of last year's contributors, Malina Sayed, said, her hands folded on the chipped classroom desk at Rikers.
Sayed found herself in a "little situation" herself about three years ago. A situation so desperate it sent her directly to Rosie's — the nickname for the Rose M. Singer Center, the women's facility on Rikers Island — at age 19.
She entered suspicious of everything she thought she knew about jail from TV and movies. "They only show the bad parts," Sayed said of her cultural reference points. "They don't show the good parts, you know."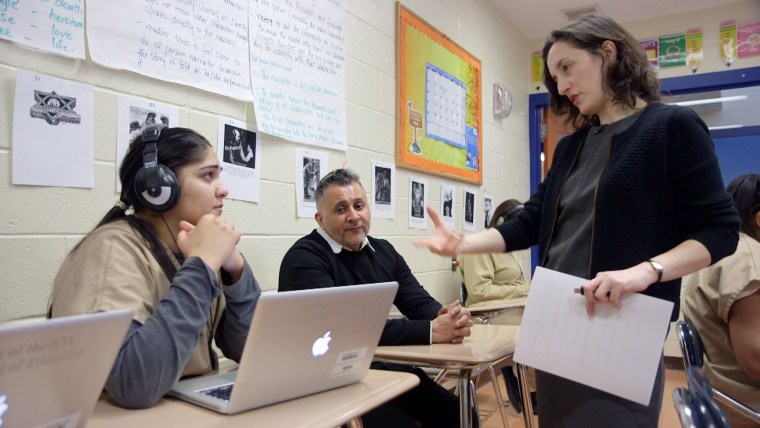 For her, one of those positive aspects was the opportunity to write, edit and screen her class film — a narrative short — at the 2016 Tribeca Film Festival. (Sayed has since been released from Rikers and is now back home.)
Besides serving as a therapeutic exercise to help young women in jail acclimate to their communities, the project — now in its fifth year — was created to crush negative stereotypes about young women in jail and educate public school students on the perils of mass incarceration.
"The girls at Rikers have been criminalized by society. They have been told that they're worthless, that they may not amount to anything," Vee Bravo, TFI vice president of education said.
After he joined the organization in 2011, Bravo was instrumental in convincing the Department of Corrections to implement the program.
"Prison should be a place where you learn about yourself in relationship to what you did and the crime that you committed. But as a society we need to be responsible in creating capacity for them to rehabilitate themselves," Bravo added.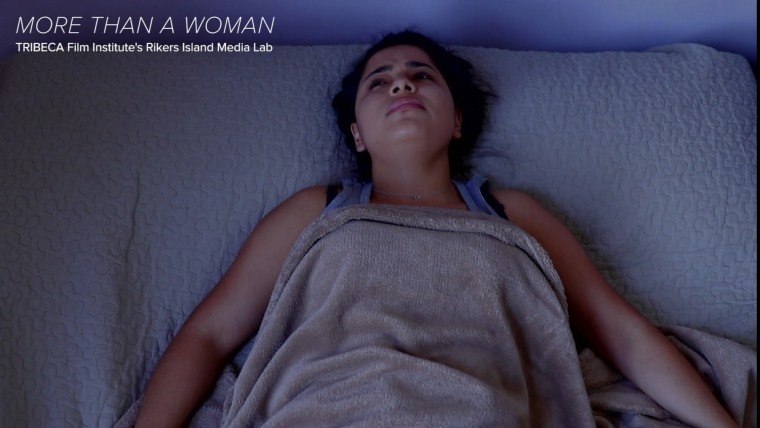 At the start of the year, the young women responded to a Nelson Mandela quote in a free-writing exercise on perseverance. These essays were trimmed to two sentences, which were then written down on index cards, shuffled and pieced together like a jigsaw puzzle to form one synergistic story.
Flonia Telegrafi is a teaching artist with the Tribeca Film Institute, and she runs the Rikers Island Media Lab sessions twice a week.
"That do-over aspect of editing, where you feel like you're messing up but you're really not, because you're feeling your way through it and you're learning – that's something that takes time to learn," said Telegrafi, alluding to the "Ctrl + Z" philosophy of redemption and second chances.
Related: 'Pushout' Aims to Stop Criminalization of Black Girls in Schools
"You're always taught to see things as black or white, or right or wrong. So it's really important for art, and specifically for filmmaking — through that do-over process to have these young women understand that it's not always about that," said Telegrafi.
Cameras were not allowed inside the jail. So while the high schoolers counterparts fleshed out the dialogue, shot list, locations and filming on the outside, the footage was brought into the jail on hard drives and edited on the inside.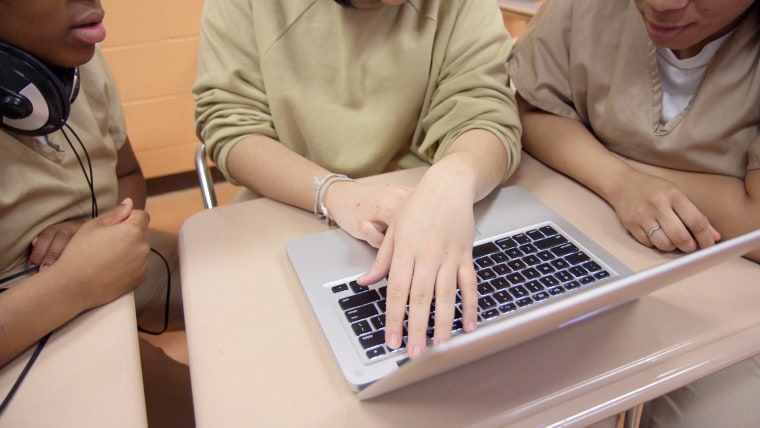 Modern pen pals, the women exchanged 30-second selfie videos and audio messages introducing themselves to one another and giving notes. "If a scene wasn't shot right, then that message would go back to the outside and they would do it over," Telegrafi said.
In this school wing of the facility, the women sit in classrooms that look like any other. Motivational posters cover the cinder block walls. There's a rhythm that comes with routine.
All dressed in tan jumpsuits, some are bent over the latest cut, while others are finding moments to laugh together despite the heaviness.
"Just because we made a mistake in our life doesn't mean that defines us," said Sheila Taveras, a participant who has since been released from Rikers. "We have so much to offer in the world. We're not useless or anything."
Related: Eight Fierce Black Feminists You Need to Know
Among those who have helped the young women is Jackie Gutierrez, a filmmaker and program associate at Tribeca Film Institute. Gutierrez travels between the two worlds: relaying and translating delicate changes.
"These stories that the young ladies at Rikers are spilling out to us, these are really raw, intimate stories. And so a lot of the stories that they're telling us are things that they can't really say in their own words," she said.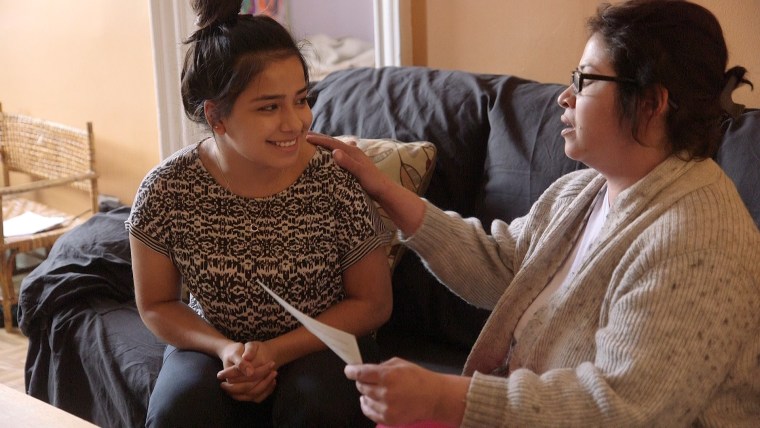 The nine-minute film, entitled "More Than a Woman," is a mosaic of intimate vignettes from their collective lives. A day in the life of a young woman who was released from jail but keeps having flashbacks (in one scene she looks down at the breakfast table and she sees a tray of jail food), all while grappling with reintegration into society.
The "Rosie Girls," as they're nicknamed, admit that this cross-culture exchange between the incarcerated and the free has validated their personal experiences and helped them find their voice.
To cap off the project, the Astoria teens traveled to Rikers Island to visit their fellow filmmakers, meeting face to face for the first time to premiere the film at Rikers Island in May 2016.
The two classrooms have more in common than meets the eye: insecurities, heartbreak, family drama, and just figuring out how to fit in.
"They're mentoring each other, I think, through the writing, because the script that's coming out of Rikers Island, it's a very reflective piece around perseverance, around having a dream about you know, dealing with the obstacles. Universal experiences that another can relate to," Bravo said.
"It brings a part of us out that we probably didn't know was there," said Sayed. "Doin' something creative in jail. Like, who woulda thought?"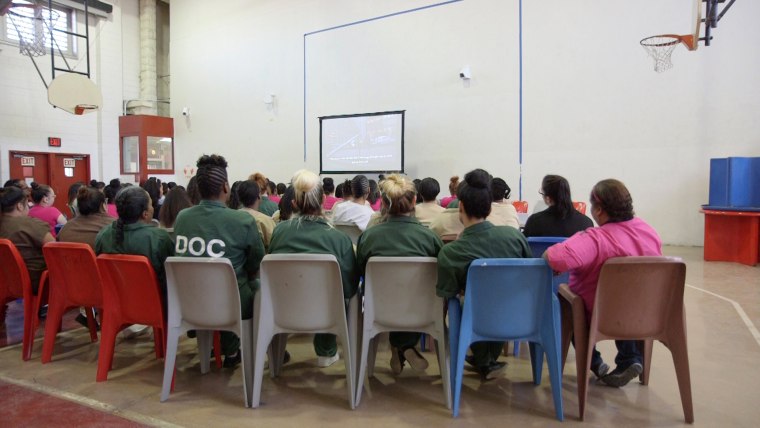 ---
The Rikers Island Media Lab project will screen at the Tribeca Film Festival on 4/25 as part of TFI's Tribeca Teaches screening. The event is being held from 10am - 2pm at Tribeca Performing Arts Center at Borough of Manhattan Community College.