Michael J. Feeney, a former New York Daily News reporter and rising star among black journalists who became known for his exclusive interviews with celebrities such as Jay-Z, Beyoncé and Rihanna has died. He was 32.
"They (doctors) worked on him, and worked on him but couldn't get him back," said Feeney's mother, Reba Willis, 63, of Teaneck, New Jersey in a tearful phone Monday interview one day after his death. "The doctors didn't see this coming."
But Feeney, who died from complications from a staph infection to his kidneys, may have.
And as his condition worsened, the former journalist who covered the death of legendary pop singer Whitney Houston nearly four years ago, laid in a hospital bed crafting his own obituary.
"I'm going to die in here," Willis said Feeney told her days before dying.
He spent a total of three weeks this month as a patient at Holy Name Medical Center in Teaneck.
Feeney, who served as the president of the New York Association of Black Journalists from 2011 until December, was known among his colleagues and friends as someone who pushed for diversity in newsrooms across the country.
He also mentored high school and college students who aspired to be professional journalists.
Newsday reporter Aisha Al-Muslim asked Feeney for career advice on a few occasions.
"He was a role model for young journalists and for anyone who sought advice," said Al-Muslin. "I'm going to remember him for his dance skills and bright smile."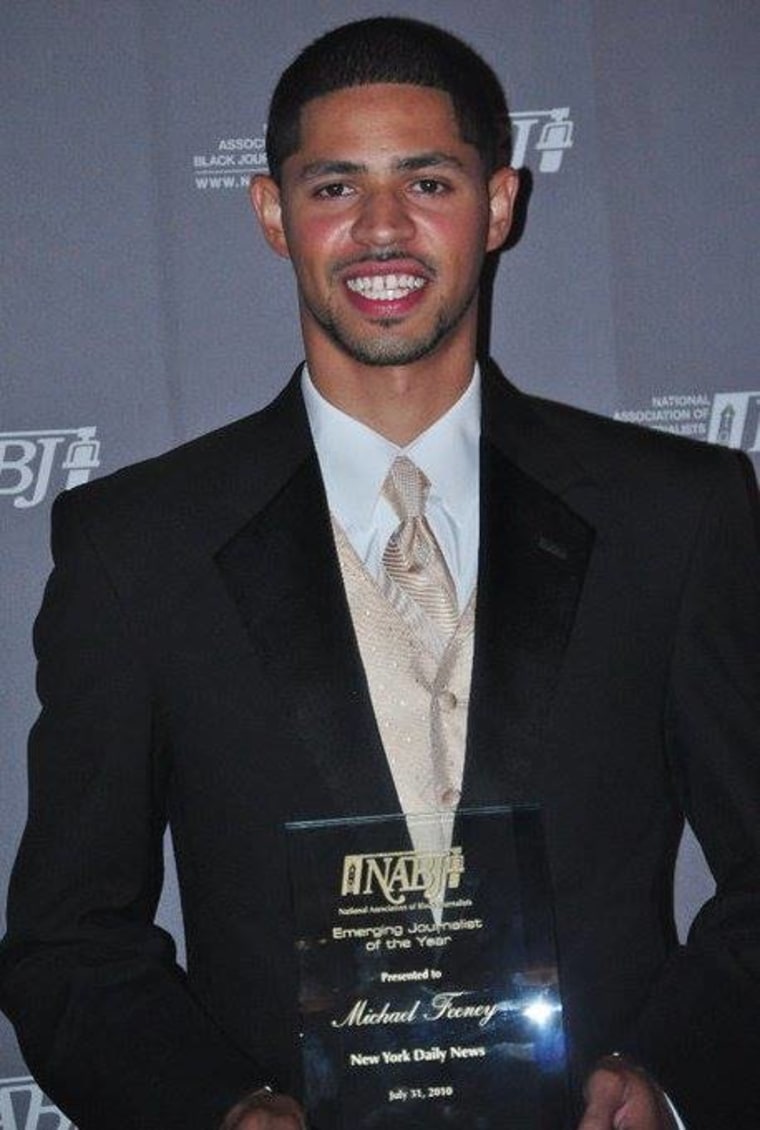 Feeney, who had recently accepted an entertainment reporting position with CNN.com, joined the Daily News in 2009 first as a police reporter and later covering Harlem.
It was there where he made his mark, landing exclusive interviews and taking popular selfies with A-list celebrities like Alicia Keys, Jay-Z, Beyoncé and Rihanna while also writing about the historic Apollo Theater.
In 2010, he was named the Emerging Journalist of the Year by the National Association of Black journalists.
Feeney covered the Baltimore unrest after Freddie Gray's death for NBC News and NBCBLK, filing stories beyond the front lines of the marches; inside crowded churches, on college campuses with Black millennials stepping up as change agents, and beside the patrons of New Beginnings Barbershop.
As news of Feeney's death spread, so did the wide-ranging acknowledgements.
"He was a beacon of hope for young black journalists. He was passionate about creating a blue print for people to get ahead in the industry," said Candace Amos, a New York Daily News reporter. "He wanted to see you succeed and he would do anything in his power to make that happen."
Marlon A. Walker is an education reporter with the Atlanta Journal Constitution and Vice-President of Print for NABJ.
"It's quickly becoming known the importance that somebody with Feeney's passion can have on people," Walker said.
"Everyone is talking about him, including people who didn't know him. For the people who did, the loss is much greater.
New York City Mayor Bill de Blasio, the Rev. Al Sharpton, political analyst Roland Martin and Hot 97 host Charlamagne Tha God tweeted about Feeney's death.
By Monday morning, Feeney was trending on Facebook, something unthinkable for a newspaper reporter.
"The outpouring has been unbelievable," said Willis, who saved a voicemail from her elated son when he interviewed his idol, retired New York Yankees shortstop Derek Jeter.
Funeral arrangements are pending and a memorial fund has been set up in his honor, the proceeds will be sent to his family.