KANO, Nigeria (AP) — Nestled among vegetables, plastic kettles and hand-dyed fabric in market stalls are the signs of a feminist revolution: Piles of poorly printed books by women that advocate forcefully against conservative Muslim traditions such as child marriage and quick divorce.
They are part of a flourishing literary movement centered in the ancient city of Kano, in northern Nigeria, where dozens of young women are rebelling through romance novels. Hand-written in the Hausa language, the romances now run into thousands of titles. Many rail against a strict interpretation of Islam propagated in Nigeria by the extremist group Boko Haram, which on Sunday posted video showing dozens of the 218 girls militants abducted from a remote school in April 2014.
"We write to educate people, to be popular, to touch others' lives, to touch on things that are happening in our society," says author Hadiza Nuhu Gudaji, whose views have gained a recognition unusual for women in her society.
Gudaji's novellas are so popular that she is invited to give advice on radio talk shows. She describes how she was able to influence the future of a 15-year-old who called in, begging the novelist to persuade her father not to force her into marriage.
"We said: 'The father of this girl, you are listening to us, you hear what your girl is saying," Gudaji recounts. "'If you force her, maybe the marriage will not end so well, maybe the girl will run away and come to a bad end.'"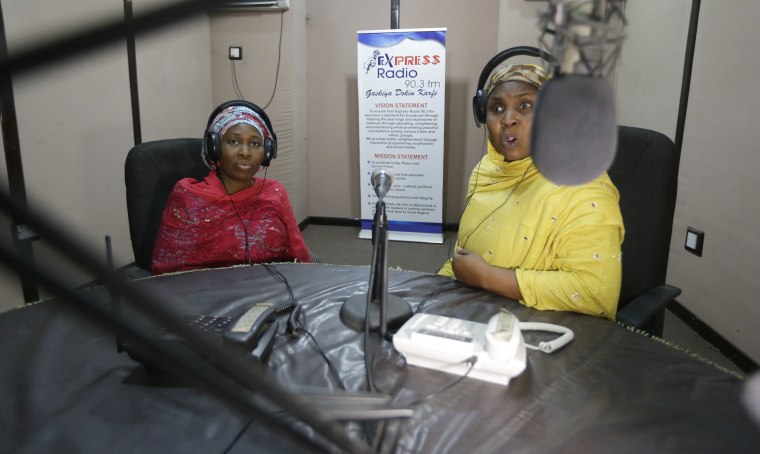 A few weeks later, the girl called to say thank you, and that she was back in school — a striking example of the kind of power the author wields.
The novellas are derogatorily called "littattafan soyayya, meaning "love literature," Kano market literature or, more kindly, modern Hausa literature. Daily readings on about 20 radio stations make them accessible to the illiterate.
"It's a quiet revolution," says Ado Ahmed Gidan Dabino, a male novelist, essayist, actor and head of the Kano branch of the Nigerian Writers' Association. "Nothing hard-hitting, but small, small, and gradually challenging."
They have become so popular that young girls call in to say they're learning to read because they want to follow more stories. That is no minor feat in a region that has more children out of school than almost anywhere on earth.
In northeast Nigeria, the birthplace of Boko Haram, only one in five girls has had any formal education. Parents routinely pull 13- and 14-year-olds out of school to get married, and even the name Boko Haram means "Western education is sinful."
RELATED: African Storytelling Meets Comic Books with These New Superheroes
Boko Haram denounces the Western influences that are inextricably entwined with the romance genre — an argument Gudaji firmly rejects. Her 16-year-old son was blinded in one eye and took seven bullets during a 2014 Boko Haram attack on Kano's Grand Mosque. Boko Haram has also kidnapped girls from the Chibok school and married them off to militants.
"What they are preaching and doing is not in the Quran, it's un-Islamic," she says, waving a hand with a flower painted into the palm in violet-colored henna. "They are not really against education — their problem with the education of girls (masks) their own agenda."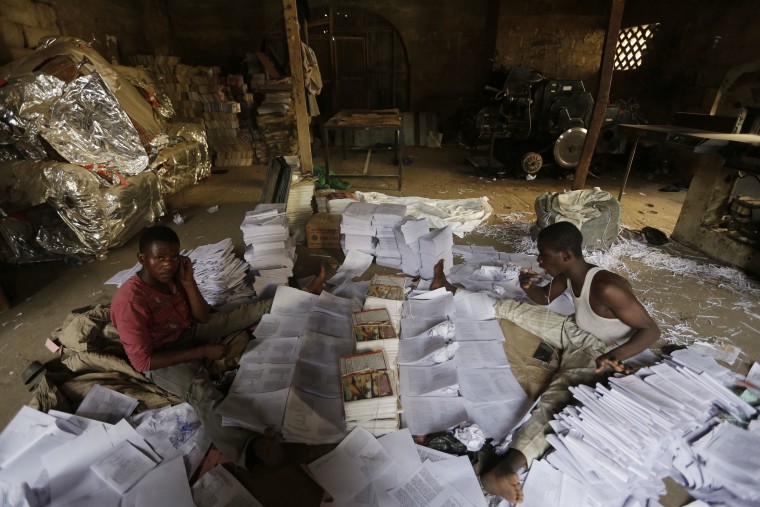 Although the romance industry caters largely to women, it's often men who profit. The best-known reader on the radio is a man, journalist Ahmad Isa Koko, who raises his voice an octave to imitate a woman's.
Book hawker Adamu Said buys 70 novellas at the market one recent day, boasting that he can deliver them via motorbike to villages inaccessible by car. He purchases them for about 130 naira (65 cents) and sells them for 200, and has been doing so for 12 years.
"I make a comfortable living," says the 30-year-old, who makes enough to support his wife and 6-year-old boy.
The Maharazu Bookshop has piles of paperback novels reaching to the ceiling, some gathering dust on the floor. Two teenage girls look at posters of just-published books but are unable to read the titles. They say they just like the pictures.
Owner Suleiman Maharazu is going through a list from a middle-aged woman reader who is too shy to be interviewed without the permission of her absent husband. They have titles that translate as "The Importance of Love," ''Big Tragedy," ''Your Face is Your Passion," ''The Beauty of a Woman is in Cooking," and "The Woman Who Lost Control."
"I don't read them, I just sell them," says Maharazu.
Only a couple of the Hausa novels have been translated into English. "Sin is a Puppy that Follows You Home" was translated by Indian publishers and subsequently made into a Bollywood movie. The book is available on amazon.com, which describes it as "an Islamic soap opera complete with polygamous households, virtuous women, scheming harlots, and black magic." Author Balaraba Ramat Yakubu, a veteran founder of the movement, was herself a child bride twice, after her first husband returned her to her family, and she only learned to read and write as an adult.
Critics say the novellas give girls unrealistic expectations, inspire rebellion and are un-Islamic. The most famous disgraced book is "Matsayin Lover," about lesbian love at a girls' boarding school, dating back to 1998. Abdulla Uba Adamu says his own friends and fellow writers forced him to remove the book from the market, though he insists it reflects reality.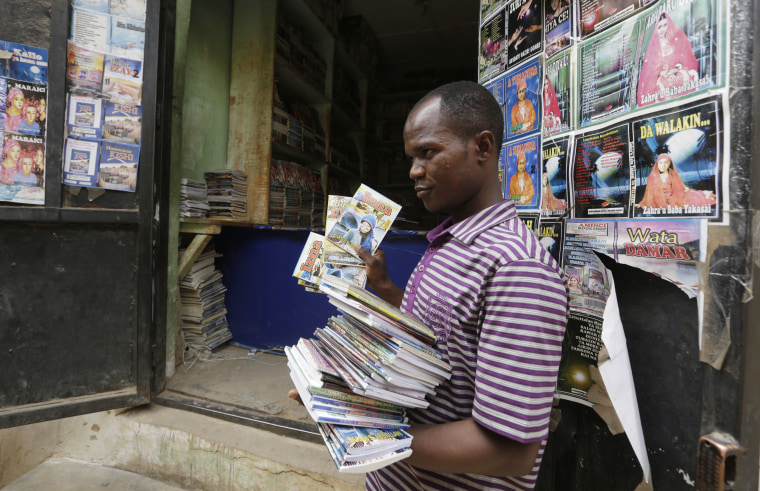 The books may sound dramatic, but they often mirror life. In one recent Kano court case, a prosecutor sought the death sentence for a girl forced into marriage at 13 to a 38-year-old man whom she poisoned and killed. A human rights lawyer managed to get the girl freed, but her family rejected her because they had to return the bride price paid for her.
Sometimes the reaction is violent. Last year, one young writer was badly beaten. Young men gang-raped another in her home after she published a book about women's rights in politics, according to Gidan Dabino.
Some books are also banned or censored for steamy content. Gudaji says the Censorship Board has seized many books from the market. She hasn't had problems because she's careful.
"If I want to write about a husband and wife, there is a limitation," she explains. "A kiss is allowed but nothing deeper, or I will be fighting with that Censorship Board."
Gudaji has an iPad and smartphone, but says she writes best by hand, lying on her stomach on her bed. The completed story is taken to a business center, where a clerk types it up and puts it on a memory stick. With that, she's ready to go to a bookseller or publisher and bargain. Sometimes, a bookseller will buy a book and have it published himself. Often, however, the writers pay a printer and then take the books to a seller.
The romances are cheaply printed with covers of photo-shopped stars from Nollywood, Nigeria's burgeoning film industry, or Bollywood, the Indian variety some writers are accused of plagiarizing. Many writers end up losing money.
Gudaji's first novel challenged a tradition where poor rural parents will send a child to family members in the city, hoping the child will be educated. Often they are turned into domestic slaves instead, ill-treated and raped by men in the home.
RELATED: 11-Year-Old Reaches Goal, Collects 1000 'Black Girl Books' To Donate
Her second novel addresses the scourge of divorce and how to deal with problematic husbands. In northern Nigeria, a man can divorce a woman simply by pronouncing three times, "I divorce you." When that happens, the former wife leaves alone and may not know what has happened to her children.
Not all the romances challenge the status quo. They range from the universal Cinderella story of a poor girl marrying a prince to how to behave when your husband takes a second wife.
And even for Gudaji, tradition still holds. Happily married, she still has to seek the permission of her husband to allow two male journalists into her home. She was not a child bride, she insists, though she is 38 and her oldest daughter, Khadija, is nearly 21. Khadija is studying physics at Kano's Northwestern University.
Gudaji explains the role of a dutiful daughter when parents want to arrange an unwelcome marriage.
"A girl may love a boy but if they don't suit, you have to stop her, and a girl has to obey her parents — 100 percent," she says, looking at her daughter and brooking no argument. "She must obey your rules and regulations."