The Rosa Parks Collection at the Library of Congress will open formally to researchers on Feb. 4, on the birthday of the Civil Rights icon. The treasure trove she left behind — a collection of approximately 7,500 manuscripts and 2,500 photographs — could be a historical boon for generations to come.
In late August, a foundation headed by the son of billionaire Warren Buffet bought hundreds of items that belonged to Parks at auction for $4.5 million dollars. The artifacts include her Presidential Medal of Freedom, a postcard signed by Martin Luther King Jr., personal papers, notes, letters from presidents and even photographs dating back to the 19th century.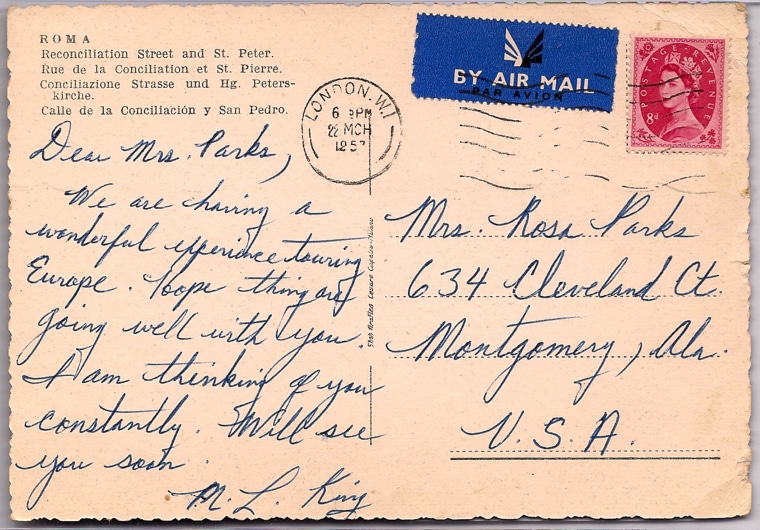 The Rosa Parks Collection is on loan to the Library for 10 years from the Howard G. Buffett Foundation.
"This is a massive body of material that really traced Mrs. Parks life in a way that you rarely find," said Alan Ettinger, president of Guernsey's Auctioneers & Brokers, who oversaw the sale.
Guernsey's was called in after a dispute arose among Parks' heirs following her death in 2005. A Michigan court asked the auctioneers to catalog what Parks in fact had, and assign a value to it.
After making history in her home of Montgomery, Alabama, Parks moved to Detroit and worked for U.S. Representative John Conyers from 1965 to the late 80s.
"We were asked to take an inventory, so we rushed out to Detroit and were dumbfounded to find, in the nicest use of the word, that she had been a pack rat, she saved everything," Ettinger told NBC News.
"Most compelling were hundreds of pages, long hand, written by her starting at age 12, when she perceived the injustices around her, felt by her family and friends and set out to make change."
IN DEPTH