Long before she became a lawyer, a prosecutor, an attorney general and a groundbreaking U.S. senator, Kamala Harris was a young thinker, dreamer and doer at Howard University.
"Howard is where I first ran for office as a freshman," Harris, 52, said in an exclusive interview with NBC News. "I remember walking up to people on campus asking for their votes."
Last November, Harris became only the second African-American woman to be elected to the U.S. Senate in history, representing her native California.
Today in the nation's capital, she came home to her alma mater, delivering the commencement keynote address at one of America's oldest, most storied Historically Black Colleges and Universities (HBCUs) founded in 1867. Harris accepted the President's Medal of Achievement, one of several women honored by the institution during the ceremony.
For this daughter of what students and alumni proudly refer to as "The Mecca"—returning to the college that was an incubator for her intellectual, political and social evolution is a full circle experience.
"They asked me to do it and I was more than honored. It's a homecoming," said Harris, who graduated from Howard in 1986, before earning a law degree from University of California, Hastings College.
"A few things have impacted my life: my incredible mother and extended family and attending this school," she said.
With her husband Doug Emhoff, sister Maya Harris and other family members and friends looking on, the Senator offered the Class of 2017 words of wisdom touching on those themes. The speech—about 30 minutes—was at turns both passionate and poignant.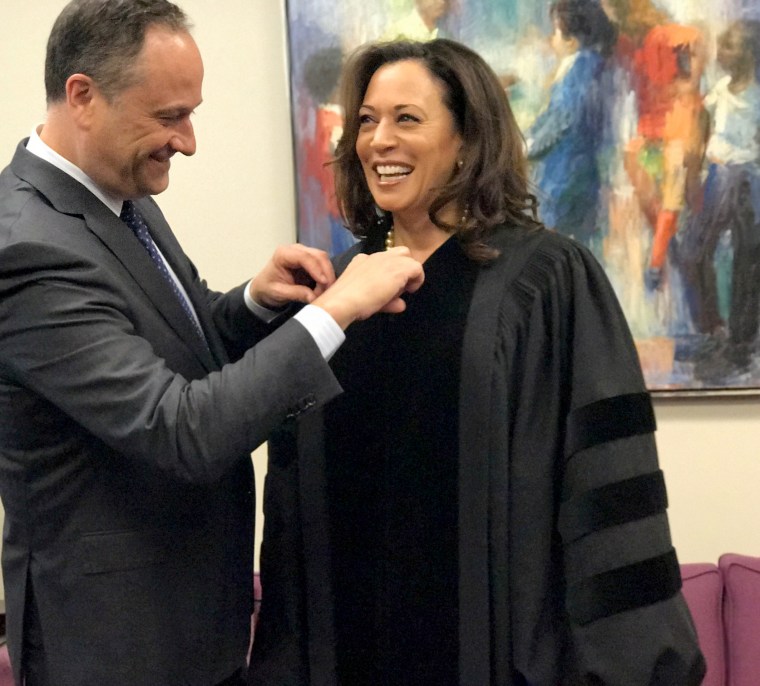 Related: Ivy League Quads: Boys Get Accepted Into Elite Colleges
"You are graduating into a very different time than it was when you arrived a few short years ago. You are graduating into a time when we see a revival of the failed War on Drugs and a renewed reliance on mandatory minimum prison sentences," she said. "A time when young people who were brought to America as children fear a midnight knock on the door."
"A time when throwing millions of working people off their health insurance to give tax breaks to the top 1 percent is considered a victory to some. A time when we worry that a late-night tweet could start a war. A time when we no longer believe the words of some of our leaders, and where the very integrity of our justice system has been called into question."
"Indeed we have a fight ahead," said the Senator. "And it's not a fight between Democrats and Republicans. It's not rich versus poor or urban versus rural. It's a fight to define what kind of country we are. It's a fight to determine what kind of country we will be. And it's a fight to determine whether we are willing to stand up for our deepest values. Because let's be clear—we are better than this."
A native of Oakland, Harris is the eldest daughter of Indian and Jamaican immigrants who met in graduate school and were Civil Rights activists and intellectuals.
She's often publicly praised her late mother, Dr. Shyamala Gopalan Harris, a breast cancer researcher, for instilling core values such as helping to uplift others, and fighting for what is right.
Devoted early in her career to public service, Harris defeated an incumbent to become district attorney of San Francisco, serving two terms. She went on to become the first African-American and first woman elected to serve as Attorney General of California. Among her priorities were battling gangs and championing children.
Sworn in back in January as a member of the 115th Congress, Harris serves on the Homeland Security and Governmental Affairs Committee; the U.S. Senate Select Committee on Intelligence; as well as Senate committees on the environment and budget.
To date, her Senate initiatives have included defending the Affordable Care Act—installed under the Obama Administration—and attacked by President Donald Trump and Republicans who recently passed a replacement measure in the House.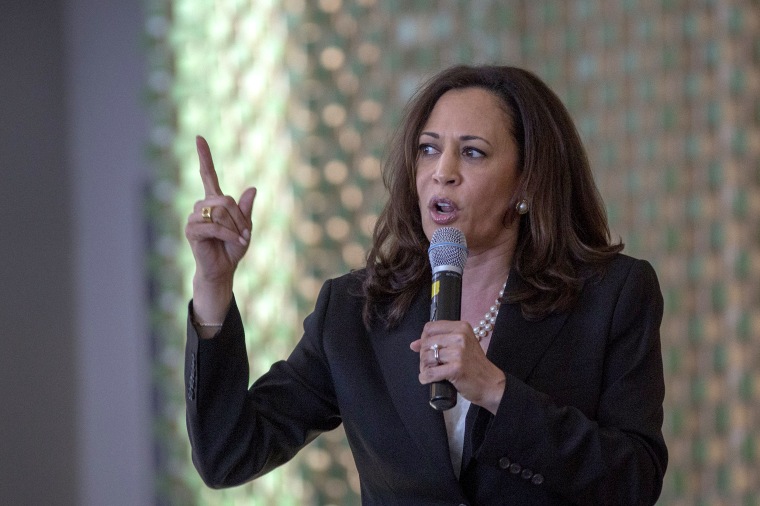 Protecting immigrants is a focus, particularly given her family background. Harris spoke forcefully on the Senate floor earlier this year about the Trump Administration's efforts to detain and deport first generation `Dreamers.' She was among a group of Senators who have introduced legislation to prevent immigration enforcement officers from taking action at sensitive locations such as schools or churches.
She recently introduced a bill with Sen. Bernie Sanders that aims to make college tuition free for most Americans.
Meanwhile, the Golden State's freshman Senator has been a presence at high profile events. They range from the Women's March the day after Trump's inauguration to events hosted by the National Democratic Institute (with Madeleine Albright) and an Emily's List gala.
During a recent guest appearance on the Tom Joyner Morning Show, she discussed a new memo from Attorney General Jeff Sessions. The memo establishes new policies for how the Department of Justice prosecutors charge criminal offenses and seek sentences when convictions are obtained. The directive reverses the policies outlined by former Attorney General Eric Holder in 2013 that were designed to ensure that the most severe mandatory minimum penalties are reserved for serious, high-level, or violent drug traffickers.
"He wants to revive the war on drugs and it's outrageous," Harris told Joyner and listeners. "It's very real what's going on, it's about turning back the clock and we're going to have to fight against that. We have to speak up every step of the way and we cannot tire because this is going to be a long haul."
The Senator—who's already being mentioned as a presidential hopeful in 2020—makes it clear that she and her team (women hold key positions and nearly two-thirds of staffers are people of color, including a majority of the senior staff) are up for the task. Some are Hill veterans, others accompanied her to Washington, D.C. from California.
Related: Black Women at the Forefront in Fight for Racial Equality
"We have got a lot of work to do fighting against policies like mass deportations, reforming the criminal justice system, the Muslim Ban, adhering to and helping enact policies to protect the environment. Fighting against [repealing] the Affordable Care Act. There's a lot," Harris told NBC News.
She echoed that sentiment on Saturday to the graduating class, most of them African American Millennials. According to officials, the school will be awarding more than 2,100 degrees—including 105 Ph.D.s— to graduates representing 47 states and 39 countries.
More than 375 students will receive professional degrees in law, medicine, pharmacy and dentistry. About 66 percent of the graduates are women; about 34 percent are men.
Noting her own college years were a mix of community service, activism, the debate team and pledging Alpha Kappa Alpha Sorority, Inc.—the Senator told the graduates not to be afraid to step up and lead.
"So, graduates, as you begin this next phase of your life, I have one request of you. When you get your diploma later, take a good look at it. Remember what's on it? "Veritas" and "Utilitas." Truth and Service.
"That is your duty—the duty of your degree. That is the charge of a Howard graduate. So whatever you plan to do next—whether you want to design the latest app or cure cancer or run a business. Whether you're going to be a dentist, a lawyer, a teacher, or an accountant—let your guiding principle be truth and service. At a time when there are Americans—disproportionately Black and brown men—trapped in a broken system of mass incarceration... Speak truth—and serve," she said to applause.
Before congratulating the group on their collective achievements she concluded, "We need you. Our country needs you. The world needs you."