Wondering how you're going to get through summer '17 without President Obama's annual summer Spotify playlist?
No need to worry.
California Sen. Kamala Harris has released a sunny playlist of her own, just in time to commemorate African-American Music Appreciation Month. Her catalogue of jams ranges from Hip Hop by Cali natives like Tupac and Dr. Dre, to soulful classics like "Let's Stay together" by Al Green and "ABC" by the Jackson 5.
"Our nation has an indelible soundtrack, songs that have become anthems recognized across the world. Much of that soundtrack is inspired and informed by the vast contributions of African-American artists in jazz, R&B, rap, hip-hop, and beyond," Senator Harris said in a statement.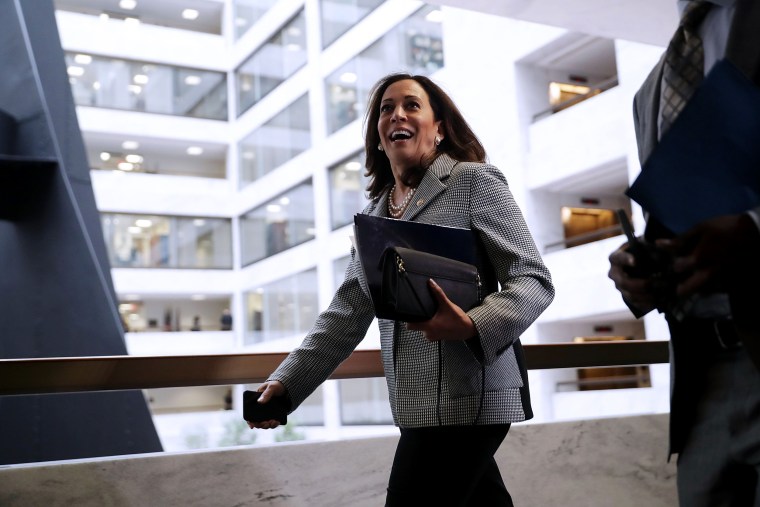 Harris is the second black woman to be elected to the U.S Senate and as her profile in Washington grows, some beltway chatter has suggests she could be a future candidate for president. Most recently, the freshman senator caught national attention for her dogged questioning of Attorney General Jeff Sessions.
But this is not a politician's playlist, much like President Obama's summer soundtrack, her music choices are culturally diverse, soulful and timeless.
Related: Mixing Music and Medicine: Meet Grammy-nominated Producer Nana Kwabena
"No matter where you are from or what you look like, music is a bond that can bring us all together. To celebrate African-American music is to dance, sing, and even march to the rhythms that have long served as vehicles for honesty, inspiration, struggle, success and joy."
So what can we expect next from Senator Harris, maybe a summer reading list?
See below for Senator Harris' full Spotify Playlist.
---
"Check the Rhime" by A Tribe Called Quest
"Juicy" by The Notorious B.I.G.
"Everything is Everything" by Lauryn Hill
"Redbone" by Childish Gambino
"Rise Up" by Andra Day
"Groove Me" by King Floyd
"Happy" by Pharrell
"California Love" by 2Pac feat. Dr. Dre
"Dirt Off Your Shoulder" by Jay-Z
"Super Bass" by Nicki Minaj
"What's Going On?" by Marvin Gaye
"Love on Top" by Beyoncé
"ABC" by The Jackson 5
"My Shot (The Hamilton Mixtape)" by The Roots, Busta Rhymes, and Joel Ortiz
"Have a Talk with God" by Stevie Wonder
"Sinnerman" by Nina Simone
"Kiss" by Prince
"Everybody Loves the Sunshine" by Roy Ayers
"All We Got" by Chance the Rapper feat. Kanye Westand Chicago Children's Choir
"I'll Take You There" by The Staple Singers
"Bam Bam" by Sister Nancy
"Tightrope" by Janelle Monae
"Humble" by Kendrick Lamar
"Tambourine" by Eve
"T-Shirt" by Migos
"Choices" by E-40
"Word Up" by Cameo
"Try Again" by Aaliyah
"On & On" by Erykah Badu
"Pretty Little Birds" by SZA
"If I Ever Fall in Love" by Shai
"End of the Road" by Boyz II Men
"Think" by Aretha Franklin
"Video" by India Arie
"In Common" by Alicia Keys
"Smooth Sailin' by Leon Bridges
"Cold Sweat" by James Brown
"Body and Soul" by Billie Holiday
"Let's Stay Together" by Al Green
"Waterfalls" by TLC
"Be Without You" by Mary J. Blige
"What's Love Got to Do with It" by Tina Turner
"Bambi" by Jidenna
"Dis Generation" by A Tribe Called Quest
"Hit the Road Jack" by Ray Charles
"Marching into The Dark" by John Legend
---