If you've ever sent a text you didn't mean to, there's now an app to fix that.
After auto-correct confused her words on a text message to an ex-boyfriend, Maci Peterson, 29, realized there was no cellphone app to recall the message.
So, she decided to create one — On Second Thought, which allows users to recall messages and even place a curfew on their phones to avoid sending messages until the allotted grace period ends.
She hit lots of error messages along the way to developing the app.
The marketing professional and former public relations major entered the tech space had an entrepreneurial spirit that started with neighborhood car washes and lemonade stands. But she didn't have formal training in technology.
"I didn't have a technology background, but that didn't keep me from creating a tech company," Peterson said. "I wasn't strong in math or science, I didn't think I had a place in engineering or at a major tech company because I hadn't had success in those fields [in school]."
She was determined to make her app happen. After researching the market and working with people in the industry, she entered a pitch competition in March 2014 and won first place at the SXSW conference in Austin, Texas.
While the competition garnered her attention it didn't provide any cash as a prize. So Peterson used her saved salary to fund the project and eventually raised $153,000 through friends, family and an additional $58,000 from other pitch competitions to keep her business running.
She started beginning the build the app in June 2014, but encountered several obstacles like finding developers and engineers that could create the product she envisioned.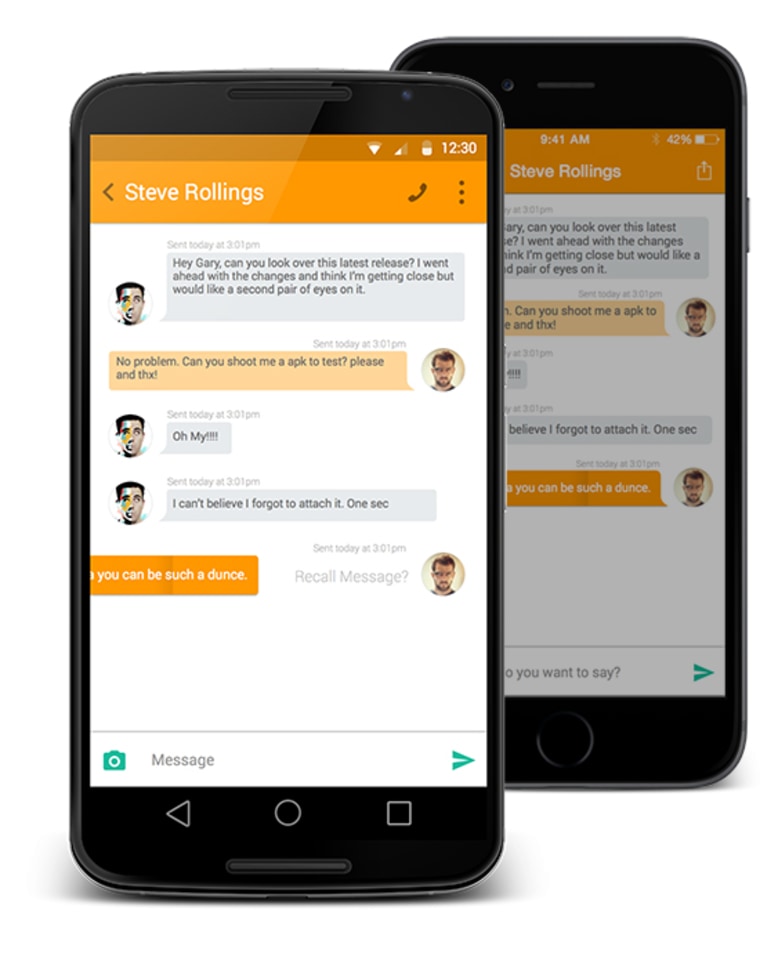 "I didn't believe that it was truly impossible. People were building things and I knew that we would be able to write lines of code — it was being done in other things. We had to figure out how to apply it to messaging," Peterson said.
She tried everything from working with developers in India and in the United States until finally she found a team that made it happen.
Her business started growing in Washington, D.C. and last September she made the move to San Francisco to expand her network. Six months after her initial launch date, On Second Thought hit the market on December 23, 2014.
"It took far longer than I thought," Peterson said. "I thought our app would be ready by July. But that was a great lesson. Things never go the way you think they will when it comes to product development. There are going to be hiccups and bumps along the road and things you can't predict. But now we're becoming astute and we're better able to project when things are going to get done and delivered."
Peterson's app hit the market nearly two years ago and now has 90,000 users in 190 countries. It is available on Android phones and Peterson is starting to license the patented delay recall technology to wireless carriers and social platforms.
Peterson operates her business from her San Francisco office with a staff of three and a team of freelance contractors. And she's brainstorming the next big project for her brand.
"On Second Thought is going to keep me occupied for the next few years," Peterson said. "I really want to build this business and scale it into the platform and enterprise we know it can be."