Thursday, December 3rd, NBC makes the latest bold move to keep the legacy of "The Wiz" alive – and relevant – to a new generation when it presents the three-hour spectacular "THE WIZ LIVE!". The star-studded cast is led by 19-year-old newcomer Shanice Williams, who – in her first professional audition ever - beat out hundreds of hopefuls for the lead role of farm girl Dorothy.
Days before curtain, Shanice agrees to 'Ease on Down the Road' with NBCBLK Contributor Patrick L. Riley to chat about "The Wiz" – past, present, and – after the live broadcast – generations to come. Shanice also lets us in on what her 'Brand New Day' will look like after this show wraps.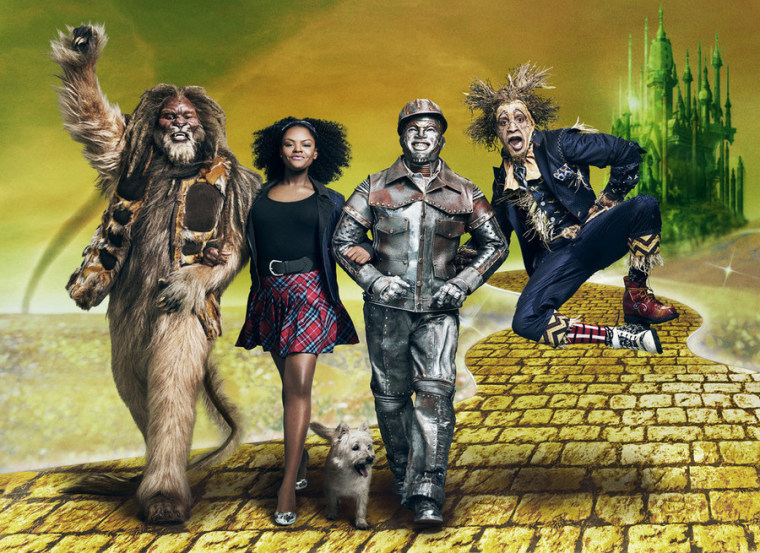 NBCBLK: So here we are days away from The Wiz Live! And you will be presenting the iconic Dorothy from 'The Wiz' to the world. Are you nervous or do you have all of your stresses channeled?
Williams: You know what? I'm super excited right now. There's a lot of pressure obviously. But there's a lot of pressure with everything. Our Director Kenny Leon says if you're going to pray, don't worry. And if you're going to worry, don't pray. So we're all going to be praying. So, we're going to have fun and leave it on the stage.
NBCBLK: I love that. Now, when you say your Director Kenny Leon, you mean the Tony-award-winning Kenny Leon (for the 2014 Revival of "Raisin in the Sun").
Williams: Tony-award winning! Yes!
NBCBLK: How has it been to work with Kenny Leon? Is he challenging you to make your Dorothy new or is he challenging you to reference the classic Dorothy's out there?
Williams: Honestly, our method is just to be real. There's no acting allowed with Kenny. Everything is "be real". He's just teaching me so much. And I feel like he's one of the best directors in the world. Honestly. And I'm like, "Can we go up from here?" Working with him is amazing. It's gonna be great because we're in great hands.
NBCBLK: Let's talk about this property 'The Wiz'. Let's first go back to when you remember first hearing about or seeing 'The Wiz' movie?
Williams: I was one of the ones in my generation who actually did connect with 'The Wiz', even though it was not on Broadway or the movie wasn't big anymore by the time I was of age to notice. But I was into it in middle school. And at that time, I was, like, "What? There's a movie out?" So, I would watch the movie all the time. Then, my dad and I would have our special moments where we'd listen to the soundtrack in the car every time we went out. So, I connected with it and I was in love with the story way before I got this part.
NBCBLK: So, it was destiny! Now, we know that 'The Wiz Live!' is adapted from the Broadway musical, but there are elements of the film in your production. What were your thoughts on the film?
Williams: I loved [the film]! I just loved the dance moves and the music. I just wanted to get up and dance. Diana's grace that she brought to it was just incredible. And "You Can't Win" from Michael Jackson's Scarecrow? That's just a number that everybody loves, no matter what. And we're incorporating that part from the movie in 'The Wiz Live!' We're not doing the Broadway version for that part. And that's one of the things I said "If there's anything to take from the movie, that's the part to take!"
NBCBLK: I remember Diana Ross talking about how difficult it was to keep up with Michael Jackson and all the dance moves. Any challenges for you?
Williams: That's a big part in our show too! We have Elijah Kelly (who plays The Scarecrow). He's a great teacher. Singing "Ease on Down, Ease on Down the Road!" (she sings) with the dance moves together, it takes a lot of work. And it takes a lot of stamina to keep that up, but we've been working on that.
NBCBLK: What is it like to work with the iconic Stephanie Mills who introduced the role of Dorothy to Broadway… and she won a Tony too!
Williams: Listen! There's a video of us singing "Home" together (interview interrupted as Queen Latifah [who is playing "The Wiz"] passes by our interview to get to a photo shoot. They blow kisses to each other and exchange niceties). And during that moment when Miss Stephanie Mills and I are singing "Home", in my head, I was like "Is this really happening right now?" It's not very often where you get to say "We're bringing this back to another generation, but we have the original and she sounds as great as she did when she first did it. And she's super sweet and super encouraging!" I love her!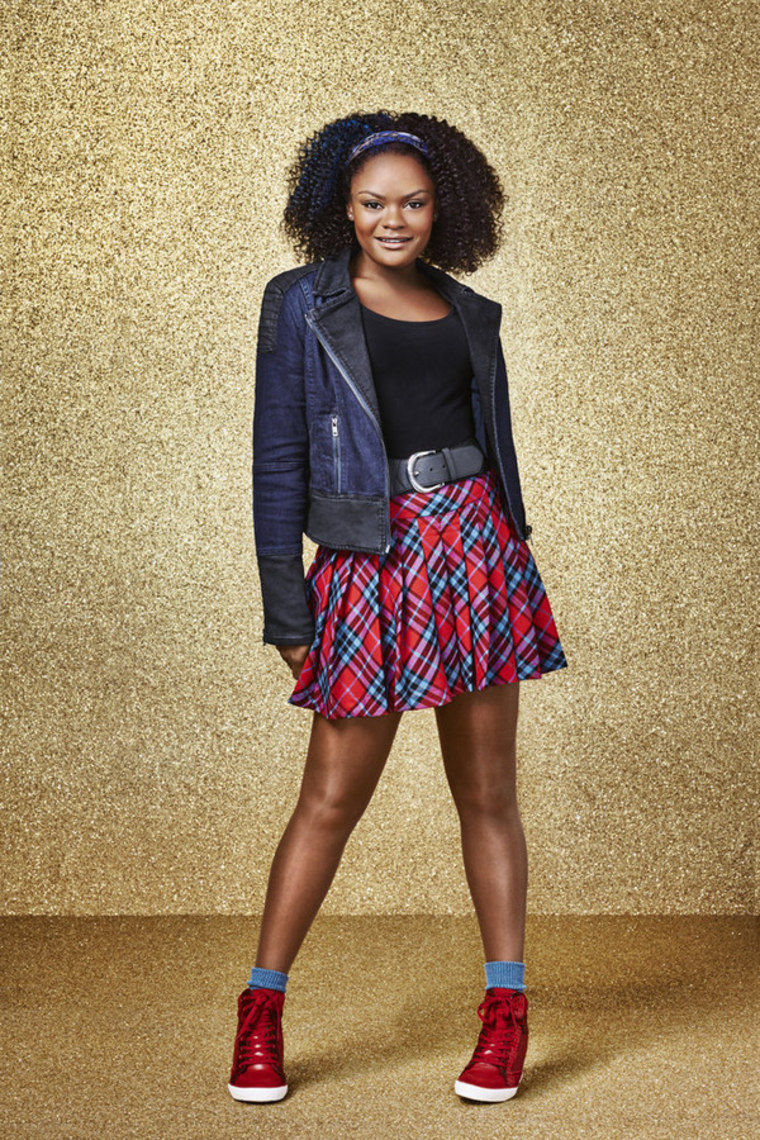 NBCBLK: That amazing footage of the two of you singing "Home" in rehearsal looked like one take. How many takes did it take?
Williams: [Laughing] It took a couple because it was very emotional to get it done. [She laughs] It took a couple of takes. But having Stephanie Mills by my side, what could go wrong? You know what I mean? She's just what I need to be the best Dorothy I can be.
NBCBLK: There's a lot of legendary energy in this cast. More than Stephanie Mills, there's Queen Latifah who we just saw; Amber Riley; Common; oh my! For whom have you gotten star struck? Or are you keeping it cool?
Williams: I'm getting star struck myself. I found out about the cast on Twitter along with everybody else. So, I spend a lot of time talking to myself: "Shanice? They're regular people. Just relax." And I'm glad I did that because now we're truly like a real family. And I said recently to myself "There's someone in the cast that represents every generation." I'm representing our generation now. And then, we have Amber Riley who is representing the mid-20s. She has her huge fan base. And then it's Mary J Blige (as Evilene) and Queen Latifah, and that generation. Then, there's Stephanie. This is a show for everyone. It doesn't matter your age. That's what I love about it. It was cast 100% perfect.
NBCBLK: Let me join you in your pop culture analysis. Dorothy in 'The Wiz' on Broadway inspired many little girls to 'go for their dreams!' What do you think 'The Wiz Live!' is set to do for this new generation?
Williams: My generation probably didn't connect with 'The Wiz' the way that other generations did. And this is saying "Hey, you guys! 'The Wiz Live!' is your opportunity to connect with the story too. I know there are so many people who say 'The Wiz' is their favorite musical and this is my favorite song. And they'll say "You gotta do this or you gotta do that!" And I'm like "Wait, I'm just a girl!" (She laughs). I want this generation to have that opportunity to fall in love with 'The Wiz' also because it's a great story. Everyone at a point in their life is struggling to find out who they are and where they belong. And I'm just happy that they will now get that opportunity.
NBCBLK: We also read that renewed interest in 'The Wiz' has inspired Motown/Universal to release the 36-years-shelved and never-heard album 'Diana Ross sings songs from The Wiz.' What are your favorite songs to sing from 'The Wiz?'
Williams: You know what? They're all good, but 'Be a Lion'!? That song is incredible. It's a moment between David Alan Grier's Lion and my Dorothy. The chemistry is great! And it's like a shift in the story where it's like "Listen! We can do anything we put our minds to!" And she's talking to the Lion, but she's also talking to herself too. So, that song is really special.
NBCBLK: You're a New Jersey girl!
Williams: Yes, I am!
NBCBLK: So, I wonder when you sing "Home", where do you go in your head? What's your motivation?
Williams: I'm from New Jersey. But I went to school in Los Angeles and all across the country. So, I can totally connect with missing Home. So, I put in my head "Remember when you were in Los Angeles and missing family and missing this and that?" It's super easy to connect with Dorothy. I told Kenny that Dorothy and I are the same person. We really are.
NBCBLK: It's just days away! What is your wish for 'The Wiz Live?'
Williams: I hope everyone enjoys it. I hope it can teach lessons to girls – especially from me ---- that nothing is impossible. Anything you put your mind to can happen. And like I said, I want everyone to have the opportunity to fall in love with this story.
NBCBLK: What's next for Shanice after December 3rd?
Williams: You know what? A lot of rest, first of all. Honestly, I don't know what's next. Kenny always says "Enjoy the moment!" So, that's what I'm doing. My biggest inspiration is Audra MacDonald. She kills Broadway. She kills TV. She kills film. She does it all. And I want to be just like her.
NBCBLK: Well, break a leg! We are rooting for you!
Williams: Thank you so much!
[This interview has been edited and condensed for clarity]