Skin care company Shea Moisture was forced to deliver a swift and blunt apology Monday after a new ad campaign fell flat with its key demographic and sparked outrage on social media.
Part of its broader #EverybodyGetsLove campaign, the 60-second snippet produced by VaynerMedia, features a series of women talking about how Shea Moisture products delivered them from "hair hate."
While the brand is known for celebrating and featuring Black women as its target audience, many were taken aback to see that between the blonde, two redheads and the curly girl featured, just one of them was Black.
Many Black women cringed and took to social media to call the "#AllHairMatters" campaign an erasure of the loyal demographic who supported the brand from day one: Black women with curly, kinky and tightly coiled hair.
By Monday evening, Shea Moisture pulled the post from Facebook, writing, "Wow, okay – so guys, listen, we really f-ed this one up."
Given the discrimination that Black woman often face when it comes to hair and beauty standards, the disproportionate number of white voices speaking out in the ad about the sensitive topic of "hair hate" was called out on social media as whitewashing, a marketing ploy, and a rejection of Black women.
"This was not our intent. And I understand how that feels to them," Sundial Brands CEO and founder Richelieu Dennis acknowledged late Monday. "While the campaign is heavily representative of women of color, we didn't explain to the community what the larger campaign is about, which is about women's hair challenges."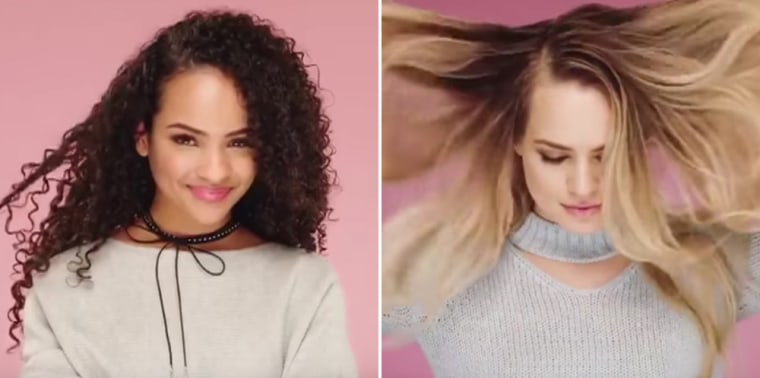 Dennis said they shot and interviewed more than 40 women of different ethnicities and hair types in an effort to share that Shea Moisture has solutions for all.
"Women are concerned that as Shea Moisture grows, they want to make sure that we are not abandoning them or leaving them for a larger audience," Dennis told NBCBLK. "We're definitely not going away from that, we are increasing our intensity in serving them."
In the last 18 months, Sundial Brands has developed more than 30 products specific to thick, curly natural hair.
The Liberian-born founder has long espoused the idea of inclusivity. In a behind the scenes video for their #BreakTheWalls campaign, he shared his philosophy on the brand: "It's always been about including everyone, about celebrating everyone and celebrating everyone's differences."
While some have declared a boycott of the brand, Dennis urged consumers to reconsider.
"We already have few Black businesses in beauty. I think that it is a mistake to abandon a brand that has served and continues to serve because of a Facebook post. Look at our track record, look at what we've done, we are a business that is trying to grow and we need that support."
Dennis founded Sundial Brands in 1992 with his roommate and mother when he was unable to return to Liberia because of civil war. They began making soaps developed from his grandmother's recipes in his Queens apartment and selling them on the streets of New York City to survive.
Related: U.S. Court Rules Dreadlock Ban During Hiring Process Is Legal
The brand has been lauded for its use of natural, ethically sourced and certified organic ingredients, and Dennis once wrote that his company was more of "a mission with a business, rather than a business with a mission."
Even still, "we have to grow the business," Dennis insists, noting that the natural hair care landscape is now fiercely competitive, compared to when he first launched.
"Brands that didn't service women of color for decades are all of the sudden creating campaigns for them to go after that because of the growth they've seen come from us," said Dennis. "The competition that we now see, puts businesses like ours at risk."
Last year, Shea Moisture received praise for their #BREAKTHEWALLS television ad where the barriers between the ethnic hair and beauty aisle are literally torn down.
This ad isn't the first time SheaMoisture has featured white women. In September 2016, the company debuted the ad "What's Normal?" about products for every type of hair. Vlogger Catherine Valdes made a video reviewing products in a paid collaboration with SheaMoisture.
While some people are furious over the company's expansion, others are supportive and say it's simply good business.
The brand thanked the #SheaFam for keeping it 100.
"So, you're right. We are different – and we should know better."