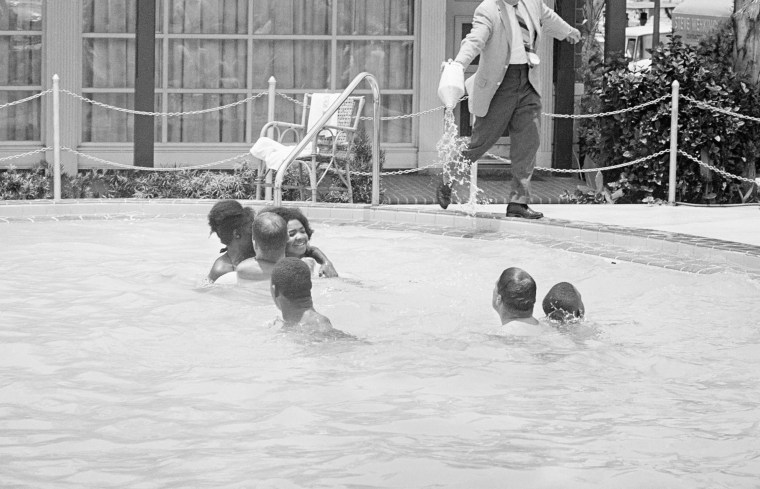 I hope one black woman in Boston, Massachusetts was watching when Simone Manuel became the first African American to win Olympic gold in swimming last month.
Better yet, I hope Mamie Nell Ford was listening during the post-win press conference.
"The gold medal wasn't just for me," Manuel told reporters in Rio. "It's for a lot of people who came before me."
Without question, Ford is among them.
And while her name may not ring a bell for Manuel, like Rosa Parks', it should.
Fifty-two years ago, the 17-year-old Albany, Georgia native made history herself in a segregated St. Augustine, Florida - the nation's oldest city.
In front of a lunchtime crowd at the Monson Motor Lodge, Ford and six other civil rights activists, many veterans from the historic Albany Movement, jumped the hedges and into a guest pool.
As news cameramen and photographers clicked and rolled, motel manager James Brock responded by dumping muriatic acid in the pool, before fully-clothed St. Augustine police officer Henry Billitz jumped in to arrest them.
"I couldn't breathe," recalls Ford, now Mimi Jones, of the iconic June 18, 1964 drama that Dr. Martin Luther King, Jr. witnessed himself from across the street.
RELATED: 5 Things to Know about Simone Manuel
Jones explained King's Southern Christian Leadership Conference had recruited her and others from Albany, including the Rev. Samuel Wells and J.T. Johnson, to make the trip to St. Augustine in support of the local civil rights campaign.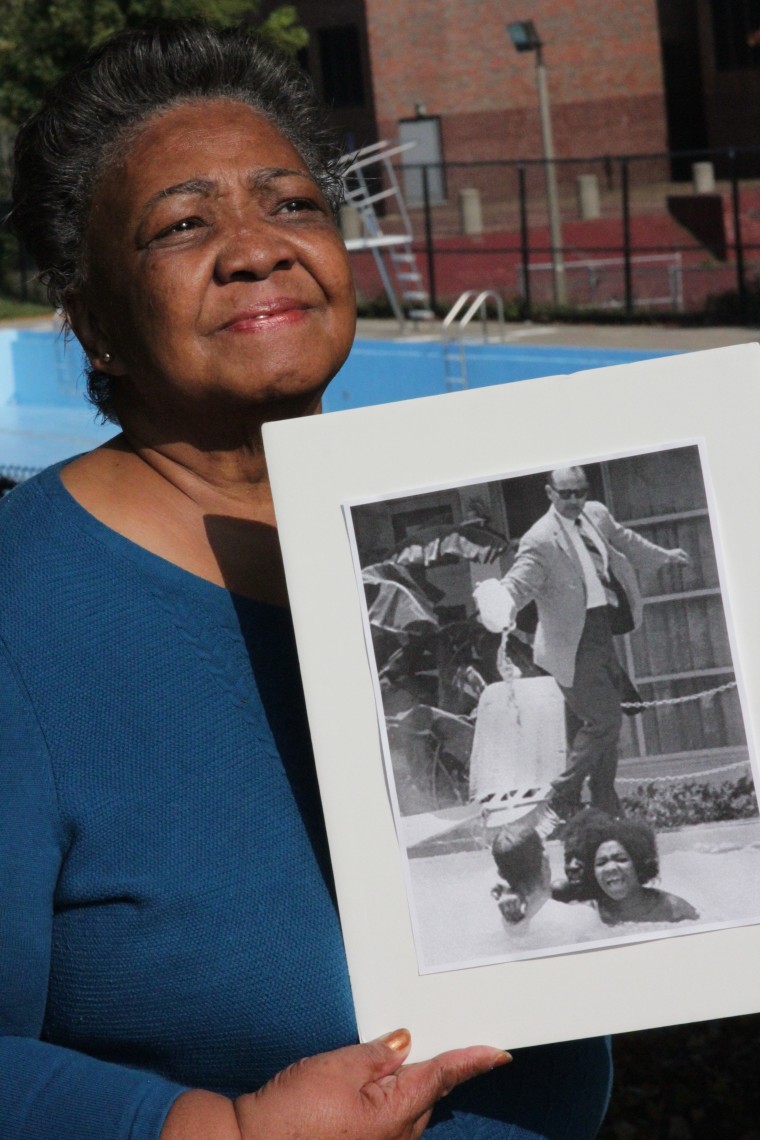 "When they asked for volunteers to participate in the swim-in demonstration," she said. "I said, yes, because, despite segregation, I knew how to swim."
The photo and footage of Ford's alarmed expression, as Brock poured acid in the pool from above, not only circled the globe, but captured the attention of the White House.
"Our whole foreign policy will go to hell over this!" quipped President Johnson in a recorded Oval Office phone conversation.
Less than 24 hours later, the civil rights bill introduced a year before that had been stalled in the U.S. Senate, would win approval, leading directly to the passage of the landmark Civil Rights Act of 1964.
"I had no idea," admits Jones of the event's legislative impact.
Long before Jones reached the age of the now-20-year-old Manuel, the teenager was walking her talk to improve life for people who looked like her. She had been arrested and jailed for her civil rights activities back in Albany, had traveled the country as a youth spokesman for the Civil Rights Movement to raise money for the '63 March on Washington the year before St. Augustine, and even after her release from jail following the pool episode, she returned to her hometown and joined five other black girls, who closed ranks to desegregate the formerly all-white Albany High School, where she graduated with honors in 1965.
RELATED: Olympian Cullen Jones on Swimming While Black
The following fall, she left Southwest Georgia, headed to New England for college and earned her degree from the University of Massachusetts Boston. She settled, married, became a mother and spent a career serving in the Commonwealth's Department of Education until retirement. And despite going on to spearhead a community-based nonprofit and serve on boards and committees to boost literacy and benefit her predominantly black Boston neighborhood of Roxbury, her historic role in the Civil Rights Movement had remained largely under the radar.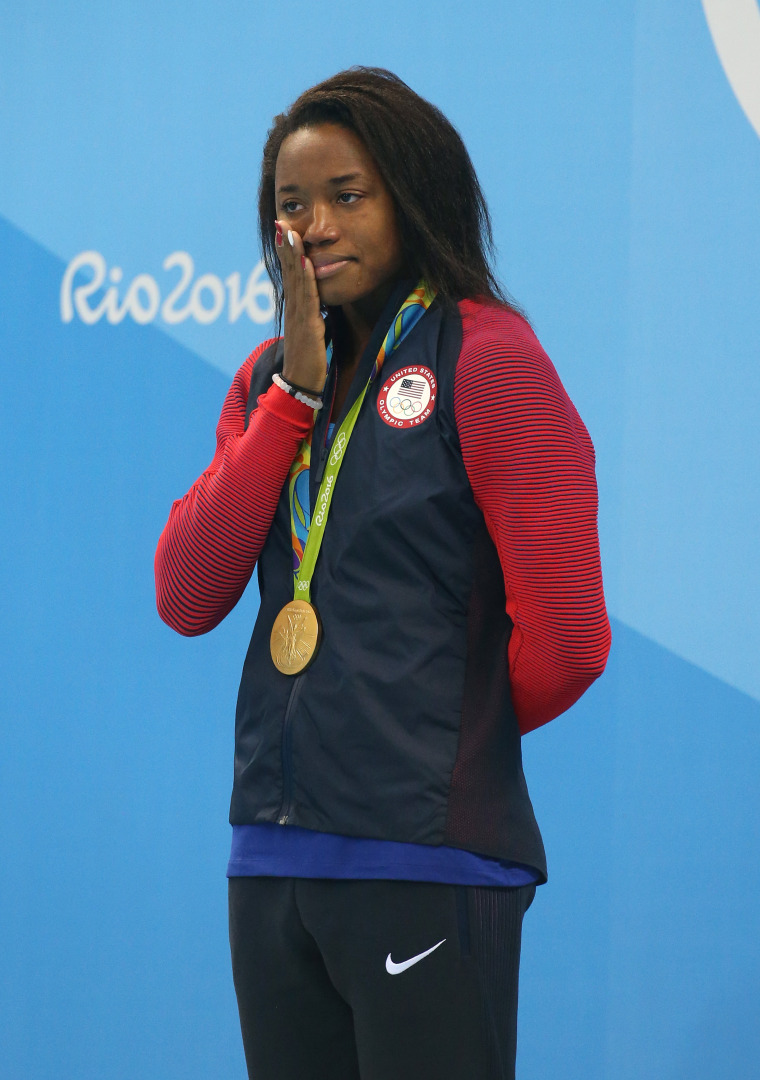 That is until this year, with the release of the award-winning civil rights documentary film, Passage at St. Augustine, about the little-known, but pivotal St. Augustine Movement, including the events of that day in the pool.
Now, Jones speaks about her experience regularly, following screenings at places like Boston College, Springfield College and the Museum of Fine Arts in Boston.
She acknowledges her activism helped shatter the color-coded ceiling that would have otherwise made it illegal for Manuel to enter a public swimming pool, let alone learn to swim in one, back in her native Texas.
And while Manuel may not have known of Jones' backstory of sacrifice, the athlete's comments prove she instinctively knew there were warriors in the mix, who helped pave the way for her win.
Theirs were the shoulders she was standing on last month.
I only hope Mimi Jones knows that two of them belonged to her.
And that she won gold in Rio, too.
Clennon L. King is a Boston-based filmmaker who wrote, directed and produced the award-winning civil rights documentary, Passage at St. Augustine http://www.passageatstaugustine.com, featuring Ms. Jones.