Rickey Smiley is already a successful radio personality who stars on two popular TV shows, and still performs his stand-up comedy routine.
Now, he has another notch in his belt, adding the title of author to his list of occupations with the recent release of his debut memoir, "Stand By Your Truth: And Then Run For Your Life." It serves as part testimonial and part life-guide delivered with his homegrown style of "clean" comical commentary.
"I titled the book that because you really have to stand by your truth, and the truth will set you free," Smiley told NBC News. "But you all have to run for your life because everybody can't handle the truth."
For nearly 10 years, the Birmingham, Alabama native has been waking up listeners via the nationally syndicated "Rickey Smiley Morning Show," which reaches millions of people in over 50 markets. The four hour show, which is now syndicated through broadcast pioneer's Cathy Hughes' Urban One empire, started in Dallas in 2004.
Following in the footsteps of his mentor and friend Steve Harvey, who also started in comedy before transitioning into radio and television, Smiley has become a jack of all trades. He handily juggles all of his gigs, alongside managing an active family life as a single dad, which viewers get a bird's eye view of on the TV One reality show "Ricky Smiley For Real."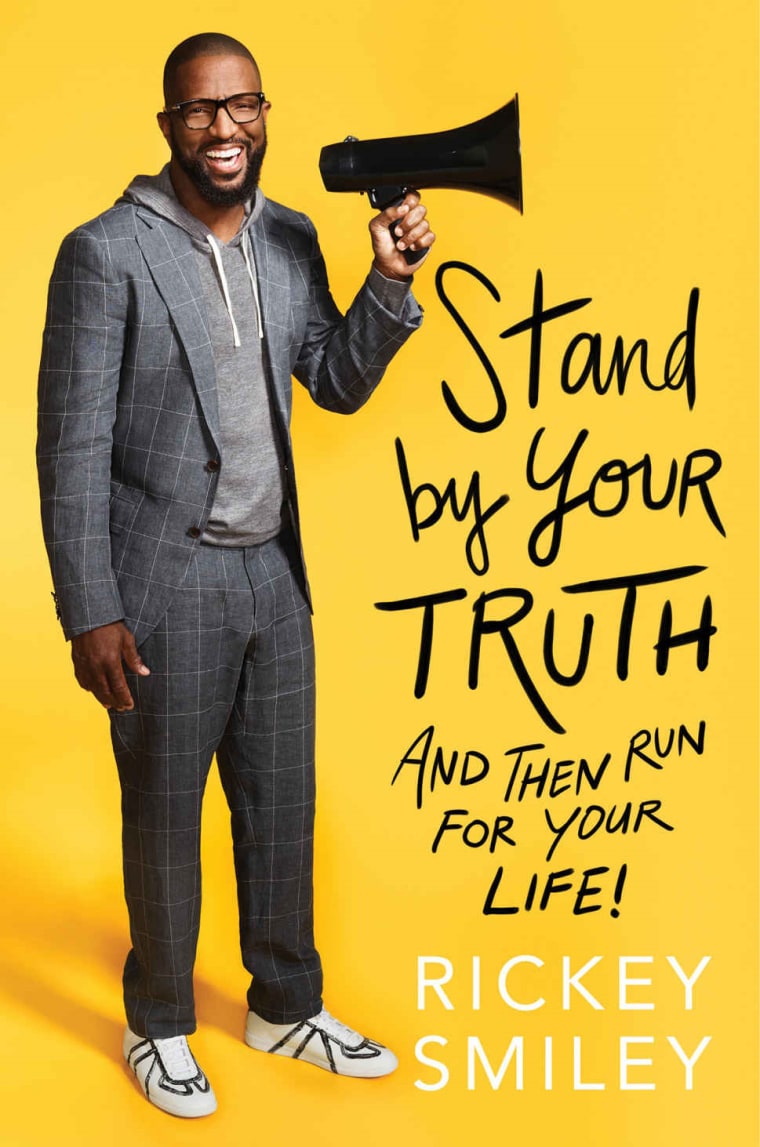 Writing the tome was inevitable for the 49-year-old. His manager is a literary agent, who believed that after 28 years of being in show business there was more than enough material to put to paper. Smiley previously released six comedy albums — two of them were Top 10 comedy albums on the Billboard charts.
"We have stories on when I got shot, how I almost lost my life, forgiveness, passing the torch," he said of his debut literary outing. "We did some great chapters. We did a lot of wonderful, awesome things in the book that was just phenomenal. It's not only a great read but definitely a page turner."
He opens his book with a chapter entitled "To The Parents" where he writes about the ups and downs of fatherhood and explains his journey as father to four kids — who are "technically" his — and several young men who he refers to as his nephews.
Smiley said it was important to share difficult aspects of his life with readers, including a years-long custody battle for his son Brandon.
"It will probably help somebody else that's out there fighting for access to their children, [to] get access. That's the important thing, and that's what it is all about," he said. "I hope that somebody will learn, that somebody will allow a non-custodial parent to have access to [his or her] children. So that is what we hope for that chapter."
An admitted champion of single fatherhood, Smiley takes on "The Myth of the Deadbeat Dad" in another chapter.
"It is a myth because [dads] got a bad rap, and they just get a bad rap for years," he explained. "There are a lot of, way more great fathers out there, fathers just don't get highlighted. A lot of great fathers [are] out there doing wonderful, awesome things; Doing hair and making meals, and doing the ripping and running — some [do] without any help. There are good dads out there."
Before expanding his reach into radio, the funnyman toiled on the comedy circuit, sometimes earning as little as $100 for eight shows (as a permanent opening act) at the Comedy Club in Birmingham. Smiley went on to gain national attention via popular television shows such as BET's "Comic View," "Showtime at the Apollo," and HBO's "Def Comedy Jam."
Although he's become a pro in broadcasting mediums, recording the audio version of "Stand By Your Truth' taught Smiley something about himself.
"I learned that I was patient when I did the audio version, which is a real grind," he confessed. "It takes hours to sit at that studio and read everything that is in the book. But we made it work."
Recently signing a five-year extension with Urban One, Smiley said it's destined one day for him to sign off the airwaves — like his colleague and radio legend Tom Joyner, who announced his retirement in October.
But Smiley said he wouldn't throw in the towel all the way.
"I want to sit on the beach every day and do stand-up on the weekends," he revealed about life after radio. "Any beach. I want to just relax and do tropical island stuff and have a good time."