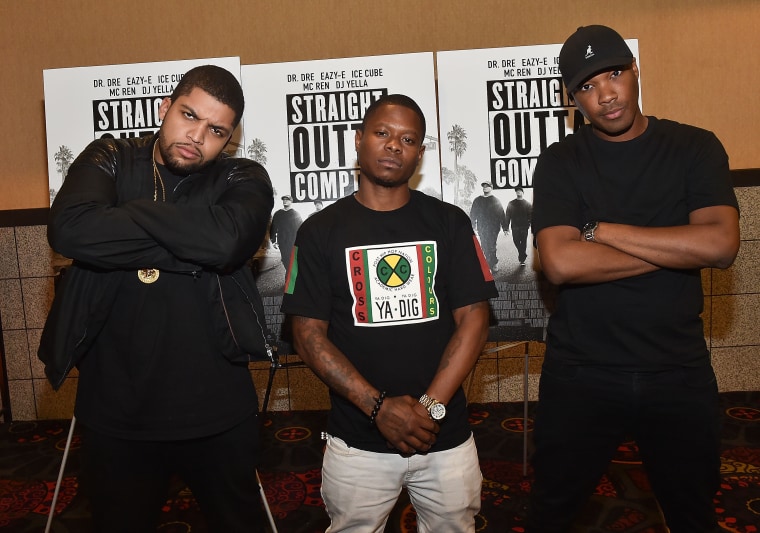 "Straight Outta Compton," the biopic that chronicles the rise and fall of legendary hip-hop group N.W.A., is now available on Blu-ray, DVD and Digital HD. While the pressure was certainly on all of the cast and crew to accurately depict the larger-than-life members of the group that revolutionized the music industry and invented what we all now know (and some love) as "gangsta rap," O'Shea Jackson Jr. had even bigger, well, kicks, to fill.
Portraying his own father, rapper/actor Ice Cube, who produced the film along with Matt Alvarez, former bandmate Dr. Dre and Eazy-E's widow Tomica Woods-Wright, on the silver screen turned out to be a life-changing experience.
Jackson recently spoke to NBCBLK contributor Chandra Thomas Whitfield about his breakout performance and everything from Black Lives Matter to the film's controversial Oscar snub.
NBCBLK: Wow, it must be exciting to finally have the film available to an even wider audience with the recent release?
Yeah. I got tired of people asking me when it was going to come out [laughs]. Now everyone can officially make it part of their movie collection. I've seen it at least 17 times and I must say that watching it on a computer or just a regular TV just doesn't cut it. You have to watch it on a real home theatre system to get the full effect. The Blu-ray/DVD [and Digital HD] includes the theatrical version, but it also features the unrated director's cut that's 20 minutes longer. You also get behind-the-scenes bonus features that include interviews with director F. Gary Gray, N.W.A. and the cast.
NBCBLK: It's hard to imagine the pressure you were under in this role.
I am my biggest critic; I never think anything is right. That's why I need people to tell me that [what I'm doing] is okay. "Straight Outta Compton" is my baby; it's the biggest thing I've ever done in my life so it's really a big deal to me. I never thought I'd be on the acting side of the film industry because I went to The University of Southern California for screenwriting. I always thought I'd be on the other side of the camera.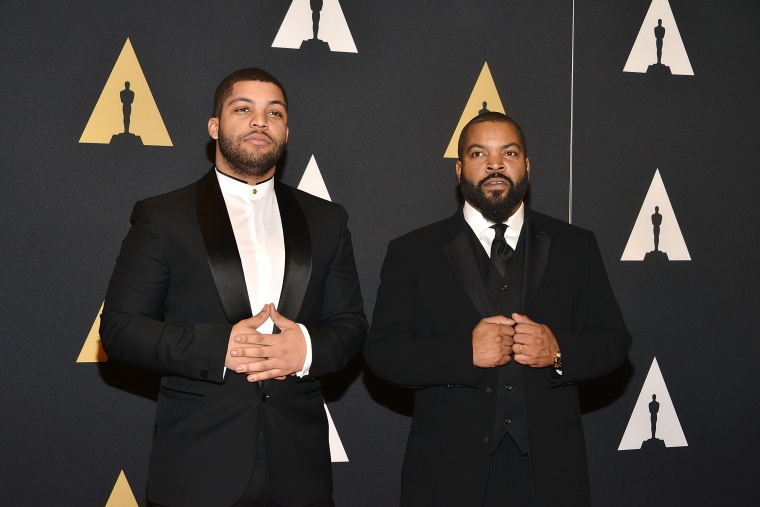 NBCBLK: Was it totally nerve–racking having your dad on set?
I was very nervous about shooting. I just wanted to get everything right for my family. My whole family was looking at me like 'you better get this right,' especially my dad's side. Believe it or not, having my dad there on set calmed me down. It's kind of like when you're a kid and you're doing the school plays and programs and you get that sense of relief when your parents walk in. There's just this comfort in knowing that they're there. My dad has been my coach my whole life, so it felt totally natural. When he's there I know I can't get it wrong.
My whole family was looking at me like 'you better get this right,' especially my dad's side.
NBCBLK: What would you say is the film's central message?
"Straight Outta Compton" at its core tells you to love your loved ones while you can; acknowledge them while you still got them around and in your life. My daddy misses his friend [Eazy-E]. When you boil it all down, this movie is about brotherhood.
NBCBLK: It took more than a decade to get this film onto the big screen and you've been quite vocal about the fact that you auditioned for this role for more than two years. In light of all that, how do you feel about it getting snubbed in the Oscar nominations in all but the screenplay category?
It's hard to say that [the nominations are] just about [the quality of] film when you have this movie as the number one [musical] biopic of all time and from [Gray the highest] grossing black director of all time. I think that deserves recognition. At the end of the day there's nothing you can do but get back on your horse and try again.
NBCBLK: What should we expect from you in the future?
I definitely want to move forward in the film arena – I want to 'Kanye West' it. I want to do music too, but not necessarily much with rapping because you can get typecast in that. I feel the best way for me to showcase my artistic eye is to produce. Me and my big brother Darrel are going to work on a compilation album filled with different artists. We're trying to immortalize the family name.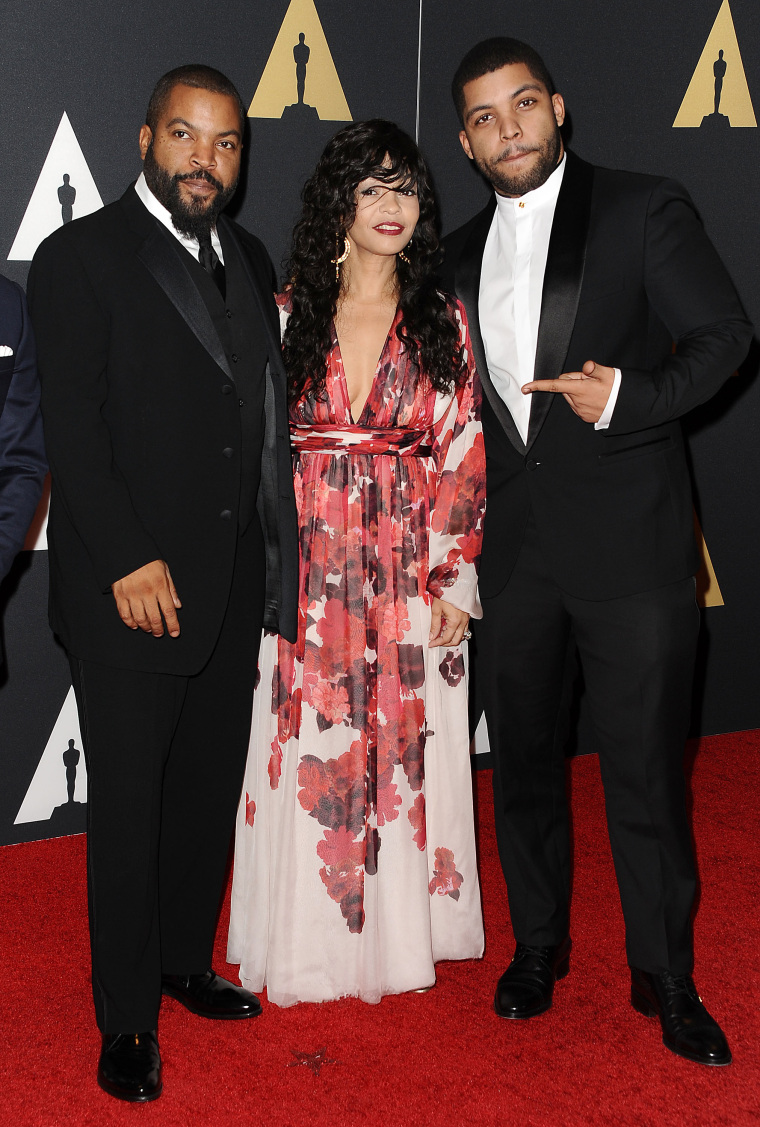 NBCBLK: Shifting gears a bit, 2016 marks the 25th anniversary of the riots that followed the acquittal of four white Los Angeles Police Department officers charged in the beating of black motorist Rodney King. What are your thoughts on that and the Black Lives Matter movement in general?
My parents have been telling me stories like that my whole life – they didn't shield us from the realities of the world. I'm well aware of the dangers of the world. At the same time, we've got to look at ourselves. This is a character issue when you have police officers who are supposed to make you feel safe abusing their power. That's a problem. You need to work on that.
NBCBLK: The presidential election has been amping up. As we inch closer to Election Day, have you decided on a candidate?
I don't really have anyone that I've selected to wear that badge yet. People need to wake up a little bit. A lot of the news channels aren't about news – they're about ratings and about what gets the biggest number of [views]. When Donald Trump talks, the ratings go up and that's why he's been getting a lot of attention. At the end of the day it's all a business.
NBCBLK: Diehard N.W.A. and "Straight Outta Compton" fans are going to rush out and get the DVD of the movie. What would you say to encourage someone who may think this type of film is not for them?
This movie has a universal message. It's David vs. Goliath; it's about people being told that they're hopeless and won't amount to nothing. This movie is about being the underdog; it teaches you that if you to step out the box you just might make history.