Millions of people are working from home or spending more hours on lockdown alone or with family members during the coronavirus pandemic. Thankfully, in today's movie and television market, there are plenty of features that center on themes of particular interest to black viewers.
Here are several entertaining programs to consider. Get the popcorn and settle in.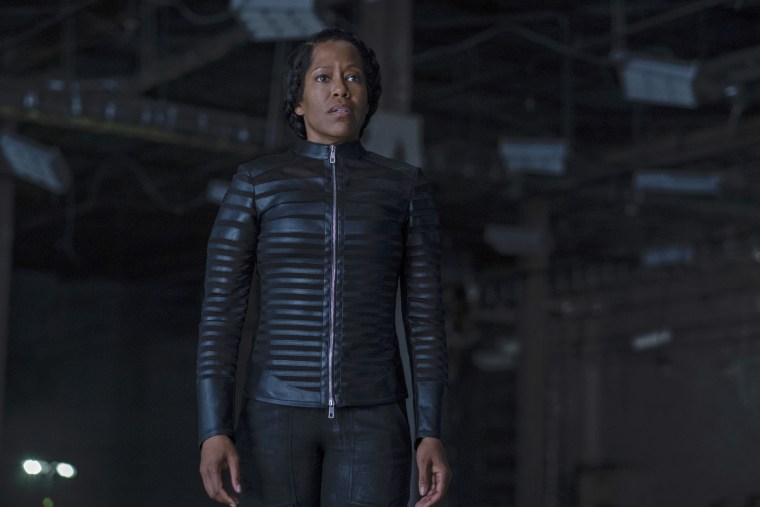 Watchmen
If you missed the nine episodes of this HBO series, now you can see what all the talk was about. Many folks are familiar with the 1995 original comic series but this one is a drama for mature audiences set in Tulsa, Okla., 34 years after the original story. After white supremacists attack a local police department, only two cops survive. One is Angela Abar, played by Regina King, who adopts the identification of "Sister Night" and fights racist vigilantes.
Just Mercy
This movie is the story of a real-life superhero, lawyer Bryan Stevenson, who moves to Alabama to battle for justice against racism and ignorance. The plot centers around Stevenson's efforts to defend a man sentenced to death despite evidence that proves his innocence. Based on Stevenson's memoir, it's a painful story at times but also inspires and offers hope by illustrating the difference one person can make. Michael B. Jordan plays Stevenson and Jamie Foxx plays the accused man, according to one critic, "delivering one of the finest performances of his career." Purchase now from retailers such as Amazon and Vudu or watch on other subscriptions services, including Amazon Prime and Netflix beginning April 14. Rated PG-13.
Styling Hollywood
If reality TV is your thing, binge season one of "Styling Hollywood." Jason Bolden, the stylist, prepares celebrity clients such as Taraji P. Henson, Eve, Yara Shahidi and Ava DuVernay for red carpet parties and award shows. Bolden's husband, Adair Curtis, has an interior design practice and over the season he helps Gabrielle Union decorate her homestead and Sanaa Lathan turn an investment into a desirable Airbnb rental. The couple lives in Los Angeles with their beloved goldendoodle. The two have moments when they are silly and perfect partners and more challenging times when they disagree on serious matters. All of this seems to illustrate that a black gay couple's life is pretty much like that of any married couple. Netflix hasn't announced a season two but season one ends in a way that suggests there will be more.
Top Boy
This cult hit series about gang life and drug dealing on an east London estate ran first in the United Kingdom. Rapper Drake, like millions, was disappointed when the series ended. Only Drake did what other fans couldn't do. He worked with Netflix to finance a revival and get the original writer back on board. The rapper executive produces the new episodes in series three and has even joined the cast. The drama follows members of street level drug trade. The original series is also streaming on Netflix under "Top Boy: Summerhouse." The plot is such that you can choose to start with the U.K. version or pick up with series three.
Self-Made: Inspired by the Life of Madam C.J. Walker
Mix a little history with your entertainment and enjoy the story of an African American washerwoman rising from poverty to build a beauty empire. Madam C.J. Walker became the first female self-made millionaire. Octavia Spencer stars as the business titan, Blair Underwood is her husband and Tiffany Haddish is her daughter. The story, a rare lengthy biographical exploration of a black person's life, is told through Madam's professional rivalry with mentor Addie Munroe (a fictionalized character based on Annie Malone). Based on the book On Her Own Ground: The Life and Times of Madam C. J. Walker by Walker's great-great-granddaughter A'Lelia Bundles, the series recreates how Walker went from laundress to businesswoman just a few decades after slavery ended. It's easy to binge with just four episodes, each less than an hour long. Streaming on Netflix.
Pose
Actor Billy Porter slays his role as "Pray Tell," father figure and resident emcee, in the wildly popular dance musical series about the New York City ball scene of vogueing and strutting in the late '80s. In addition to house music and dance competitions, the series shows the struggles of the LGBTQ community -- particularly trans women of color. Instead of just using straight actors to play lead roles, the cast features LGBTQ actors. Porter has said, "I was the most excited that finally, LGBT queer people of color were going to be at the forefront of the storytelling, because as a black gay man in this business, that has never been the case in the mainstream." The show has been picked up for a third season. Meanwhile, play catch-up and watch the first two seasons on FX.
#blackAF
Who knows how long social distancing and shelter-in-place will be with us, but April 17 is right around the corner. That's when "Flip the Script," a new family sitcom starts on Netflix. Kenya Barris , creator of Black-ish, and Rashida Jones, actress and producer of TNT's "Claws," star in this series loosely inspired by Barris' real-life marriage and unorthodox parenting style. The show uncovers the hilarious world of what it means to be a 'new money' black family. The first season includes a list of high-profile guest stars, including Issa Rae, Lena Waithe, Ava DuVernay, and Tyler Perry. That's a lot of sparkle to look forward to in the not-so-distant future.