Contrary to popular belief, student activism in response to racism and discrimination on college campuses is not a new phenomenon.
When Benjamin Reese, Jr. started classes at Bronx Community College, the idea of tuition costs was simply that – an idea.
There were fees, but students were not charged tuition. That was some 50 years ago, according to Reese, now vice president of the Office for Institutional Equity at Duke University and Duke University Health System.
"[As] Governor [Nelson] Rockefeller planned to impose tuition," Reese remembers, "A group of us from Bronx Community College, Queens College and the City College of New York, vowed to sleep on the sidewalk outside of the office of the Governor until he changed his mind."
They lost. Rockefeller imposed tuitions. But the memory of his early days of student activism is still vivid, especially in this atmosphere of what appears to be a heightened level of student activism across the country today.
The recent events at the University of Missouri, Virginia Commonwealth University, Ithaca College, Yale University, and the University of Albany follow a long tradition of student movements to bring about change.
"We are into a new cycle," said Reese who is also president of the National Association of Diversity Officers in Higher Education. "Issues of race are embedded into society, they've not changed in the past six months. The activism has served to shine a light on issues not being highlighted."
For Imani Perry, Hughes-Rogers Professor of African American Studies at Princeton University, social media is playing a role.
"Over the past year and a half we've definitely seen an uptick in campus activism, and this appears to be the height of it thus far," she said. "Certainly social media has facilitated [greater connectivity] which emboldens and encourages students to be inspired by one another as they protest."
Reese and Perry both consider the actions of these student leaders to be healthy and necessary.
"Students are the most important community members at any college or university, they are the reason we're all there," Perry tells NBCBLK. "So when they insist that the institutions become more deeply inclusive and equitable, administrations must listen."
Moreover, thinks Perry, student activism impacts the greater society.
"We saw that in the 60s and 70s and we will see it as this movement grows further."
Reese agrees.
"There will be an impact of the broader society. Higher education tends to reflect the broader society, in my opinion," he said. "Student activism serves the purpose of highlighting issues. What is happening on the campuses of colleges and universities is also occurring across this nation. As campus environments shift there is a national societal shift.
One key feature of each student movement has been the specificity of their demands. In most instances, students have demanded the resignation of key leaders on campus, hiring of more professors of color, increased cultural competency awareness and education resources and more.
Such demands are a clear indication that students are expecting to be listened to and taken seriously, said Sharon Fries-Britt, professor of higher education at University of Maryland, College Park.
"Students are establishing a higher level of scrutiny as they evaluate the actions and commitments of institutional leaders to address racism and hostile campus climates," she said. "Higher education is changing rapidly yet we keep asking students to do all of the adjusting rather than looking for ways that institutions need to change to meet the needs of a diverse student body."
And it seems students' demands are being heard and considered.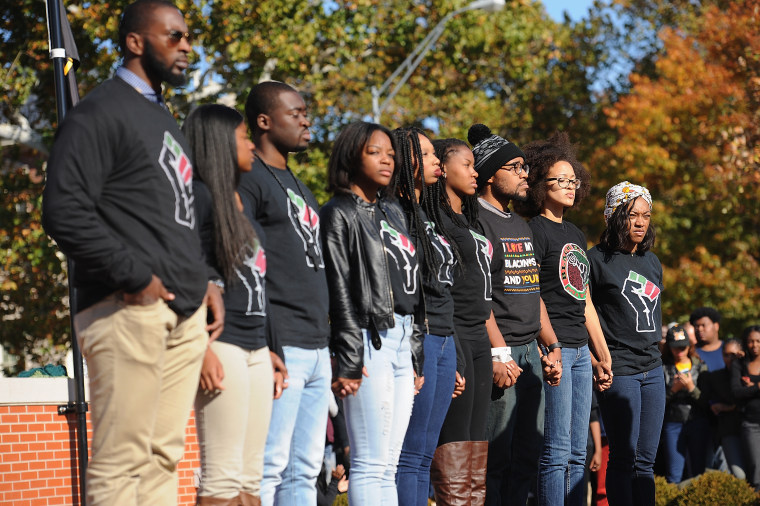 Following the resignation of Timothy Wolfe at University of Missouri, the school appointed Michael Middleton interim president. In some ways, the appointment can be seen as symbolic, but not simply said Fries-Britt.
RELATED: University of Missouri Board of Curators Name Michael Middleton Interim President
"I suspect that the university was in a position to appoint an excellent candidate with a deep understanding of the campus and system, with the professional expertise and leadership skills to run the system, who is also black," she said. "Within this context I believe that his race was considered as a plus factor because his own experiences as a black man adds a level of insight and understanding that would inform his leadership perspective and abilities all of which are needed at this time."
And at the Virginia Commonwealth University, President Michael Rao met with about 30 students in the lobby of his office to discuss their concerns and demands. He vowed, according to reports, to make some of the students' demands priority, including the hiring of more professors of color.
These actions are being lauded as steps in the right direction instead of declarations such as the hiring of a Chief Diversity Officer as the quick and easy fix.
The hiring of a chief diversity officer does not replace everyone having some responsibility in combating issues of discrimination on college and university campuses, said Reese.
"What I feel is that an institution needs someone who provides executive leadership on diversity and inclusion, working in that arena everyday," he said. "A CDO appointment is just one part. Hiring a CDO in and of itself is not the remedy for the complex issues of diversity."
Perry adds it is incumbent on all adults in higher education to protect and support these students who are speaking out and acting as active citizens in their university communities.
"This is a job that doesn't simply fall on a diversity officer," she said, "It is part of the responsibility of all of us who believe in fairness and the importance of nurturing the life of the mind and a healthy student community."
The burden to come in and "fix things," is undue, adds Fries-Britt. The role of the chief diversity officer is not a one-size fit all.
"The CDO role can vary significantly based on the institution and campus expectations. There has to be a comprehensive strategy at all levels to address student, faculty and staff concerns across the campus," she said. "These strategies have to be continually evaluated and sustained over time. There has to be a viable infrastructure to support the work of diversity and inclusion on the campus."
Overall, said Fries-Britt, students need to see real and substantive change.