A Florida high school student whose prom proposal sparked online outrage and racial backlash will not attend prom, according to a statement from his family's lawyer.
Noah Crowley, a senior at Riverview High School, posted a photo of himself holding a sign with the words, "If I were black I'd be picking cotton, but I'm white so I'm picking you 4 prom?"
In a statement provided to NBC News, Crowley's parents said their son will not attend any future "school activities or functions, including the Prom or graduation." The statement says the decision was made after several conversations as a family and additional discussions with Riverview High School administrators.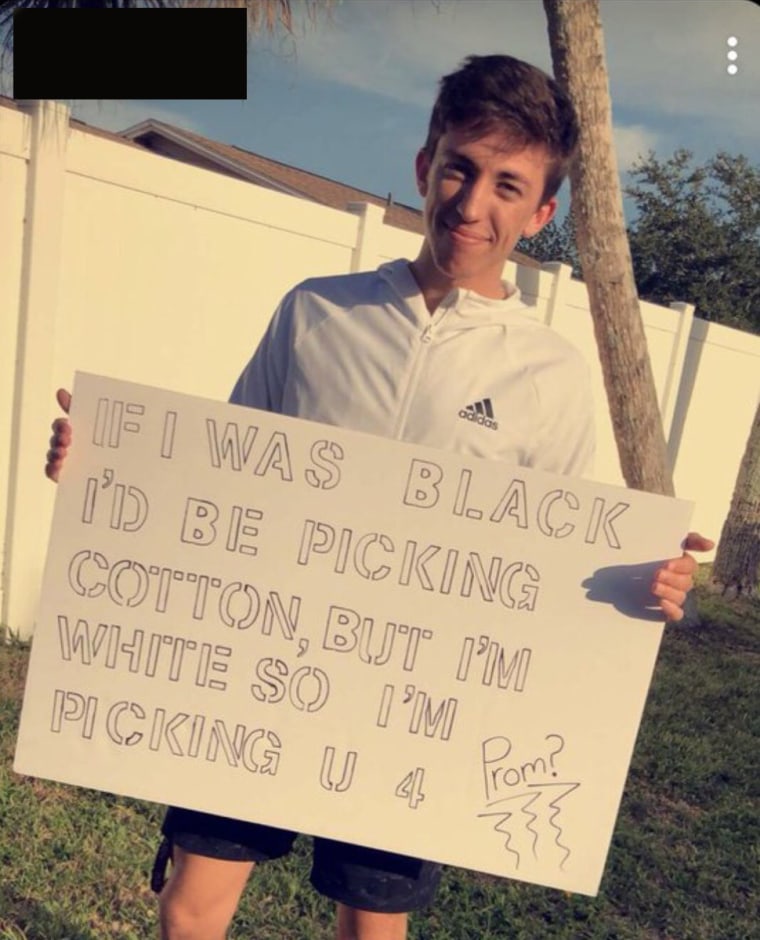 Crowley, 18, also faces potential discipline from his school, according to officials.
Fellow Riverview senior Erin Williams shared Crowley's post on Facebook and it quickly went viral. The specific reference to "picking cotton" sparked outrage and accusations of racism on social media.
Williams, who is African-American, told NBC affiliate WFLA that Crowley may have intended it to be funny, but that it wasn't a joke to her.
Sarasota County School District Communications Director Tracey Beeker told NBC News Tuesday Crowley "made an error in judgment" and he has apologized for the post.
She also said the school is investigating the incident and looking at all options of discipline. Additionally, Beeker said Crowley didn't adhere to the school's electronic policies and the incident "disrupted school."
"Neither the school district nor Riverview High School condones or supports the message conveyed in the post," the school said in a statement released Monday night.
"The school district is working with local and national civic leaders, including the NAACP, to develop a roundtable forum to discuss the issue of race, not just at Riverview, but district-wide."
Trevor Harvey, president of the Sarasota County Branch of the NAACP told ABC Action News 10 he will recommend to the school district that Crowley not return to any school in Sarasota and is calling for an investigation into the school administration in "their lack of response to students who bring race issues to their attention."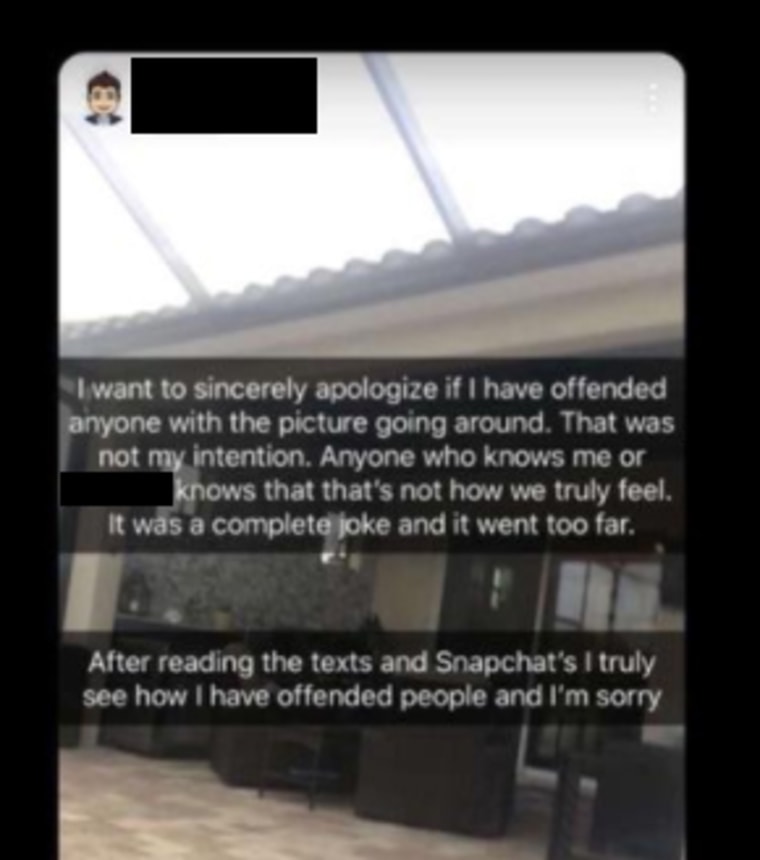 Crowley posted an apology on social media over the weekend saying the post "was a complete joke and it went too far."
"After reading the texts and Snapchat's I truly see how I have offended people and I'm sorry," Crowley wrote in the Snapchat post.
According to government data from the 2015-16 school year, approximately eight percent of the nearly 2,500 students at Riverview High School are black, while roughly 70 percent are white.
Beeker told NBC News the school district plans to hold student-led roundtables with the NAACP this week or next week.