Benjamin "Kamau" Hosch III was a happy and outgoing 5-year-old who loved learning. His parents never thought they would be burying him before he started kindergarten.
"I'm sad, broken. I miss him. I'm angry and I want him back. I would take his place in a heartbeat," his mother Ayisat Idris-Hosch said with tears streaming down her cheeks. "I'm the fixer, I fix things. I'm a mom and I can't fix it."
On Friday, Kamau drowned in a creek while in an outing at the Camp Cricket Summer Day Camp at Cochran Mill Park in Chattahoochee Hills, Georgia. The camp said the children were having lunch on a nature trail and then played in a creek when Kamau went missing. Authorities found his body a short distance away from the creek. There were 13 kids in total being supervised by four adults.
In a statement, Georgia Department of Early Care and Learning spokesman Reg Griffin said the camp "was neither licensed nor had it applied for and received exempt status from the state." As a result, the camp was ordered to close by the state on Monday.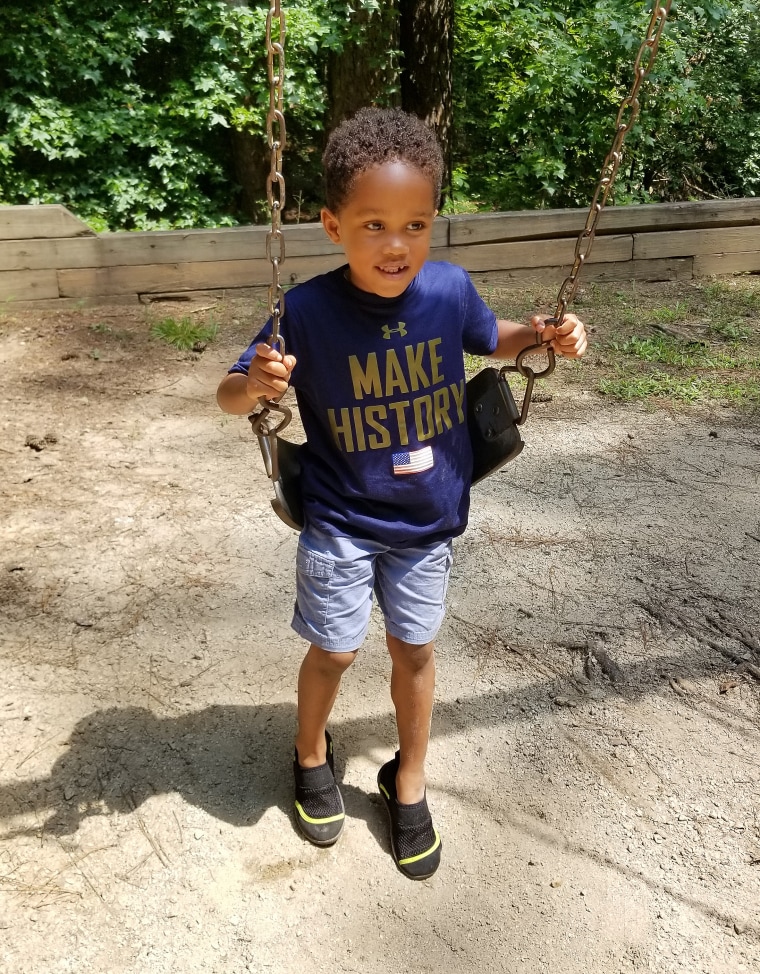 Kamau didn't know how to swim. His mother says she would never let him in the water without a swimming vest.
Idris-Hosch said the schedule of activities for the day didn't list swimming and she wasn't notified that the kids would be going to a creek.
"I would have never agreed for him to do anything like that and, if I had agreed to do it, I would have made sure he had on some type of life jacket — we have swim jackets at our house," Idris-Hosch said. "I would have given it to him that morning."
Cochran Mill Nature Center, which said they had been hosting summer camps and kids' outings for 23 years, said more than 15,000 children visited in 2016 alone and that there had been no major incidents until now.
"The Board, Staff and Volunteers of the Cochran Mill Nature Center are heartbroken and distraught over this tragedy," board member and volunteer Steve Hurwitz said in a statement.
Given reports of a pending lawsuit, "The Board, Staff and Volunteers have been advised to submit no further comments at this time," the statement added.
Related: Cullen Jones, Simone Manuel and the Impact of Blacks in Swimming
The Hosch family said they weren't notified by the camp that Kamau was missing. It wasn't until the young boy was at the hospital and the fire department called Idris-Hosch that they found out something had happened to their son. The only call they received from the camp was from a member of the board of directors, offering condolences — 30 hours later, she said.
Idris-Hosch called that negligent, as well as disrespectful.
"It's as if my child didn't matter. The protocol is, if something is wrong, you call the parent and then you get advice on treatment and then you move forward. They didn't call us at all," she said. "They robbed us of that little bitty time we could've spent with him."
While drowning is the second-leading cause of accidental injury-related death among those aged 1 to 14 of any race, accidental drownings occur with tragic frequency in the black community. According to the Centers for Disease Control and Prevention, black kids ages 5 to 19 drown in swimming pools at a rate five a half times higher than whites kids. Black kids ages 11 to 12 drown in swimming pools at a rate 10 times that of white kids.
A study conducted by the U.S.A. Swimming Foundation found 70 percent of black children can't swim.
A growing number of organizations and athletes are trying to raise awareness of drowning in children.
American Olympic gold medalist Cullen Jones, an ambassador of the U.S.A. Swimming Foundation, is educating people on the importance of learning how to swim through the Make A Splash program.
The Hosch family plans to sue the camp and is calling on other families who have had bad experiences with the camp to speak out. "We've already gotten phone calls from families who are saying that they had concerns about supervision out there for their children," the family's attorney Chris Stewart said.
The Hosch family also wants closure.
"I don't know what happened that day. I would love for someone to just tell us, it would ease my mind because I play so many different scenarios in my head and it kills me at night," Idris-Hosch said. "And I just think about, 'What was the last thing that he did? Who was the last person that he talked to? What did he say?' Just tell us."