Michael Bentum can do 360 surf turns with perfection. He rides the waves along the coast of Busua, Ghana, with height and speed. His surfboard soars beside the ocean swell, as crowds of children watch from the coastline applauding in admiration. Bentum is their surfing hometown hero.
"I can tell you now that I'm the best in Ghana," the 21-year-old said. Bentum recently won the International Surfing Day Competition, held in the Krokrobite suburb of Accra. He took home a surfboard from Share the Stoke, a watch from Rip Curl and 500 Cedis ($112).
Forty-six surfers from 17 countries traveled here for the competition. Three are from Ghana. It's the 12th surfing event in the country organized by Brett Davies of England. He owns Mr. Bright's Surf School and wants the world to know that Africans have been surfing for centuries.
"Most Africans are very fit and athletic," he explained. "The African surfers I have had the pleasure of surfing with and coach pick up surfing fast."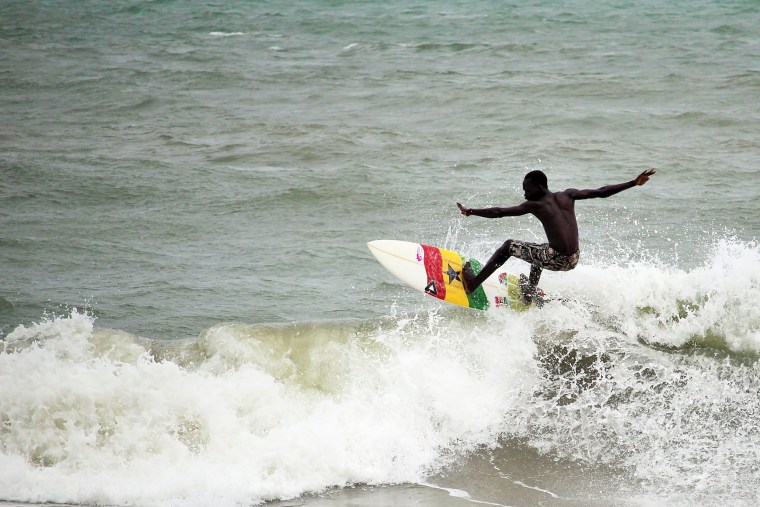 Bentum, Ghana's best surfer is from Busua — about four hours west of Accra. Children living in this small fisherman's village also grow up surfing as way of life. Their playground is a raw, untapped beach. Women walk on the sand carrying items on their heads and babies swaddled in clothe on their backs. It's picturesque Africa.
Peter Ansah, owner of Ahanta Waves Surf School & Camp, says their home is a surfer's paradise. "When I was small, I would always come to the beach and try to surf with a piece of wood." As a child, he met a couple from the United States using surfboards at Busua beach. Intrigued by the long pointy structure, he asked to use it in place of wood - falling in love with catching waves.
"Whenever I'm surfing, I forget about everything. I have nothing to think about. The only thing is that I enjoy it!" he described. He's been surfing for 13 years and opened his surf school for locals and tourists alike. "A lot of people think it's not possible to surf in Ghana because they think there's no waves or no ocean in Ghana,"Ansah said.
"It's not only Europeans surfing. We are surfing in Africa and right here in Ghana too."
However, Ian Fraser from California said he's familiar with surfing in the country from the 1960's movie "Endless Summer." It depicts a scene of kids surfing on wood. He's in Busua taking his daughter and her teammates to Ahanta Waves for lessons.
"I saw the surf school and thought oh we should come here with the girls when we don't have a game and go surfing with everybody," Fraser said.
Related: '57 Chocolate is a 'Sweet' Homage to Ghana
Ansah also teaches free lessons to the kids here. He wants them to be apart of the next generation of African surfers. "When you're talking about surfing, they don't normally count Ghana," he explained. "When you travel to South Africa, it is an African country but all the surfers are white people." Star surfer Bentum helps out too, teaching them lessons every Friday after school.
To keep up with growing interest, a program called Surf and Impact was formed. Volunteers from Europe and the United States live with a family in Busua for a nominal fee and teach the budding surfers. Director Ebenezer Feliz Bentum feels the global exposure will help the 20 students in the program become international surfers. "There a few kids who have big potential to be big stars in the surfing industry," he said.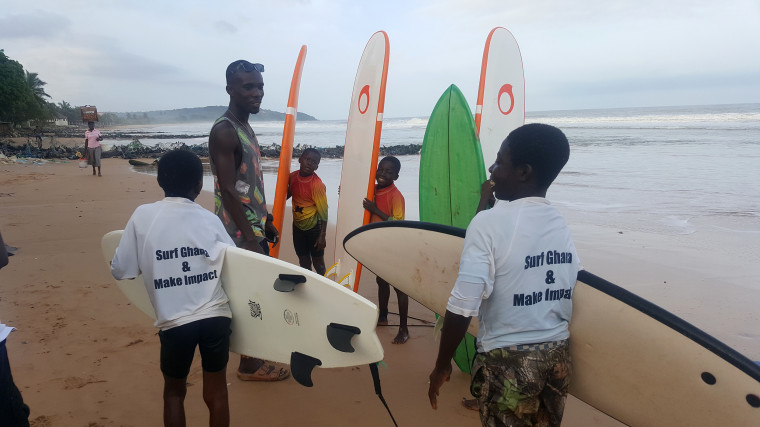 14-year-old Clement Cobbinah learned how to inspect the surfboard leash, attach it to his ankle, and stand on it through this program.
"It was a bit scary and nervous on my first day," he admitted. "But it got better and fun, especially on my first time standing up on the surfboard and riding the wave."
Surfing is costly for a developing country like Ghana. A surfboard costs at least $625. A family here earns about half that amount in a month. Sandy Alibo from France assists Surf and Impact by shipping donated boards to Busua from Europe.
Related: The Inspiration Behind Rapper Young Paris' White Face Paint
To sustain surfing here Alibo wants Ghanaians to manufacture it domestically. "I would love to teach Ghanaians how to shape the boards by themselves and produce the board in Ghana directly," she said.
Bentum walked confidently with his surfboard in one hand and giving the signature "surf-ups" symbol with the other. As long as the children around him continue learning the ways of the waves, he said surfing in Ghana is here to stay.
"It's not only Europeans surfing. We are surfing in Africa and right here in Ghana too."