NEW YORK — A cool, fall night in SoHo, a group of people sip wine and study art propped on tables or against exposed brick walls at a private art salon. The paintings have names like "A Turks and Caicos Sunset" and "Festival" and feature brown people wearing brightly colored clothing or landscapes with water or grass. The energy in the room swirls around a delicate-looking woman with close-cropped hair and shiny black sneakers. She looks intently at people and smiles as they talk to her.
She is the artist Synthia Saint James, known for her vibrantly colored painting on the cover of the 1995 book "Waiting to Exhale" by Terry McMillan. The book was not only a groundbreaking ode to the lives of single African-American women, but its cover art helped put Saint James on the national map. It also spurred a collection of copycat artists who mimicked her style of clean lines and bright colors.
But the people in the room know her not just as an artist, but also as a friend, poet, Hollywood businesswoman, and are supporting her art salon to benefit the enCourage Kids Foundation, a program that brings art therapy, teddy bears, even family trips to sick children in New York City hospitals. Twenty-five percent of the proceeds from the sales of the signed prints and original paintings at the salon will go to enCourage.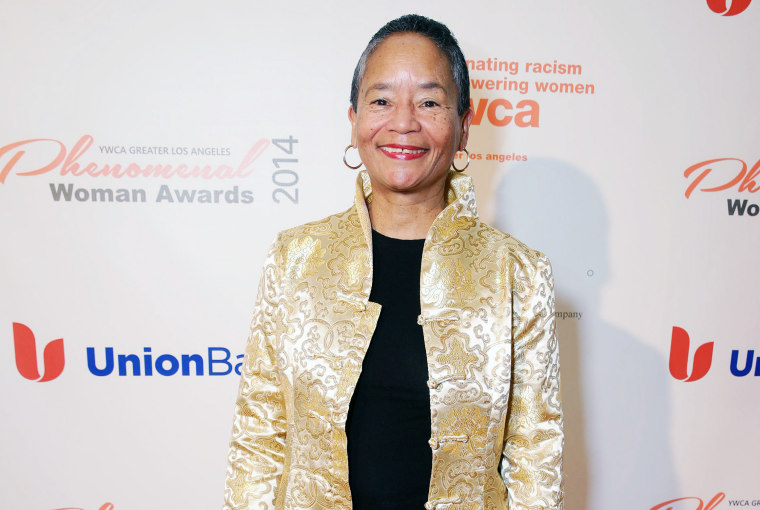 Saint James said she feels compelled to do good with her talent.
"I really think it was a gift from the creator and I also think that with that gift comes responsibility," said Saint James. "I like to share and I like to work with a lot of nonprofits and other organizations to encourage and help. I am not money rich at all."
Once she does business with someone, it seems they become friends. One man tells her that she and her work are beautiful. She smiles and hugs him.
"She's just warm and inviting — she's a people person," said songwriter and friend Matthew Smith, 59, of Queens. He met Saint James at a dinner in Los Angeles 20 years ago and owns several pieces of her artwork. "Her work speaks for itself. It's universal. Everyone can relate," he said.
Saint James, 68, lives alone in a Spanish-style condo in Los Angeles with a back room and sun porch that overlooks yucca plants and nature. This is where she paints, wearing what she calls her paint clothes while jazz plays in the background. She feels peace when she paints, she said. Each painting is a process and she researches her subject before touching the canvas.
Related: 'Boom for Real': New Documentary Celebrates Life of Artist Jean-Michel Basquiat
Thursday night's salon marked a return to the city where Saint James spent part of her youth and young adult years and where she sold her first painting – an abstract in autumn colors for a lawyer with the mortgage insurance company where she worked as an accounts receivable clerk. She was 20 and made $75, which she used to buy more art supplies, a newly released black-and-white Polaroid camera, and slacks for her then boyfriend.
While visiting New York, Saint James also spent time with children with blood cancers and other blood disorders at Mount Sinai Kravis Children's Hospital. Saint James talked with the children about how they could express their feelings through art and helped guide them through an art therapy exercise where they studied the postal stamp she designed for Kwanzaa in 1997 and came up with their own stamp ideas.
"....it was a gift from the creator and I also think that with that gift comes responsibility."
Art therapy can help take children's minds off the pain and fear of sickness, said Diane Rode, who directs the art therapy department at the hospital. "It normalizes the potentially dramatic experience of hospitals and illness and it can encourage them to tap into those inner resources," she said.
Saint James discovered the gifts that art can bring at a young age. Her father liked to draw portraits of famous people and she always liked drawing and painting. When she was 5, she announced she was going to be an artist.
"I love the color — I almost want to skip the drawing part and go straight to the color," she said, explaining she believes her love for color comes from mother's father, who was from Haiti, where the painters frequently use bright colors. "I believe a lot of my color and themes comes from my DNA."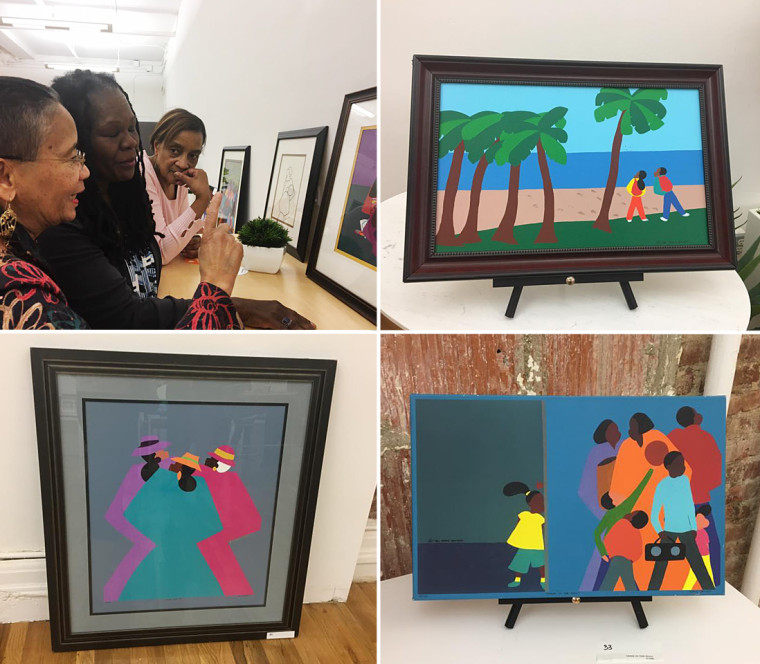 In high school, an impressed teacher told her if she produced a certain number of drawings for the class, she would get an A. She did not comply. "I don't really believe that art should be graded," she said, gold earrings depicting giraffes dangling in her ears.
Saint James studied liberal arts at Los Angeles Valley College and at Dutchess Community College in Poughkeepsie, N.Y. She moved back to Los Angeles and continued to paint but also held a series of jobs that put her in the middle of the business of Hollywood.
She wrote artist bios and handled publicity for Shelter Records and Epic/CBS and was one of the first people to hear the Emotions' single "The Best of My Love." She also played Julita, the Cuban house slave, in the Dino De Laurentiis movie "Drum" and had fourth billing in the 1974 blaxploitation film "Black Sister's Revenge."
Related: With Abandoned Buildings as His Canvas, an Artist Empowers
Then one day, Terry McMillan called. The author was not happy with the cover art for her not-yet-published "Waiting to Exhale" and had purchased a copy of one of Saint James' pieces at a gallery in Oakland and wanted to use it for the book cover.
After that, all sorts of authors wanted to use Saint James' work on their covers, thinking it would help their books sell, the artist said. Saint James went on to produce a Kwanzaa stamp for the U.S. Postal Service in 1997, a 150-foot-wide mural for Ontario International Airport in Ontario, Calif., and art work for U.S. embassies around the world.
Since then, she has been busy painting, writing poetry, serving as artist-in-residence at colleges, and earning an honorary doctorate from St. Augustine's University, an HBCU in Raleigh, where a fine arts institute bears her name.
Next up will likely be a children's book, but she does not want to say too much about it just yet. In the meantime, she will continue to draw inspiration from everything around her.
"I'm like a sponge," Saint James said.