Clifford Ryans vividly remembers the scene, 20 years ago, that changed his life.
On a sidewalk on the South Side of Syracuse, New York, he saw his son Duriel's sneakers — the ones he had just bought him — sticking out from under a white sheet where his son's body lay on the ground. Duriel, 17, was killed on July 25, 1999, shot point-blank by a bullet from a sawed-off shotgun.
Ryans, 56, remembers dropping to his knees and beating the pavement with his bare hands until his knuckles were bloody.
These days, he walks along the same streets, but with a sign that reads "O.G.'s Against Violence." While the term O.G. often stands for original gangster, Ryans said it means "Our Generation" within his organization. Ryans created a grassroots, anti-violence program in the hopes it can help prevent the kind that killed his son.
Ryans speaks to schools and government groups around Syracuse, offering techniques for conflict resolution and counseling for families affected by violence.
"When it hits home, the impact of going through it yourself is a different level of hurt and pain. A lot of people don't make it through that, a lot of people struggle with that for the rest of their lives," Ryans said. "I use that as motivation for me to channel the work I do for my organization."
Ryans was compelled to create his anti-violence program after one exceptionally grisly Fourth of July weekend in 2015 that left 11 people with gunshot wounds. Since then, Ryans is a familiar presence on the streets, at times putting himself between teens who are in the middle of a dispute and steering them away from violence.
Alarming numbers
The rate of teen shootings per capita in Syracuse is more than double that of the vast majority of U.S. cities with populations of 50,000 or more, according to an analysis of cases by the Gun Violence Archive.
Last year, the city had the most homicides of young people in more than 25 years. Of the 24 people killed in the city, 12 were under 21, according to the Syracuse Police Department.
"It's a multifaceted loss to the community," Syracuse Common Councilor Joe Driscoll said. "There's a crisis of hope and people saying, 'God, how is this happening in my neighborhood?'"
"It's absolutely gut-wrenching," Driscoll added. "These incidents resonate out and have a tremendous negative impact psychologically. It's traumatic for those immediately affected, but also for the community as a whole."
Jacqueline Gonzalez said that since she began working at the Center for Community Alternatives six years ago, youth violence has worsened. During the after-school program she runs at Fowler High School, Gonzalez has seen the repercussions of this violence first-hand.
Every week she teaches the students tactics to help them resolve their anger and avoid conflicts.
"Directly or indirectly, it affects these kids," she said. "It's like a domino effect."
At community meetings, some residents have lost more friends than they can count on two hands, according to Driscoll.
"It will take a village"
Without O.G.'s Against Violence, the number of youths killed would be even higher, noted Ryans. He said he's stopped 10 homicides from happening in 2018 alone. A crooked scar on the side of his neck is a testimony to his commitment.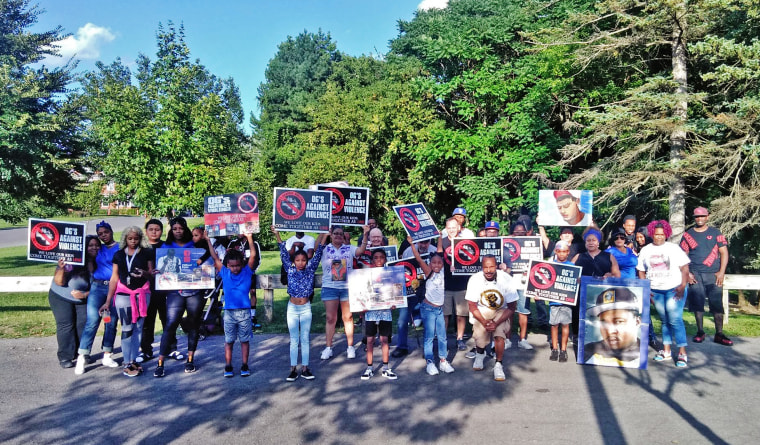 In 2017, Ryans intervened when a fight broke out between two women at a memorial event on the South Side. One of the women was swinging her arms, and Ryans didn't notice that she was holding a knife until the blade entered his neck an inch from his carotid artery. When he arrived at the hospital, doctors told him he would have died within minutes due to extensive internal bleeding that was filling his lungs, Ryans said.
"It's worth the effort because it's saving lives, and I'm still here," Ryans said. "There's a purpose behind it, there's a higher power leading me, there was a divine intervention from me losing my life."
Ryans' message of anti-violence has spread to the Syracuse community around him. At first, only Ryans toted the black and white sign emblazoned with "O.G.'s Against Violence," but now they're on display in window sills and front lawns in nearly every neighborhood.
"It will take a village," Gonzalez said.
State Sen. Rachel May, a Democrat who represents Syracuse, presented Ryans with the Liberty Medal this year, which is the highest civilian honor a New York resident can receive. The group has gained traction in Syracuse because Ryans is a familiar face who has experienced the same troubles he addresses.
Channeling "that boulder of pain"
Though Ryans says he has become accustomed to interceding when a gun is drawn, he hopes these programs can prevent violence long before bullets fly.
"I take that boulder of hurt, pain and anger off of my shoulders and channel it into a positive direction," he said.
Several faded photographs of Duriel are on top of his grandmother's crowded wooden desk. They show a radiant boy with a wide smile and gleaming eyes. Duriel loved to play basketball with his father, style his younger sibling's hair and play the drums in church.
"I still see him laying out there on the corner," said Andrea Benjamin, one of Duriel's' cousins. "I wish we could have seen him grow up into the beautiful young man we know he would have been."
Ryans lives with these memories as he ushers a group of boys at the South Side Boys & Girls Club into a semicircle of plastic chairs facing a wide wall of mirrors. He asks the boys to approach the mirror, look at themselves, and say why they're special. The first boy shuffled across the tile floor with his arms crossed and eyes downcast. He mumbled that he's special because his family loves him.
"It's showing those kids that there's another way of life," Driscoll said.