SYRACUSE, New York — Aggie Lane made her neighborhood's pitch on July 11, 2005. Flanked by eight colleagues from the Partnership for Onondaga Creek, a citizens' voice for the south side of Syracuse, New York, as well as a half-dozen supporters, Lane pressed the case for civil-rights claims targeting a county government bent on putting a sewage plant in her largely African-American community.
At the U.S. Environmental Protection Agency's regional office in New York City Lane presented to a table full of civil-rights investigators and lawyers a PowerPoint detailing the Southside community's struggles: the state highway dissecting the historically black neighborhood; the industrial plants dumping on residents; and now the sewage treatment facility threatening to add to the burden.
"We all know that a white, middle-class community would not put up with a sewer facility in a residential area," Lane, herself a white, middle-class transplant to Southside Syracuse, said to the regulators.
"The agency hasn't been able to take off its environmental hat and put on its civil-rights hat."
One year earlier, Lane and fellow members of the Partnership had filed a complaint alleging that the Midland Avenue Regional Treatment Facility — planned by Onondaga County, with state approval — would discriminate against the Southside's black residents "both because of the siting and the [facility's] impacts." Filed under federal civil-rights law, the complaint claimed the plant would harm the "health and overall quality of life of the surrounding community," as well as adjacent Onondaga Creek.
Partnership members believed the complaint epitomized the fight for environmental justice. To bolster their argument, they noted the county's proposal for a similar plant on the north side of Syracuse, then predominantly white. That facility used alternative technology much like the Partnership had been advocating to no avail, according to the complaint, making it smaller and less obtrusive than what Southside residents were facing.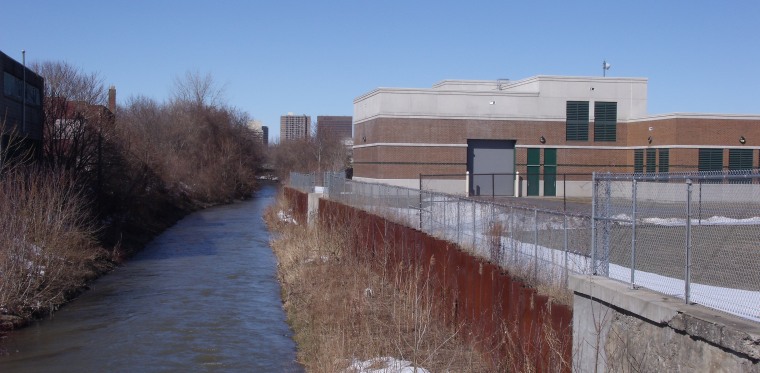 "We felt the county was putting something in here because it's a black area, and the EPA would see right through it," recalled Joanne Stevens, a lifelong resident of the Southside who became a Partnership member.
The EPA's Office of Civil Rights disagreed, dismissing the Partnership's complaint in March 2005 after conducting a six-month investigation without interviewing residents or visiting the Southside area.
Now, at this meeting four months later, EPA investigators said little about the decision. They listened as residents challenged the civil-rights office's finding that the Midland plant did "not have a significant adverse impact" — questioning its rationale for making such a determination and criticizing an inquiry that relied on county records. EPA officials offered a small concession that would give residents hope for their cause:
"If we receive new significant information," one investigator told the group, according to Partnership meeting minutes, "we may investigate."
RELATED: Uniontown: Arrowhead Landfill Battle a Modern Civil Rights Struggle
"They thought that would be the end of it, but they didn't know us," Lane said, alluding to the 650-page addendum the Partnership filed a year later to supplement its case. She remembers mailing it, certified, and following up with a phone call — never to hear from the EPA again.
The brush-off was not unusual. As an investigation by the Center for Public Integrity has shown, the EPA's civil-rights office — assigned to enforce Title VI of the Civil Rights Act of 1964 and assess environmental-discrimination claims filed by communities of color — almost always closes cases without action. Among the minority of Title VI complaints sparking investigation — 64 such cases over 17 years, including Southside Syracuse — records suggest the office has failed to fulfill its mission of rooting out discriminatory acts at agencies receiving EPA financial assistance.
Regulators have rarely closed an investigation with official action on behalf of minority communities. By the time the Partnership meeting occurred — 12 years after the EPA accepted its first civil-rights claim, in 1993 — the agency had resolved five cases, all without findings of Title VI violations, and through a mediation process not involving the complainants. In the decade since, the agency has settled an additional seven.
Alma Lowry, an environmental lawyer and former director of Syracuse University's public-interest law firm, which represented Southside residents, said EPA's civil-rights record has sent a clear message to citizens: "There's no gavel behind [Title VI]." She once worked at the Detroit law firm that has logged some of the earliest Title VI complaints with the agency; one complaint, filed on behalf of a Flint, Michigan, neighborhood, has remained open, pending investigation, for 16 years. Last month, the Flint community joined four others in a lawsuit challenging the EPA for what it called a "pattern and practice of unreasonable delay . . ." in investigating their civil-rights claims. "The agency hasn't been able to take off its environmental hat and put on its civil-rights hat," Lowry said, explaining why she believes the EPA has never once found a formal Title VI violation in 22 years.
EPA officials declined to discuss details of specific cases, including Syracuse. The director of the agency's civil-rights office, Velveta Golightly-Howell, has promised to make a "full-blown effort" to improve the handling of Title VI complaints. "Our goal is really to provide relief for the complainants who have brought their issues and concerns to [the office]," she said.
The quest for justice in Southside Syracuse, however, tells a larger story of how people in some of the most disadvantaged communities can put forward a strong civil-rights case — replete with letter-writing campaigns, extensive research and what residents considered "smoking gun" documentation suggesting environmental racism — yet see little meaningful response from those enforcing the very law meant to protect them.
To this day, Lowry ranks Southside as "one of the most organized, effective and politically aggressive communities I've ever worked with." Yet it lost its battle against the Midland Avenue sewage plant, a source of bitterness for residents still. Those who fought the hardest cannot help but pin blame on the EPA.
"If that kind of community can't make Title VI work for them," Lowry said, "I don't know who could."
A forgotten neighborhood
Southside Syracuse, in Onondaga County, is like many other inner-city neighborhoods across the United States: pockmarked by crime and poverty. Bars and liquor stores dominate street corners, where drug deals can burst into the open. Residents hear gunfire while lying in bed at night. New and refurbished houses stand like beacons on city blocks. Most houses are in varying states of disrepair — dilapidated, boarded-up or abandoned. In some pockets, foundations and empty lots are all that remain.
Residents remember the Southside in better days, with its luscious street trees and regal Gothic buildings. For the longest time, those who live here — 84 percent of whom are African- American, and earning an average per capita income of $8,516 — have viewed the neighborhood as the "ghetto," forgotten by white, wealthy Syracuse.
"They figured our neighborhood is black, so they'll do it."
"Officials never invested money into this slum," explained Elmore Davis, who, in 1998, moved to the Southside with her two daughters, lured by the promise of a house for $500 down.
Against this backdrop of decay, the county's sewage plant does not seem terribly threatening. Situated on a bank of Onondaga Creek, near a dairy, a laundry, a canning factory and a bus terminal, the Midland Avenue Regional Treatment Facility looks like any other industrial building. At 24,000 square feet, the aboveground structure rivals the public-housing apartments dotting the area's residential streets. It sits 250 feet away from the closest home, surrounded by open space where the county has planted trees and shrubs, a testament to the community's activism.
Inside the facility, two "vortex swirl concentrators" act like giant toilets and flush sewer water down a pipe to a municipal treatment facility approximately five miles away. Underground, a 2.5-million-gallon tank stores storm water. As wastewater builds up, the "swirlers" disinfect the flow with chlorine and dump it into the creek. There are no stacks or vats spewing chemicals into the air. Many newer residents have no idea the plant was built to clean up a creek once so full of raw sewage that the stench wafted across intersections and seeped into homes.
RELATED: 13 Years and Counting: Anatomy Of An EPA Civil Rights Investigation
For much of the last century, Syracuse's civic leaders have used the creek as a sewage channel. In the early 1900s, they designed a sewer system collecting sewage and storm water, and featuring up to 90 overflow points where waste could discharge into waterways during rain events. One such waterway is Onondaga Creek, which feeds a lake sharing its name. By the 1980s, untreated sewage had dirtied the creek, drying on its banks before funneling into Onondaga Lake, then among the nation's most polluted.
Targeting lake polluters, a local environmental group sued Onondaga County in 1988 under clean-water laws, alleging its "combined sewage overflows" violated safety standards. The New York State Department of Environmental Conservation joined the lawsuit, aiming to force a clean-up of Onondaga Creek.
Read the rest ofEnvironmental Justice, Deniedat the Center for Public Integrity. The Center for Public Integrity is a nonprofit, nonpartisan investigative news organization in Washington, D.C.