As thousands prepare to descend upon U.S. Bank Stadium in Minneapolis to watch the Philadelphia Eagles and New England Patriots play and millions watch Super Bowl LII from home, activists from around the country are continuing in their efforts to take a stand against police brutality.
Members of the Take A Knee movement are holding a two-day conference on Feb. 3-4 ahead of Sunday's big game in Minneapolis. Organized by Take A Knee Nation, an group made up of participants and supporters of the movement, the Take A Knee Conference aims to rally protesters of police brutality, racism and other inequalities, while also continuing to bring awareness to policing issues.
Mel Reeves, 60, one of the conference organizers, told NBC News the event is important because some people continue to deny that police brutality is a problem.
"We noticed that lots of young people were taking a knee around the country and while their detractors tried to accuse them of just following a 'fad,' it was clear that they weren't," Reeves said in an email. He also added that the conference is intergenerational and multicultural in nature and provides "an opportunity for fellowship" while letting protesters know they are not alone.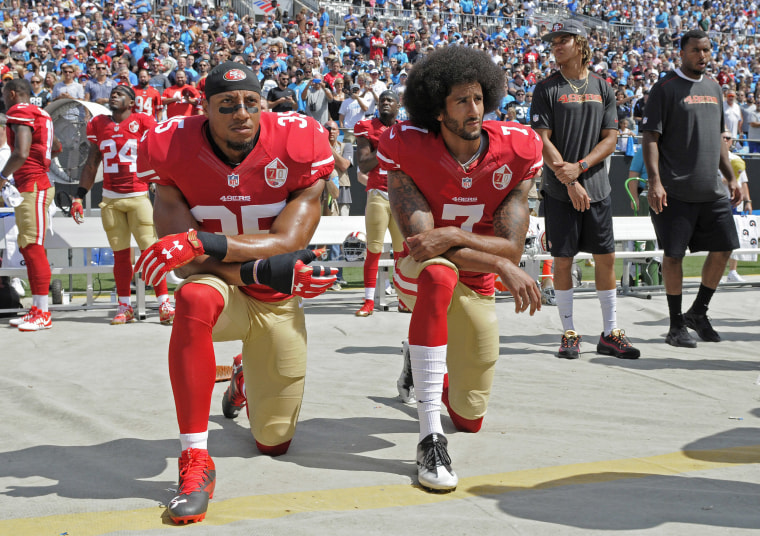 Inspired by the former San Francisco 49ers quarterback, Colin Kaepernick, #TakeAKnee was catapulted into a national movement in 2017 when President Donald Trump criticized NFL players who demonstrated before games by kneeling during the national anthem.
Former NFL players, including Anquan Boldin, joined the movement to clarify its purpose in response to critics calling #TakeAKnee "unpatriotic." Boldin, Philadelphia Eagles safety Malcolm Jenkins, and others also met with NFL team owners to find common ground between the owners and players in the wake of Trump's comments. The protests are not the only time Jenkins has used his platform to speak out against social injustice. He has been a staunch supporter of black youth advocacy and prison reform.
But NFL players were not the only central figures of the movement. High school and college athletes and cheerleaders also joined the movement. Reeves said he was impressed with young protesters efforts after reading about them in news reports.
"I realized they were serious and could articulate why they were taking a knee," he said. "And we thought we would add an educational piece with workshops to galvanize the movement against police violence while collectively putting our heads together on a way forward."
Family members of black men fatally shot by Minneapolis police officers, including Philando Castile and Jamar Clark, are among those slated to appear during the conference.
In addition, a rally is scheduled to be held on Sunday on Eighth Street and Chicago Avenue, nearly a block and a half away from the game.
And while the Take A Knee Conference and rally is taking place this weekend, a North Carolina businessman is planning to boycott the super bowl all together to show his support for American veterans. Brandon Patrick, a North Carolina business owner, said in a Facebook post he would boycott the game and instead his company would clean the headstones of veterans on the local area. It is unclear if any of the players participating in the big game will be demonstrating on the field.
NBC Sports executive producer, Fred Gaudelli said during the Television Critics Association winter press tour that if it happens, the moment will be broadcast.
"The Super Bowl is a live event, just like 'Sunday Night Football.' When you are covering a live event, you are covering what is happening. So if there are players that choose to kneel, they will be shown live," Gaudelli said. NBC Sports is owned by NBCUniversal.
Whether players take a knee or not, Reeves said it is important to keep the movement alive.
"We hope that by keeping the issue in the public eye that at some point the powers that be will realize it is not in their best interests to continue to allow this lawlessness of law enforcement," he said. "We have already agreed that we would push for prosecution of the police and demand that cases of police violence be reopened. Much like after the success of the Civil Rights Movement, there was a call for justice that had been denied in the many cases of murder and rape of Black people in the 80 years previous to the ending of Jim Crow segregation."