Patchouli oil and weed. Those were the first words that came to mind when Fashion Police and E! News host Guiliana Rancic saw singer Zendaya on the Oscars red carpet sporting a stunning Vivienne Westwood gown and locs. The singer has always garnered rave reviews when changing up her looks—from pixie cuts to long weaves—but she was lambasted this week when she decided to boast a more Afro-centric style.
As a political and media professional, who also happens to have locs, I am beyond offended.
Rancic's comments weren't just thoughtless and flippant they were dripping with racist undertones.
Straight, Eurocentric, hair that blows in the wind has always been the standard-bearer of beauty to which other women are measured, and tighter curled or coarser hair types have been viewed as "unkept," "dirty" and "undesirable."
When Rancic said Zendaya's locs, "looks like they smell like patchouli oil and weed", the subtext of these statements are that people who choose to rock their hair in a natural style are both "smelly" and "lazy"—two tired tropes that have been attributed to black people since the beginning of time.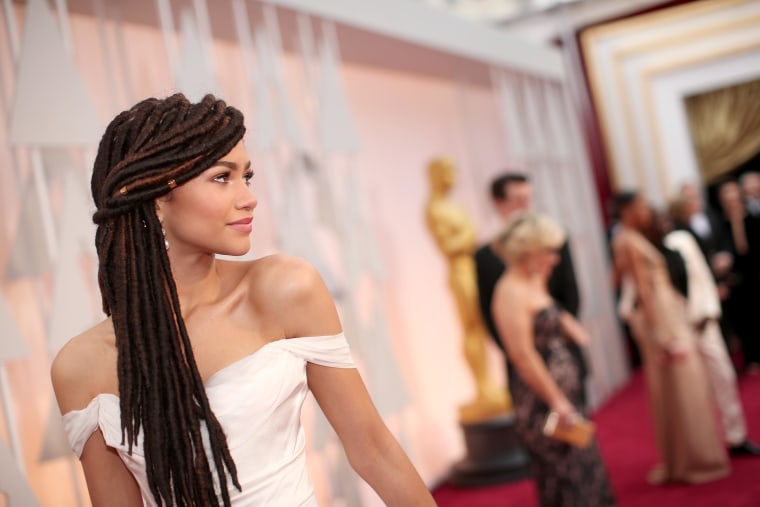 Don't believe me? Just last year a Cheerios advertisement featuring a black father, white mother and a curly haired bi-racial child went viral, not for it's cuteness of a little girl dumping cereal on her napping father to help his heart. No, it went viral with commenters calling her black father a "lazy deadbeat" because, you know, a black man napping in his home can't be seen as anything else.
Not even the world's biggest superstars are immune from the politics of black hair. Since her birth, Beyoncé and Jay-Z's daughter Blue Ivy has been ridiculed for her soft fluffy Afro. There have been a thousand "think pieces" on Beyoncé's "bravery" for not subjecting her toddler to chemical straighteners, to a change.org petition demanding that she "pull a comb" through her daughters hair and stop letting her out of the house looking "unkept."
Who can forget the backlash the First daughter Malia Obama received on a trip to Rome in 2009 for wearing her hair in two strand twists. Conservatives called the First Family "disrespectful." Really? A child wearing her hair in any other style that is not blown straight and "tamed" is disrespectful?
Countless white celebrities have been celebrated as "edgy" and "fashion forward" for wearing traditional ethnic hairstyles like cornrows and locs, yet women of color are degraded for donning what comes naturally.
Zendaya, like too many women of color before her, took the high road and used Rancic's ignorance as a teachable moment. She posted her response on Instagram highlighting how unfortunate it is to stereotype people based on their hair. She wrote, "to say that an 18 year-old young woman with locs must smell like patchouli or "weed" is not only a large stereotype, but outrageously offensive."
She then went on to list the names and occupations of esteemed African Americans, from Director Ava Duvernay, to Grammy award winning artist Ledisi, and several highly regarded Academic professors, who also wear locs.
I found myself both proud and frustrated by Zendaya's response. Proud, because she stood up for herself and used her platform to bring attention to "casual racism", and frustrated because she shouldn't have to. Why should Zendaya have to tout the names of esteemed African American people in order to be respected? Why do black people have to be subjected to "respectability politics"? "If THOSE people would only get their acts together—dress neatly and do their hair," then racism would seek to exist, right? Wrong.
Today's racism may not be of the Billy-club and Klan variety, but that doesn't mean that it's any less harmful. Casual racism is insidious and covert. We use words like "articulate" when describing President Obama's speech. We use words like "thug" to describe NFL player Richard Sherman expressing emotion on the football field. And we use "inner city culture" to reference "lazy, unemployed black folks in the city".
Guiliana may have offered Zendaya a non-apology by tweeting that her comments had "nothing to do with race" and were instead a reference to a bohemian-chic style, but there is nothing chic about saying someone smells or is a stoner.
Sure, many will shrug off Rancic's thoughts as "a joke", but if there is one thing they should know by now, making fun of a person of color's hairstyle will only leave you twisted in knots and blowing in the wind.