Taraji P. Henson, Octavia Spencer and Janelle Monáe are pretty out of this world, so it's only right that they were selected to depict the first African-American women to work for NASA in the upcoming film, Hidden Figures.
Based on the book Hidden Figures: The Story of African-American Women Who Helped Win the Space Race by Margot Lee Shetterly, the film takes a look into the lives of the NASA scientists during the Civil Rights Era, when they were segregated from their white co-workers. During a time when many African Americans weren't allowed in certain public spaces, these three brave women were in the ranks of those at the forefront of space exploration. Now, these black women who work at NASA are astronauts who travel to space.
Jeanette Epps, 45, Stephanie Wilson, 49 and Dr. Yvonne Cagle, 57, all grew up wanting to be astronauts, in some cases watching the fruits of their predecessors' labors on television as the first missions to the Moon took off.
They were big dreamers, goal-setters and hard workers. Epps will finally get her chance to go into space in 2018, when she is scheduled to spend six months on the International Space Station, the longest stay of any black female astronaut in space. Wilson has already made several shorter trips to the International Space Station and Dr. Cagle's rotation in space has yet to come up.
All three women acknowledge they stand on the shoulders of those who came before them, including Mae Jemison, the first African American women in space and Katherine Johnson, the former NASA mathematician who helped send John Glenn to the moon.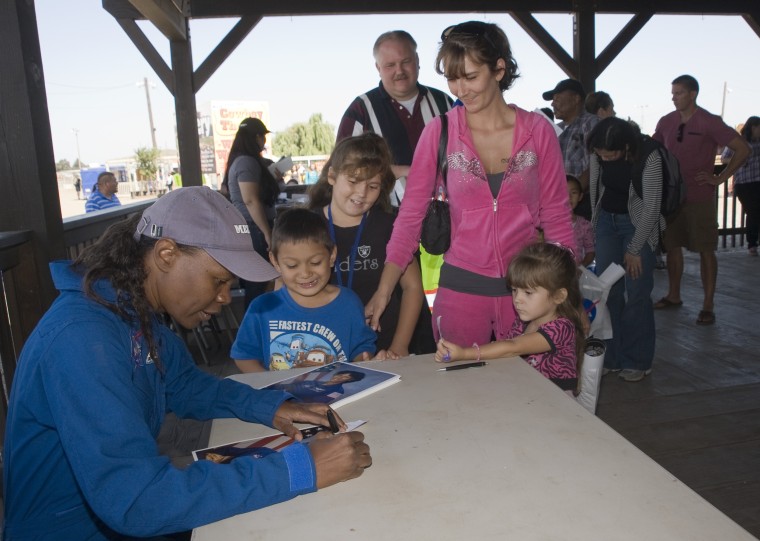 NBCBLK contributor Julie Walker spoke with Epps, Wilson and Dr. Cagle about their passion for space, building the pipeline for aspiring astronauts of color, and what it's like to step off the face of the earth.
What made you want to become an astronaut?
Stephanie Wilson: It was 1969 and I was 10 years old. I was at the top of an old oak tree looking at the sky and the moon. My dad called me into the house, telling me to watch a human walking on the moon for the very first time. That was that seminal moment and I never looked back. I just wanted to keep looking and looking until I could see my footprint on the moon.
Jeanette Epps: It actually started when I was 9 years old years old. I have a twin sister and we have a couple of older siblings. My older brother was in college and came home for break. Janet, my twin and I had just gotten our report cards and we had done really well in math and science. His comments to us were, "wow you guys are doing well, you can become an aerospace engineer or even an astronaut or some kind of scientist because there were a bunch of women selected to be astronauts." I thought they probably won't select me to be an astronaut, but I can definitely become an aerospace engineer. But, that one little seed he planted in my mind back then stuck with me forever. My sister went on to earn a PhD in molecular cell biology.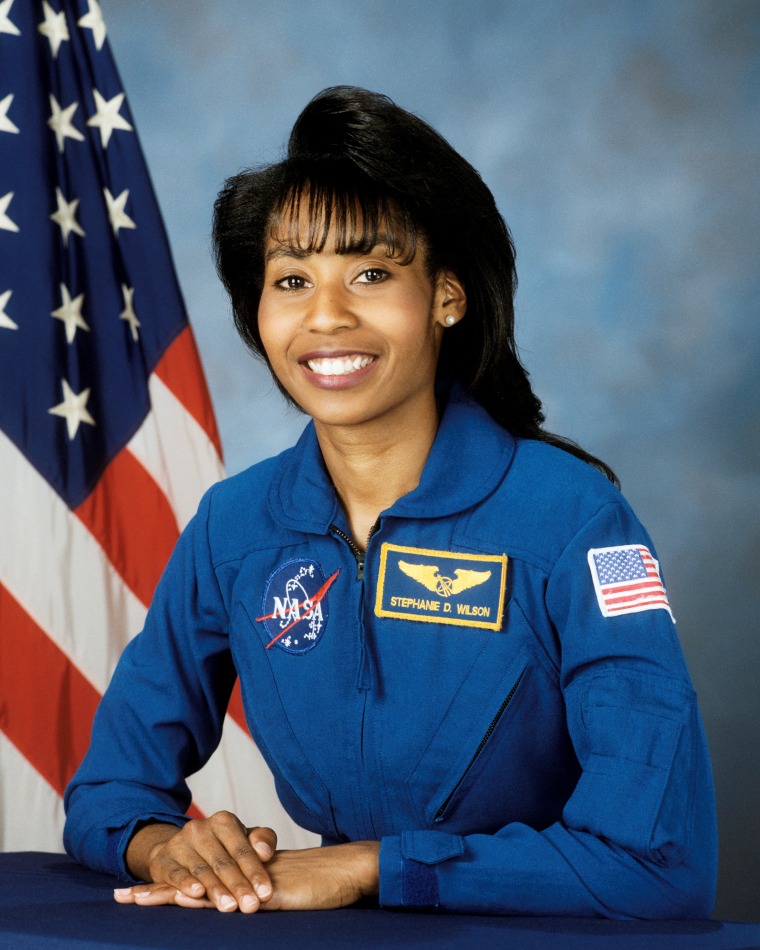 Dr. Yvonne Cagle: I became interested in space when I was about 13 years old. My first interest was in astronomy and I was given a school assignment to interview someone interesting and I chose an Astronomy professor and was fascinated by his work. This is what sparked my first interest in science and in space. Later though I became interested in engineering and I thought that aerospace engineering would be a good combination of my interest in space and my interest in engineering. I was very fortunate, my parents encouraged me to pursue my dreams and told me that I could be anything I wanted to be.
RELATED: Fly Girls: One of The First Black Flight Attendants Tells All
What role did your parents play?
Epps: My mom said continue with school as long as you can, but she never expected that we would go on earn PhDs. Before she passed away one of the things she said to Janet and me was that she was really proud that we have done this. But she said, "in my day the biggest thing you could have done was become a secretary, that was the biggest hope I had for you guys."
Wilson: My dad simply said don't lower your bar to accommodate anyone else's standards. What encouraged me was my dad was a retired X-ray technician and my mom worked on the flight line with jets, so I really thought a lot about what happens to the human body when it's under acceleration. I became a doctor to find out how the body performs in gravity, but to answer those childhood intrigues, I knew I'd have to become an astronaut.
What was it like when you found out you were going to actually fly in space?
Dr. Cagle: I was very excited, I entered in 1996 and my first flight was about ten years later and I was very excited. I've flown three times. I've had 42 days in space between a 2006 and 2010. My flights were all to the Space Station for about two weeks each.
Epps: The great thing is that when I was in Russia I got an email from my boss, it hasn't been made public yet, but he assigned me to go to the International Space Station. I would launch in 2018. Every assignment is always two years out because there's a lot of stuff to do internationally and there's a lot of training that has to take place.
What's a typical day like for you at NASA?
Epps: A big part of going to the Space Station now is that you have to be a jack-of-all-trades. So before with the shuttle era, if you were the robotics person you didn't necessarily do any of the space walk training. If you were the space walk person you didn't necessarily do the robotics, but now we have to do all of that. I still have to go back to Russia to continue studying Russian language, and possibly Japan and Europe for training as well. On the Soyuz, the Russian shuttle that takes us to the International Space Station, all the panels are written in Russian.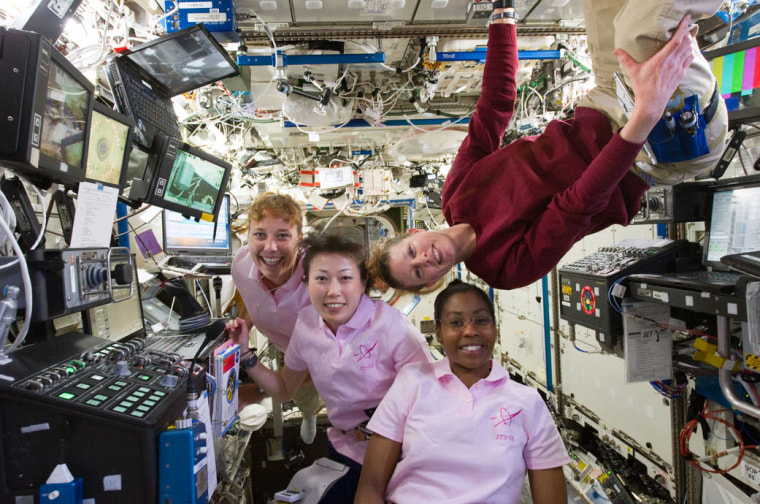 Dr. Cagle: I have an opportunity to perform different activities every day which I enjoy, it's really exciting. If I'm training for a space flight I might be enjoying engineering classes on the Space Station's systems or science experiments. We also participate in simulator training and travel to our International Partners countries for training.
Wilson: Sometimes it may be me in the field rolling up my sleeves or in a zero-gravity aircraft, known as the vomit Comet, actually stimulating and testing out protocols and ideas. The best part is frequently doing public and educational outreach to children.
What do you say to people who are surprised to find out that NASA has black female astronauts?
Epps: I'm surprised that they are surprised because it is kind like in this day and age it's surprising that people are surprised that I am here. I guess in the ranks we only have three other African American women who flew in space and on top of that we've only had a couple of women do long duration space flights. But as time goes on we will have more and more women and we will also have African American women mixed in as well. So I understand people may not know, but I'd like to change their mind and show them that there is a good mix of people in the astronaut corps, we can add more granted, but there is a good mix right now.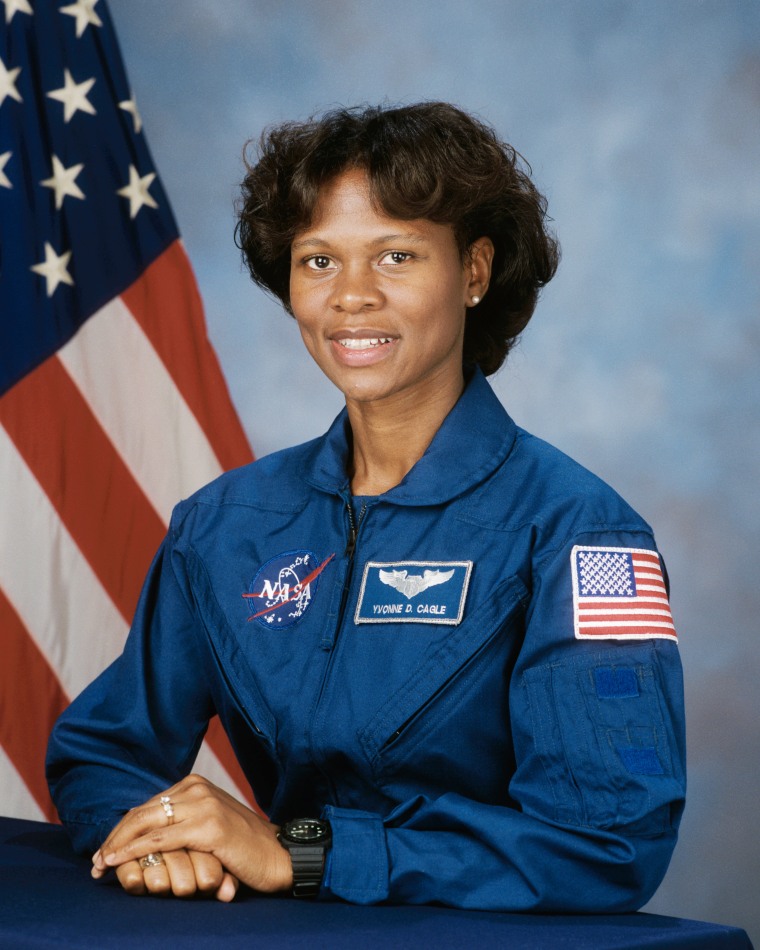 Dr. Cagle: I've not found that people are surprised and in fact I find it a little difficult to believe since Dr. Sally Ride and Dr. Guion Bluford both flew in 1983 and of course we had Dr. Mae Jemison fly in 1992. We've had over 50 women and 14 African Americans fly. I have served on the selection board a couple of times and in serving in that role we found that we only have a very small pool of African Americans that apply and meet the requirements. It's very important to expose young people to STEM (Science, Technology, Engineering and Mathematics) fields and also help them understand opportunities through the military, so that they can be eligible to apply.
RELATED: #31Days of Feminism: Fierce Feminists Fighting for Equality Everyday
Wilson: One of my greatest passions, because it fuels the legacy that I want to leave, is to let people know that we are here, we are representing and that there is space for all. I tell them I am not the exception, I am the example of what is and what more there could be. I am the rule, I may not be well known, but there is a pipeline of us out there.
What challenges did you face as an African American NASA astronaut?
Dr. Cagle: There really were not any obstacles or challenges. By the time I came along I was very fortunate to follow many women. I flew, I believe as the 41st woman from NASA. So the women before me had already pounded the pavement flat and really had made opportunities easier for those of us that followed. The same with the African-American corps. I was the 10th African American astronaut. I was very fortunate to follow along in the footsteps and on the shoulders of others that came before me.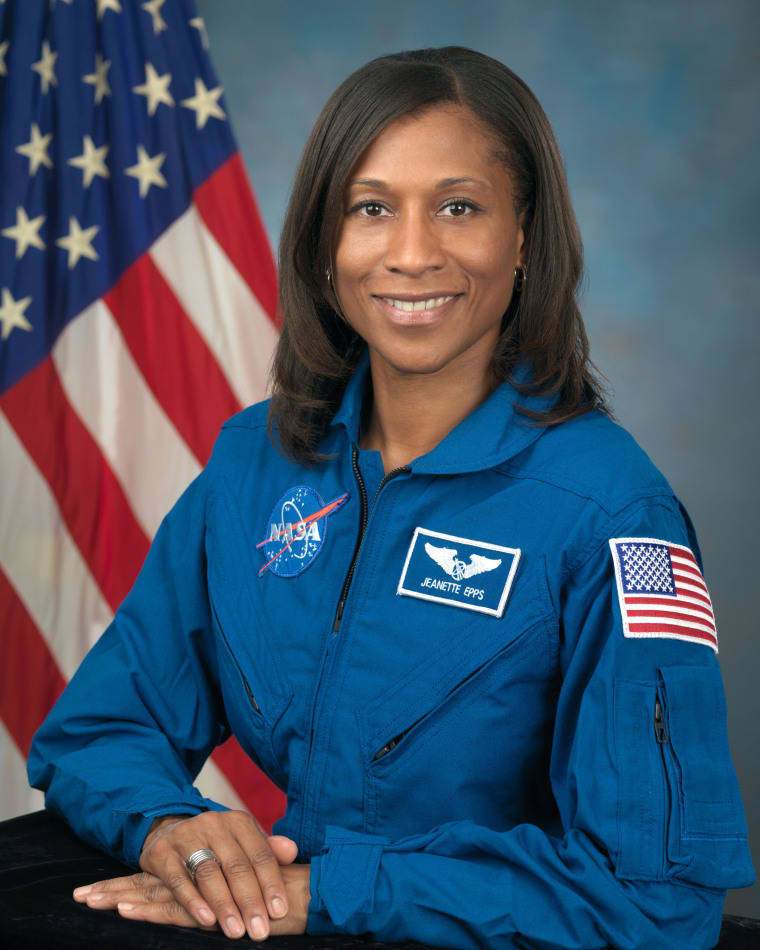 Epps: I think everybody has outside forces that control things, but I think the biggest challenge is our own psyche and self doubt, saying well I can't do that. Well why not? So that was the biggest challenge, convincing myself that hey you are here, you have an opportunity to do this and show them that they selected the right woman and just do it. A lot of African American students ask me what it's like being a black astronaut. I tell them I don't have a problem with it. Getting over this whole thing of being the only one and being comfortable in your own skin is huge, because you will encounter racism and competition, it's all how you deal with it. If you make it a big deal it will stop you every time. That is the goal of it to stop you from reaching your end goal. If you don't let it stop you I am living proof that you can go on to be selected to become an astronaut.
Wilson: There's always the chatter of people who have doubts and there's always the naysayers out there. None of them are any louder than the voices in my own head. My greatest challenge is my own self talk and being very disciplined and methodical about putting it in perspective and proportion. That is a full-time job 24/7, so there's not a lot of bandwidth left to be distracted or deterred by the naysayers. When you recognize that your biggest obstacle is only yourself, suddenly stepping off the face of the earth doesn't seem all that daunting or overwhelming.