Stephanie Lampkin has a photo of Ursula Burns, the CEO of Xerox, up in her office.
Oprah, Maya Angelou and Melanie Hobson have a special place in her office too, but Lampkin says she draws a lot of inspiration from Burns' corporate career path.
"It takes a lot of patience and grace and delayed gratification for a black woman to go up in the ranks of a company like that," Lampkin says. "We need to see more examples of that."
Delayed gratification and grace have been key for Lampkin, 31, as she prepares to launch her app, Blendoor, into public beta testing during SXSW interactive festival Sunday. The app comes two years after being told during an interview with a well-known tech company that she didn't have enough technical skills.
RELATED: Tech Report Proposed to Solve Diversity Problem
This was news to Lampkin, a D.C.-native who had been coding since she 13, was a Stanford engineering and MIT graduate and an alumna of companies like Microsoft, Deloitte and TripAdvisor.
"It was almost funny to me because I felt like if I were a white or Asian person with those exact same credentials there would be no question about how technical I was," Lampkin says.
That's where the idea behind Blendoor was born.
The app is designed to take unconscious bias out of hiring in the tech space. Companies can swipe for candidates using only their listed qualifications, not pictures. According to Lampkin, the goal is to move the conversation about diversity in tech beyond the alleged pipeline argument to justifiable, quantifiable data that companies can use. Nineteen companies including Google, Twitter, AirBnb and LinkedIn are piloting the app.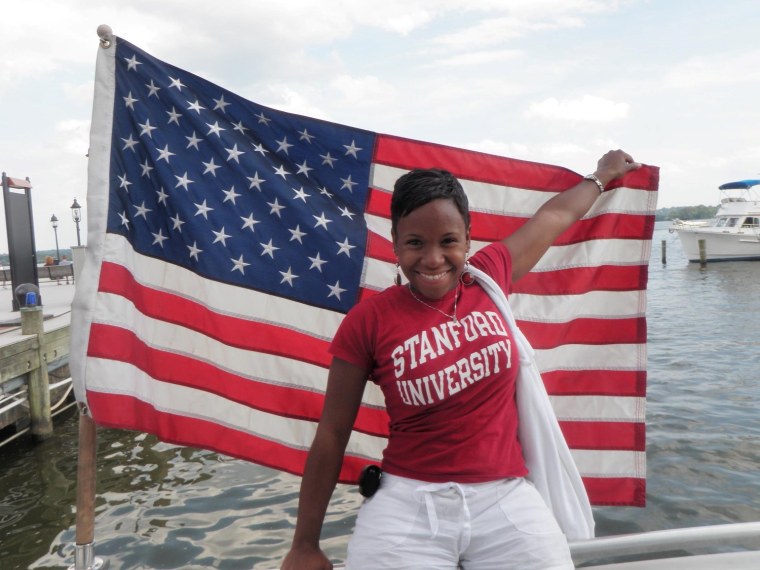 While Blendoor will provide the tech firms with data about their recruitment and hiring, Lampkin says her company is not a consulting service to help create diversity initiatives, nor are they the diversity police.
"We don't want to shine a light on one particular company that has what appear to be unfair hiring practices," Lampkin says. "It just shows them that there are opportunities for improvement."
Lampkin learned to code through the Black Data Processing Associates program and became a full-time web developer by the time she was 15. But the idea of becoming an engineer was planted by her aunt, a computer scientist who Lampkin admired, and who possessed the latest gadgets of the 1980s -- like her cell phone in the car for non-emergencies and even a CD player. Most importantly: her aunt had freedom and could travel the world on a whim.
Beside that whole thing about not being technical enough, there's another t-word that plagues Lampkin: Traction.
Blendoor has so far raised $100,000 through venture capitalists and pitch competitions. Lampkin says even with her skills and work history, investors still consider her high risk. According to Digital Undivided's "The Real Unicorns of Tech" report released in February, white men -- even with failed startups -- are given an average of $1.3 million compared to just $36,000 for black women led start-ups.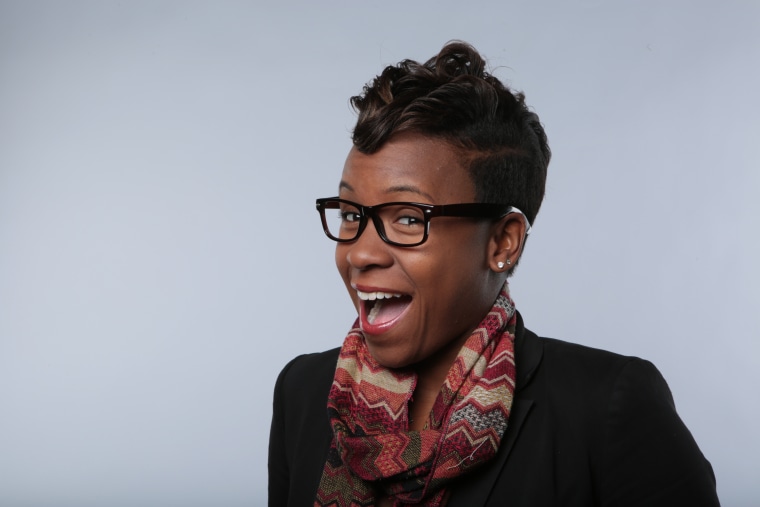 "Chances are they've never been pitched by a black woman," Lampkin says. "They have no frame of reference. A lot of these decisions are made on instinct and what they think is instinct is actually unconscious bias or maybe even conscious bias because they have never seen a black woman create a disruptive technology company."
Lampkin points out that many black women oftentimes don't have access to deep money pockets among friends and family or connections to venture capitalists, particularly when compared to white men. Most of these funding decisions come down to incubators looking for patterns and checking off boxes, Lampkin says.
For now, Lampkin says she's focused on raising more money and getting more companies on board with Blendoor. She hopes to eventually move the company beyond job matching to become a tool to help candidates build up their skills. For the industry's diversity woes, Lampkin says exposure to the tech world is key for young children, but it has to go beyond adults visiting classrooms and talking at kids.
"A lot of these STEM pipeline programs are great but if we don't have a person that these kids can look up to and they can say 'oh that's how you make a lot of money in tech,' it's not going to resonate," Lampkin says. "They have to see the end goal, that's what I had the benefit of seeing at a very early age."