Tonya Pinkins is one tough broad.
Not only has the acclaimed actress thrilled theater audiences on and off The Great White Way for more than two decades — delivering star turns in shows such as 'Jelly's Last Jam,' 'Caroline, Or Change,' 'Radio Golf' and 'Holler, If You Hear Me' — she has endured and triumphed over a number of personal tragedies that would've crippled a lesser woman.
At 52, Pinkins is the single mother of three boys (ages 27, 24, 18) and a 15-year old daughter, who herself grew up a 'devout' Roman Catholic in the suburbs of Chicago, to hard working civil servant parents. She left Carnegie Mellon University and moved to New York City for her first Broadway production at the tender age of 19 and toiled as a restaurant hostess before getting married and giving birth to two sons.
After being fired and then rehired for the George C. Wolfe-directed hit "Jelly's Last Jam", she was served divorce papers while signing autographs backstage one day. Drama ensued with a grueling custody battle that led way to exorbitant child support payments. Her success was being used against her and after lots of legal wrangling, slow work cycles and two more children born out of wedlock, she ended up on public assistance.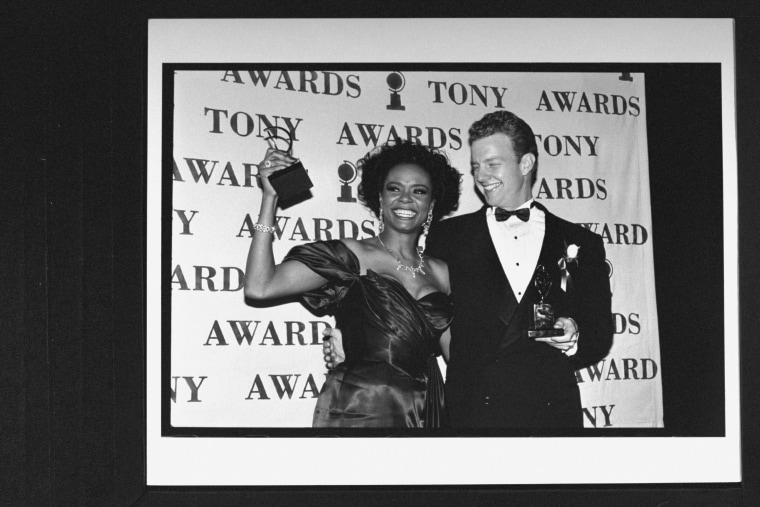 It was a harrowing real life trajectory for someone who continues to bring guts and glory to every role she embodies.
"I don't have an answer for how I stay strong. It's a blessing and a gift that I'm still standing," the Tony Award winner recently told NBCBLK. "I tend to get work that resonates with my values. I would say that despite all that I've gone through, the source of all life still finds some entryway to flow through me and my work."
With her latest role in The New Group's production of Joel Drake Johnson's 'Rasheeda Speaking,' directed by Cynthia Nixon, Pinkins stars as Jaclyn who becomes the target of a racially-tinged termination plot put in motion by her white boss and her white colleague, who was recently appointed office manager, (played by two-time Academy Award winner Dianne Wiest).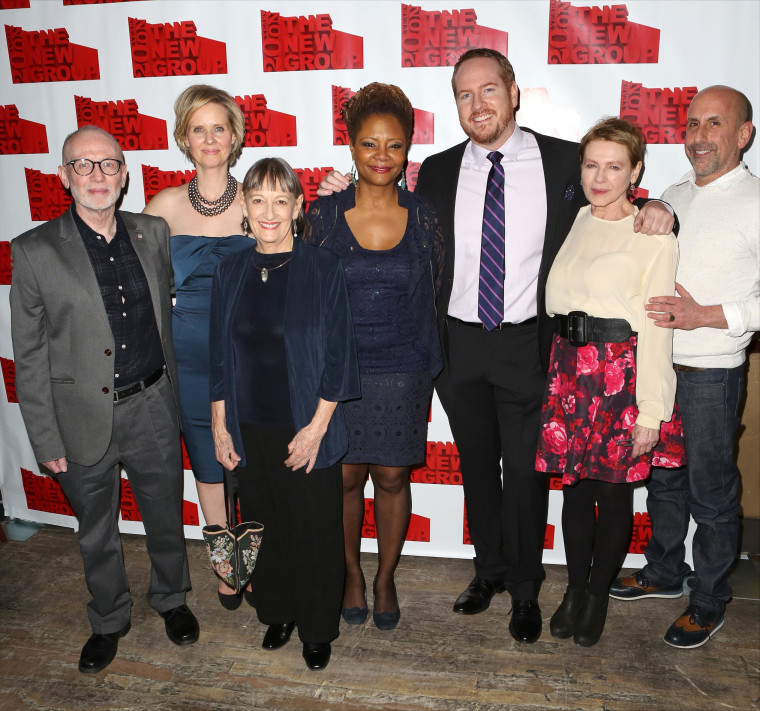 With a sharp suspicion about their diabolical scheme, Jaclyn turns the tables — exposing prejudices deeply ingrained in the fabric of the three-person work environment, a doctor's office in Chicago.
The involvement of Nixon and Wiest, two veteran actresses of the screen and stage whose work she's admired for years, is what Pinkins said drew her to 'Rasheeda Speaking.'
Wiest, who starred in the Woody Allen films 'Hannah and Her Sisters,' and 'Bullets over Broadway,' cut her teeth in theater turning out stellar performances in 'Othello,' 'Beyond Therapy' and 'The Art of Dining.'
Nixon, renowned for her role as attorney Miranda Hobbes on the seminal HBO comedy 'Sex And The City,' is a two-time Emmy Award winner, who also has a Grammy and a Tony Award to her credit. "Rasheeda Speaking' marks her theatrical directorial debut.
"I'm spoiled with these talents, who are the best of the best," Pinkins shared, then mused: "I don't know that I can do theater again."
"Especially Dianne, who I spend most of my time on stage interacting with. She is so honest, so present. She makes me better. It's master class working with her."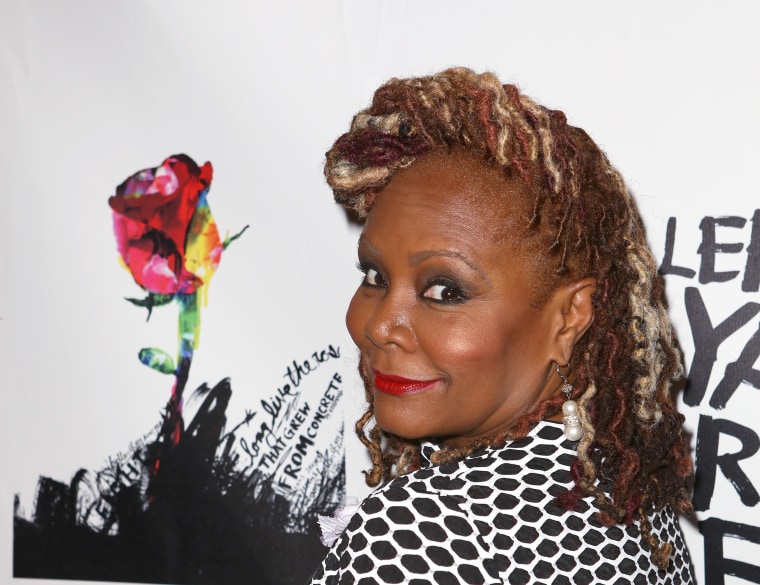 Of the play, whose author is white, she refers to it as "a mirror of the disparity of experience between races in work, in life, in power, and in resilience." Pinkins said the weekly talkback sessions with the audiences have been the most rewarding.
"Some people get it. They have a transformation. They see themselves and a part of life that they were blissfully ignorant to. And some people keep banging at what they do and they don't see anything there, so the talkbacks have been really important to me."
She confessed that the hard part of doing 'Rasheeda Speaking' is having the bulls-eye on her back from the moment she steps onto the stage. "I am the target for people's either really acknowledged or unacknowledged racism and people feel like they can say and do anything to me. And I can feel that even from the stage."
Looking ahead, the former 'All My Children' actress is tapping into her own creative passions — behind the scenes. "I've been writing and getting more into directing. I've been working with Tracey Conyer Lee on a play she's been working on for a while called 'The First Time,' which is about the first time you've been called [N-Word]."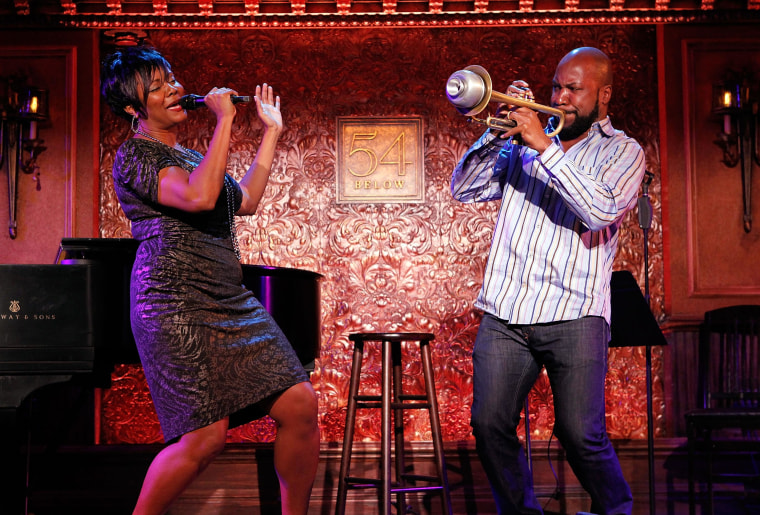 "And I'm directing a piece at the National Black Theatre, a play called 'Box Seats' about a very non traditional black family by this wonderful writer from LA. Just writing more, writing more and writing more."
But will audiences get to see her own very harrowing story about fierce determination make its way to the stage?
"I think every writer is always telling their story in one way or another. I don't know if I'm going to tell mine… but I think everything I write is my story some way or another," Pinkins explained, pondering the idea. "I take me and put myself in an imaginary circumstance but all the people in some way are the people I know. I would say that I'm always telling my story even if it's not correct to the facts or to the names or anything like that."
An admitted fan of shows such as 'How To Get Away With Murder,' 'The Walking Dead,' 'Ray Donovan' and 'Survivor's Remorse,' Pinkins — who appeared in episodes of 'Hostages,' '24' and 'Army Wives' — has her sights set on doing more television. She's on deck for a story arc on Showtime's 'Nurse Jackie,' alongside fellow Tony Award winner Leslie Uggams.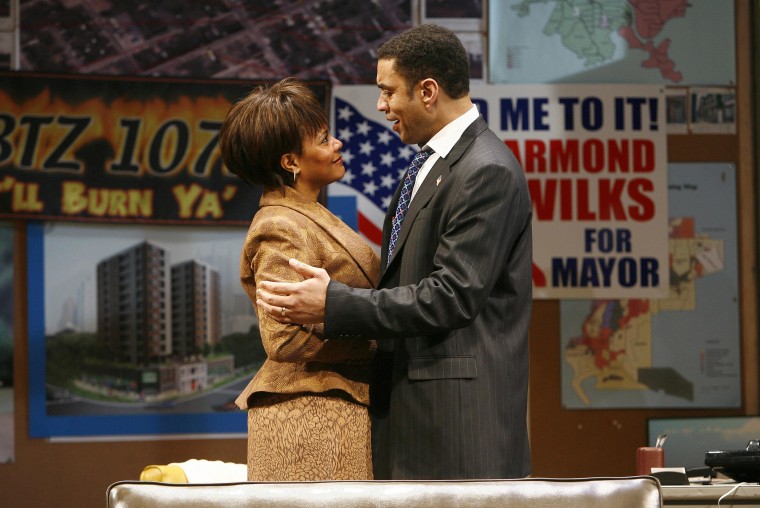 Oh, and she doesn't even mind being called a "broad" either.
"Well, I think it's a generational thing. I think a broad is a very specific kind of thing. I was just with a friend of mine and she's a tough broad. She's a broad. And broads were those Katharine Hepburn and Bette Davis types. They were broads. They were smart. They were sharp. To me, I don't consider it as an insult. I think of it in a sense of the days when women wrote most of the Hollywood movies and there were these powerhouse women in all of the roles."
###
'Rasheeda Speaking,' is playing at New York's Pershing Square Signature Center through March 22