Marcus Williams is unemployed but says he really wants to join the U.S. Army. Right now though, it is just a dream.
"I can't pass the physicals because the recruiters say I am too fat," says the 18-year-old resident of Detroit. "But I am working on it."
Currently, he weighs 250 pounds and is 5 feet 10 inches tall. "They tell me that I am technically obese," he says of the Army recruiters.
Williams has chronic health problems, including asthma, high blood pressure and pre-diabetes, that are linked to his weight. "I want to be ready by September and I am working hard to get there."
He has already lost nearly 50 pounds since December on a twice-a-day, 90-minute cardio and weightlifting regimen and through significant dietary changes. "I had to give up the junk food for sure," Williams says.
He also gave up juices and high-calorie sodas. "I pretty much eat lean protein and lots of vegetables all day. I live with my grandmother and uncle, and they don't cook that way, so I have to fix all my own food."
"By the year 2020, only two out of every 10 recruits will be able to meet the weight-fitness qualifications to serve." — Dr. Gregory Poland
Williams is one of the increasing number of young black men and women considered too overweight or obese to meet the minimum physical requirements for enlisting in the U.S. armed forces.
Gregory Poland, a medical doctor at the Mayo Clinic, says young people like Williams are literally "too fat to fight."
For more than 20 years, Poland has also served as an unpaid consultant to the Defense Health Board, a federal advisory committee to the Secretary of Defense that provides recommendations on health policy, research and requirements for the treatment and prevention of disease and injury.
According to Poland, "one in three young adults of military recruitment age in the United States is too overweight to enlist.
"In fact, obesity and overweight is the No. 1 cause of ineligibility in the armed services," he says. "By the year 2020, only two out of every 10 recruits will be able to meet the weight-fitness qualifications to serve."
According to the Centers for Disease Control and Prevention (CDC), there is a growing epidemic of overweight and obese individuals in the general population with significantly higher rates among blacks. Non-Hispanic blacks have the highest age-adjusted rates of obesity (47 percent) followed by Hispanics (42 percent) non-Hispanic whites (32 percent), and non-Hispanic Asians (10 percent).
The rates mirror those in the military. According to the 2011 Health Related Behaviors Survey, the latest year for which numbers are available, among active duty service members more than 50 percent of males of all races across all age groups were classified as overweight, according to their BMI (body mass index). More than 34 percent of active duty females were classified as overweight.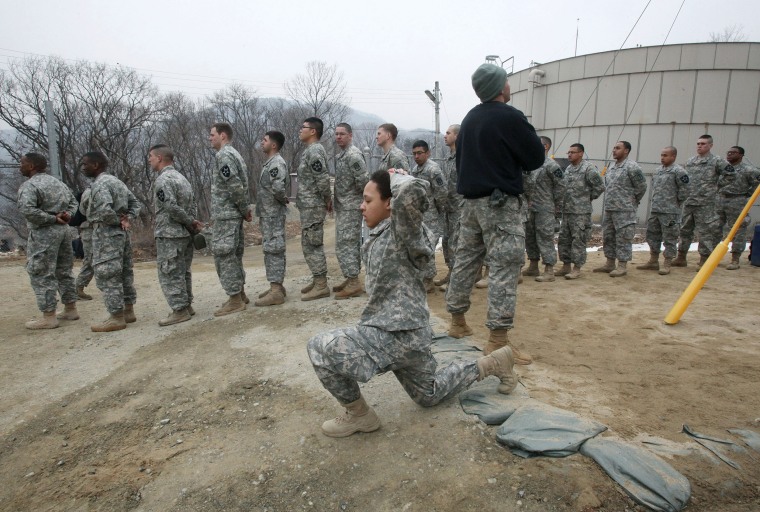 In the military, a candidate's BMI is the current standard for determining his or her ability to meet the physical requirements of enlistment. A BMI of 18.5 to 24.9 is considered normal. Twenty-five to 29.9 is considered overweight. A BMI of 30 or higher is considered obese.
But candidates are also judged against a table that lists approximate weight for any height, and the Army's table is more lenient than the CDC's.
For example, a 21-year-old male recruit who is 5 feet 10 inches tall and weighs 190 pounds would be slightly overweight under CDC guidelines, but not the Army's. Even with more lenient standards, however, the Army still disqualifies a large number of men and women, who like Williams, want to enlist.
The U.S. Department of Defense keeps extensive records on the makeup of the armed services. In its latest report, from 2014, one in five active duty soldiers is black.
The Army recruits heavily in the black community, but the number of blacks signing up to serve is decreasing. Of course, this is partly explained by the weight requirements. There are a number of other reasons for the decline, according to various sources, and it gets complicated. But Pentagon officials say that some of the downturn in enlistment among blacks is a result of more options available to them, including college.
RELATED: Are African-Americans Locked Out? State of Black America Report
Williams sees joining the Army as a way to get a college degree. "I didn't do well in high school and missed a lot of days from school because of my health. When I took the step test right after I got out of high school, I couldn't pass the step test," he says of one of the many tests required to qualify for enlistment in the Army. "I thought I was going to have an asthma attack."
He is working on increasing his endurance by hiking and running, he says.
If Williams is successful in dropping enough weight and getting fit, he has to maintain it, Poland stresses. "Army personnel are required to take a physical-fitness test every six months, which includes a weight screening.
"Soldiers who go above the top end of the body-fat percentages must undergo the Army's weight-control program, that includes nutrition counseling and an intense workout program."
And yes, Poland says, you can eat yourself out of the military, if you don't stay fit. An overweight military, he asserts, presents real risks to this country's national security.
"Young Marines are often expected to carry 70 pounds of equipment in active duty. How is someone who is overweight or obese going to do that?"
Williams, who says failing to get into the Army is not an option, is determined to stick with his plan to lose weight and get stronger.
"It's hard, but I won't give up," he says. "One day I will get my uniform and serve."