In her latest work visual artist and Black trans woman, Wriply Marie Bennet employs her carefully placed strokes of pen and ink to illustrate the innocence of childhood juxtaposed with images of a vigil and rally. Framing the top and bottom of the work are the hashtags #SHECOULDHAVEBEENME and #INDIACLARKE, referencing the July shooting death of India Clarke, a Black trans woman in Tampa, FL.
As one of eight artists commissioned to create pieces for the art and activism campaign, Trans Day of Resilience, Bennet pulled from her personal experience with the threat of violence that pervades the lives of many trans women of color. Shortly after her transition, the Columbus, Ohio resident was on the bus heading home when she noticed a man watching her. Once the bus emptied out she alleges that the man moved closer, proceeded to fondle his genitals and then followed her off the bus all the way to her home.
"The way he stared made me fear for my life," says Bennet. "On my way home I kept thinking I would die. India Clarke could have very easily been me and that's what is so scary about reading stories of trans women who have been taken from us."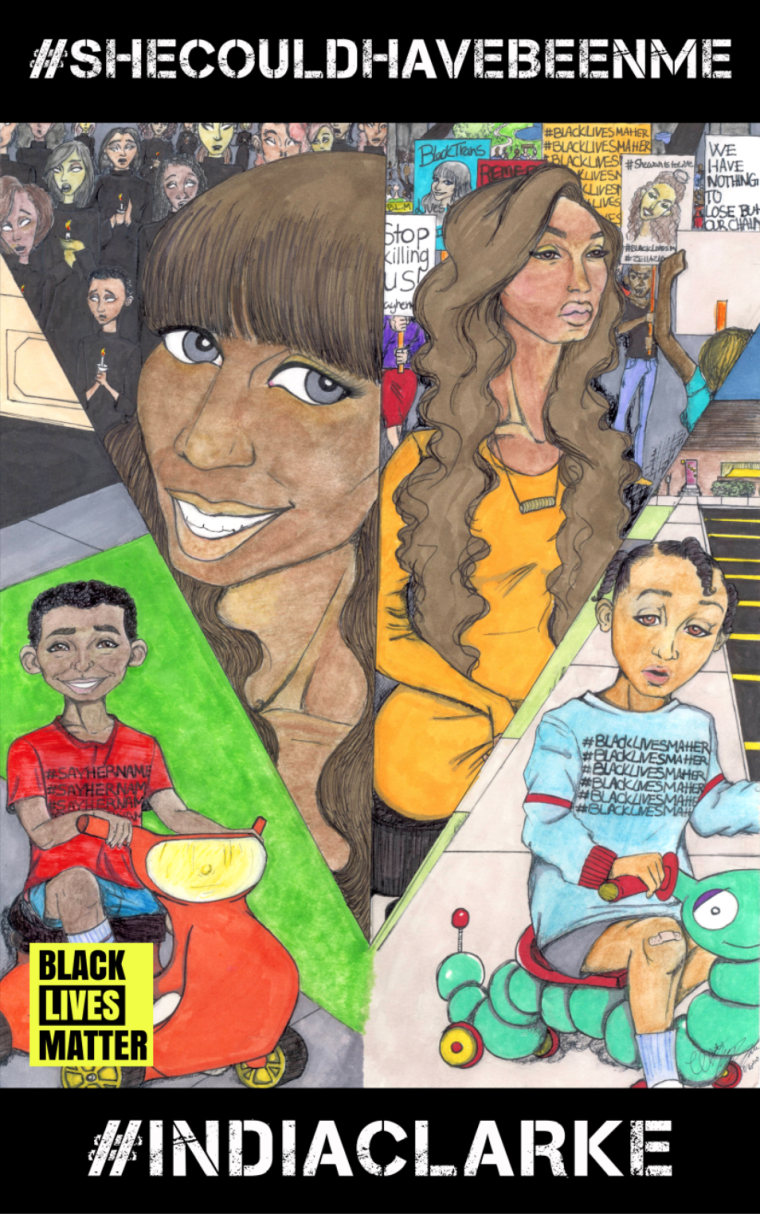 Bennet survived the situation but numerous trans women of color are not as fortunate. According to a 2013 report from the National Coalition of Anti-Violence Programs (NCAVP) trans women of color accounted for 67% of victims of hate violence homicides. As of October there have been 22 murder victims in the U.S, making 2015 the deadliest year on record for transgender and gender non-conforming people. Internationally, there have been over 60 reported homicides this year with more believed to be unreported.
In response the community organization Forward Together and visual artist Micah Bazant initiated a collaboration in August to connect trans and gender non-conforming artists—each receiving a stipend of $575—with eight organizations throughout the country committed to addressing trans social justice issues.
"Art gives us space to honor lives lost and those who still exist."
Bazant, who identifies as white and trans, collaborated with the Audre Lorde Project (ALP) to produce their watercolor, ink and digital collage piece. The work celebrates the bond between trans women and femmes, while highlighting the multiple forms of violence the trans community faces through oppressive law enforcement and immigration detention policies, such as placing trans women in the general male population or in solitary confinement. Bazant hopes the piece and the entire project raises awareness of trans justice issues that overwhelmingly impact those of color.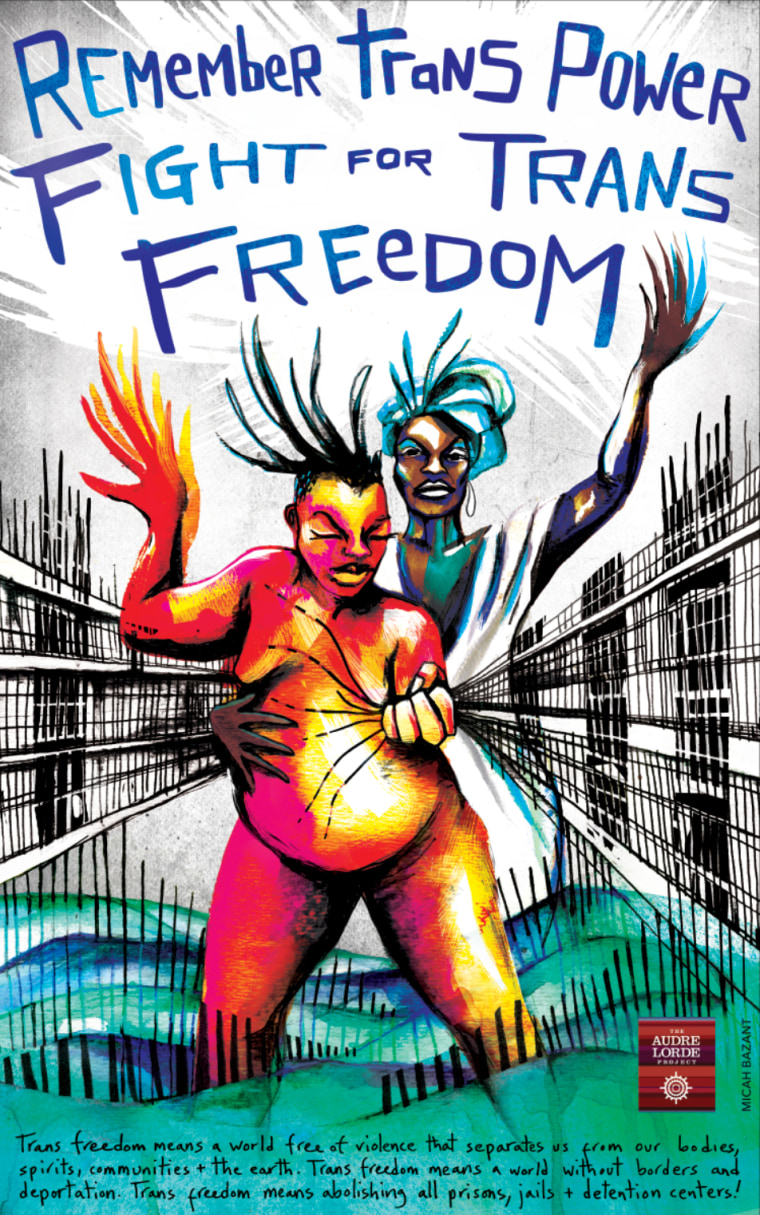 "As a white trans person it is important for me and others like me to recognize that trans women and trans femmes of color are the most targeted by anti-trans violence. We see more visibility of trans in media but it hasn't changed life conditions. This art is part of the movement to change that," says Bazant.
Similar to Bazant's work, Mohammed Iman Fayaz aka Mojuicy who was paired with Transgender Law Center, addresses immigration detention issues with an image of trans women holding hands as broken chains fall to their feet. Bishakh Som who was paired with Buried Seedz of Resistance, takes a different approach with a digital illustration highlighting Native American two-spirit ancestry, while honoring the lives of three two-spirit/trans individuals murdered in Colorado. In the remaining works the visual artists present colorful representations of proud and strong trans women uplifting themselves and their surrounding community.
As an expansion of Bazant's 2014 collaboration with ALP, the campaign aims to serve as an extension and reimagining of Transgender Day of Remembrance, held on November 20. Instead of solely memorializing lives lost those involved in the project wish to also amplify the voices of those who are living and active in the Trans movement.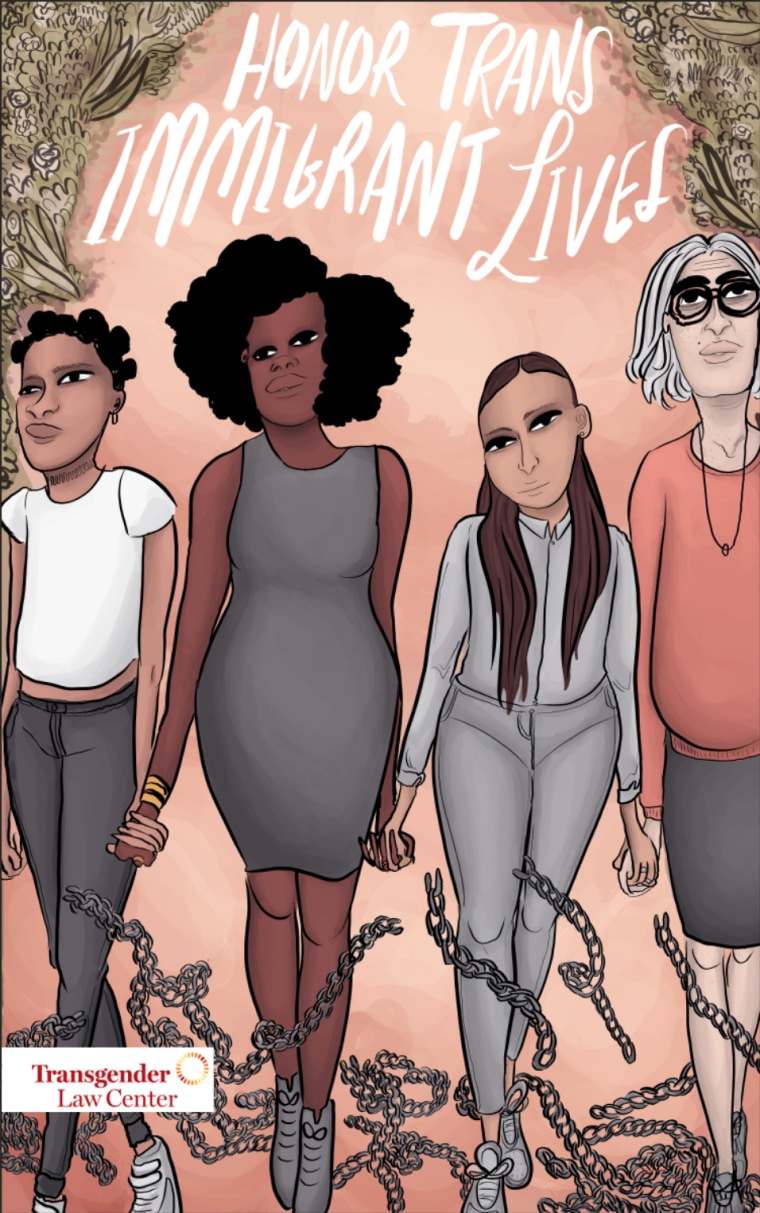 "To move beyond remembrance we must acknowledge folks in their leadership and lives and not just their death," says Elle Hearns, central region coordinator of GetEQUAL and strategic partner of Black Lives Matter, who was paired with Bennet. "I want to challenge folks in the ways they support the communities that need us more."
Alok Vaid-Menon, co-founder of the project and communications coordinator of ALP, would like to see the campaign translate into raising awareness and funds for the organizations involved.
"All the organizations part of this project are small and critically underfunded. Many mainstream organizations get money but don't work with trans people of color and many donors left the LGBT movement after marriage equality passed," says Vaid-Menon. "But we know violence is escalating and now more than ever we need to fund this work."
To that effect, ALP plans to provide prints of Bazant's work for sale with proceeds supporting the organization. Other partners are also planning various events and activities to use the campaign's art to advance their causes from a National Trans March of Resilience to exhibitions.
"Art creates another lens of storytelling and is very relatable to all people," says Hearns. "Art gives us space to honor lives lost and those who still exist. Art has always been transformative so utilizing art strategically makes sense to continue this conversation."