A young woman with Janet Jackson afro puffs, circa "Good Times," is sitting in a hairdresser's chair.
In progress is the process through which her puffs will be transformed into "transcranial electrodes" that resemble Bantu knots, allowing her to enter a physical, digital - "physigital?" - universe where black women rule the world.
The mother of the universe is a robed, goddess-like figure with a headdress that is at once reminiscent of the Nefertiti cap crown and Grace Jones' geometric high top fade. On either side of her are two males with the bearing of sentinels. Goddess is holding forth about transcendental matters above the intellect of most of us, as well as some Gwendolyn Brooks poetry.
Welcome to "NeuroSpeculative AfroFeminism," a highly imaginative, satirical and sometimes scathing multimedia installation having its New York premiere at the 2017 Tribeca Film Festival (Tribeca Immersive in the Virtual Arcade). It received an honorable mention Thursday before the presentation of the Storyscapes Award (for immersive storytelling) at "2017 Tribeca Film Festival Awards."
"NeuroSpeculative AfroFeminism" draws on art, music, activism, literature and fashion and sprang from the minds and mandates of four women (millennials) with backgrounds in science, engineering, architecture and architecture. They are Hyphen-Labs.
"The installation was inspired by the experiences I've had as a black woman in America. It was inspired by the experiences that my friends and fellow Hyphen-Labs teammates have had seeing how we move through highly technical and scientific spaces," says co-creator and scientist Ashley Baccus-Clark. "We created this project for our younger selves and for young women today to see themselves in these fields (STEM/Technology/Art) and demand the right to have their stories realized in these spaces."
Dialoguing with Baccus-Clark and team member Carmen Aguilar y Wedge - a Latina - I am perplexed. I grieve. It appears the strides of the Women's Liberation Movement have skipped a generation - at the very least the STEM sectors. The others on team Hyphen-Labs are architects Nitzan Bartov, an Israeli and Ece Tankal of Turkey.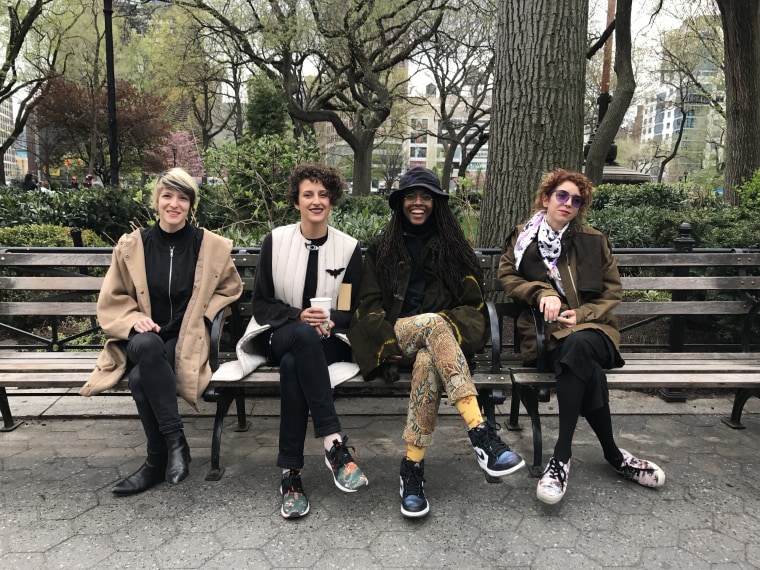 Of "NeuroSpeculative AfroFeminism," Aguilar y Wedge, who was raised by a single mother in San Francisco, laments: "This is something I would have loved to see when I was out of high school or even in high school trying to figure out what it was I wanted to do. What I want to be with my authentic self. I think it could have encouraged me to follow my dreams and be a tech luminary, a tech optimist and a pioneer or something."
Related: Directors Use Film to Speak on Social Issues at 2017 Tribeca Film Festival
The engineer of the highly collaborative Hyphen-Labs, Aguilar y Wedge left the construction side of that field because she became fed up with the "micro-aggressions" directed at her, exclusively by men, she says.
Pressed to give at least one example of what is essentially sexism, she lobs this little grenade: "Going into meetings and proposing ideas and having counterparts say, 'Oh, don't listen to her she's a girl. She's a woman' ... It was a common thread throughout our life experience ... that we struggled to be able to do work that was meaningful but institutional problems stifled us."
Further, the four have been "othered" and otherwise not integrated into mainstream society. In short, not fitting the established template. It is these such experiences, Aguilar y Wedge says, that gave rise to Hyphen-Labs and "NeuroSpeculative AfroFeminism."
In "NeuroSpeculative AfroFeminism," the neurocosmetology lab and the alternate universe - the typography of which is a mashup of Times Square, Star Trek's Klingon Empire and lands in "The Lord of the Rings" - is the 360-degree virtual reality (VR) component of the installation.
Remove the headset, stand up and proceed to a pop-up boutique. On display is a dual-function visor that can both transport the wearer to the neurocosmetology salon and prevent "malevolent watchers." You know the types: those who glare, stare, leer, frown; who give side-eye.
The visor is one of several "speculative products" for consideration. Another is sunscreen. It is "formulated for skin with high melanin." Importantly, it won't leave white smear marks, a detail that is an indictment of manufacturers' myopia in this area. That perhaps no one bothered to study the effects that sunscreen might have on skin that is not pale.
Elsewhere in the boutique are "Octavia [Butler] Transcranial Direct Stimulation Electrodes" developed by [Gwendolyn ] Brooks. It is a treatment that can be used on the major types of black hair. Regardless of one's texture, the electrodes can increase memory, motivation and higher learning, while reducing chronic pain and anxiety. Do note that these claims have not been "corroborated by the FDA."
One inference that can be drawn from the electrodes is that the market aggressively (hair textures) panders to the vanity of black women, while ignoring their intellectual development. Another inference could be a rebuke of the debilitating, reductive competition ("my hair is better than your hair") that has existed among women at least as far back as Hagar and Sarah.
After the boutique, take in an art exhibit of iconic figures. One is Naima (named after the John Coltrane composition), a soldier in the fight for technological reparations.
"This project," Baccus-Clark stresses, "is also a part of the scientific conversation around how virtual reality can contribute to cognitive impact research. We're building a research methodology for doing research in public spaces to see if VR can be a tool for lowering prejudice and bias through increasing exposure told by creators of color."