Stephanie Rodriguez said goodbye to her 6-year-old daughter on a July morning one year ago as she prepared to leave their home country of Venezuela. "She cried and asked me to take her with me but I told her I had to leave," Rodriguez told NBC News in Spanish. "She screamed and cried that it doesn't matter if we didn't have food or shoes."
But the lack of those essentials and more was exactly why Rodriguez knew she had to go. "She begged me not to forget her and it really broke my heart," she said.
The journey ahead was too dangerous for her daughter: It would involve being smuggled via boat to the nearby twin-island nation of Trinidad and Tobago. Dozens of people have gone missing after their boats sank taking that similar journey. The missing are a part of the four million Venezuelans who have fled their country in recent years, desperate to escape the growing economic and political crisis.
While large numbers of desperate Venezuelans have flocked to their Spanish-speaking neighbors in South America, more than 98,500 have fled to the Caribbean, according to a 2018 report from the United Nations. If Rodriguez made it, she would join the estimated 40,000 Venezuelans residing in Trinidad and Tobago, just 10 miles off the coast of Venezuela.
With unrest at their shores, Trinidad and Tobago's government continues to avoid formal asylum legislation. It has also not taken political sides on the unraveling situation in Venezuela, instead choosing to remain officially neutral. Meanwhile, the United States and many allies have backed opposition leader Juan Guiadó as Venezuela's president, and countries such as Russia and Cuba have thrown their support behind incumbent president Nicolás Maduro.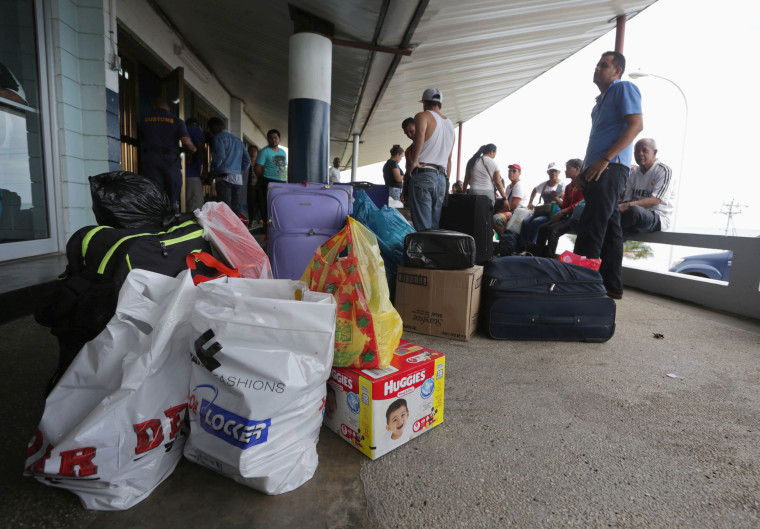 As a result, the islands' government is receiving condemnation from world leaders, the country's own opposition, and asylum-seekers who say the country needs to do more. This leaves desperate families like Rodriguez's to choose between remaining in their divided homeland or moving to islands where they are unsure if they are safe and welcome.
Trinidad's close proximity to Venezuela coupled with its small population has resulted in the country retaining one of the largest Venezuelan-to-citizen ratios. The island nation remains the only country to take in large numbers of Venezuelan migrants without having an official asylum policy in place.
Asylum-seeker Leonardo Vasquez said the Trinidadian government can do better. "As neighbors, you have to be supportive and you know the struggles because you're right there and you see how these people are migrating," he said.
Back home in Venezuela, he was a lawyer who openly opposed the Maduro regime. In Trinidad, he works as a waiter. Vasquez, whose name was changed to protect his identity, expressed gratitude for being able to find refuge in Trinidad, but he worries about living in legal limbo.
"I'm applying for asylum and not supposed to be working, but at the same time they tell you, you need to do something to survive because nobody is providing you the money or any help," he said.
The Trinidad and Tobago government carried out a two-week registration process earlier in June that attempted to address the issue by granting Venezuelans photo IDs, a six-months to one-year work permit and basic medical care. It was the first major action toward addressing the spike in migration that began about five years ago, and more than 16,500 Venezuelans registered.
However, many questions remain unanswered, including what will happen to new Venezuelans who arrive after the registration process, whether permits will be renewed once they expire, and why there still isn't an official asylum law that grants refugee status.
Asylum-seekers can only receive refugee status through the Living Waters Community, the United Nations Refugee Agency's local implementing chapter in Trinidad, which coordinates the application and approval of asylum status.
The process has created a disconnect between the United Nations approving asylum status in a country that doesn't dictate how to address refugees. The side effects have led to reports of unlawful detention by the police and the deportation of 82 refugees, actions which the U.N. condemned as illegal.
The uncertainty has Venezuelans there living in fear and seeking financial assistance on the black market, where reports of human trafficking are rampant.
"If we do not manage this crisis, Trinidad will cease to be the country as we know it," Trinidadian Member of Parliament and former U.N. ambassador Rodney Charles said. Charles is a member of the opposition party that has taken issue with the majority party's handling of the situation. He believes the country needed a more proactive, on-the-books approach sooner, one that analyzed the country's capacity to support Venezuelans amid the growing strain on the country's health sector and economy.
Charles' frustrations were exacerbated by what he sees as the other party's support for Maduro despite its official neutrality. He said the party's support of Maduro could be clearly seen in sending a cabinet official to Maduro's inauguration in January, continuing oil deals with Venezuela, and the untimely departure of Trinidadian diplomats during a meeting with Guiadó's representatives.
The majority government has addressed its reasoning behind their nonintervention stance numerous times. In March, a statement released from the prime minister's office read "You have seen your government join with [the Caribbean Community] to push for an urgent de-escalation of tensions and work on a forum of dialogue and negotiations towards a peaceful resolution to the situation."
The statement cited concerns over "the use of power" so close to their shores as one of the reasons for choosing neutrality as their "closest neighbor" becomes engulfed in a "growing, smouldering, global standoff" among superpowers.
The small island-country is admittedly being challenged by the largest migration in the region in modern history. The government has taken small steps to address it, but the actions still leave many like Rodriguez worried about whether trusting the system will help or hurt their struggle to provide for their families.