TULSA, Okla. — A pastor from a church in north Tulsa says the community is going to fight back following the acquittal of a white police officer in the shooting death of an unarmed black man — but not in the way that many think.
"We're not going to burn down our homes," Rodney Goss, pastor of Morning Star Baptist Church told NBC News. "We're not going to burn down our communities. We're not going to become so uncontrollably angry that anything goes. We're going to sit down and be proactive as opposed to reactive."
The system that found Betty Shelby not guilty in the September shooting death of Terence Crutcher is broken, Goss said, adding: "Now we're broken."
Shelby, 43, was found not guilty Wednesday evening. She had been charged with manslaughter in the death of Crutcher, 40, during an encounter that started with a report of a stalled vehicle. Shelby was one of four officers who eventually arrived on scene.
Police have said Crutcher didn't follow commands. Video released of the incident show him walking to the car with his hands raised. An attorney for Shelby had said the officer believed Crutcher was under the influence of drugs. According to a toxicology report, Crutcher was on two hallucinogenic drugs, including PCP.
Goss said that following the shooting, the community set a template for the nation in how to handle adversity without being violent. "And we wanted to hold on to that," he said. "It was easier this time because we really believed justice would be served."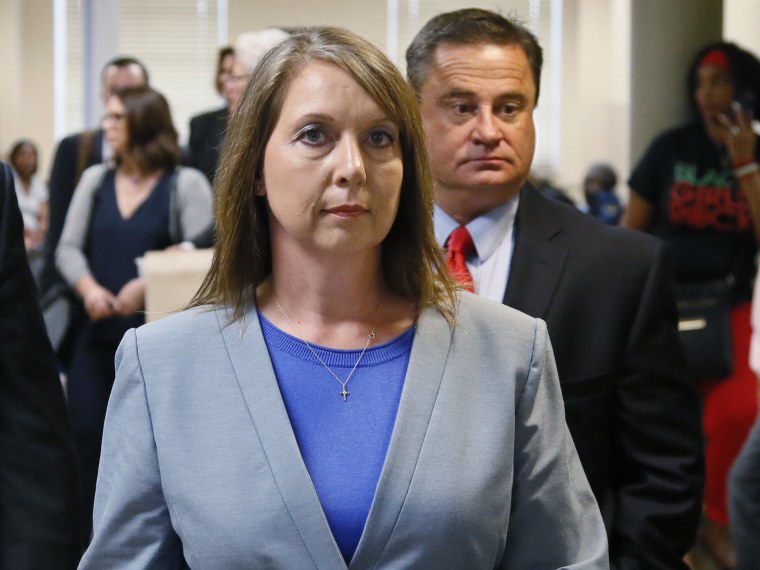 Related: Family of Jordan Edwards Appears Publicly for the First Time Since Teen Shot by Cop's Funeral
He added that justice was not served, yet the community will remain intellectual, poised and in control. Although they are angry, they are not mad, he said. A person who is mad is out of control, Goss noted, while a person who is angry is an individual who is active.
Goss was among the clergy who attended a press conference with members of the Crutcher family on Thursday morning. "That offered some solace because all of the clergy of all different ethnicities and belief systems, they all came and they stood with us and stood with the family," he said.
"That within itself provided a sense of camaraderie. I know it's kind of like putting a Band-Aid on an open wound, but it soothed it just a little bit and it gave us the mindset to want to continue to work toward reform and change, so this will not continue in the days to come."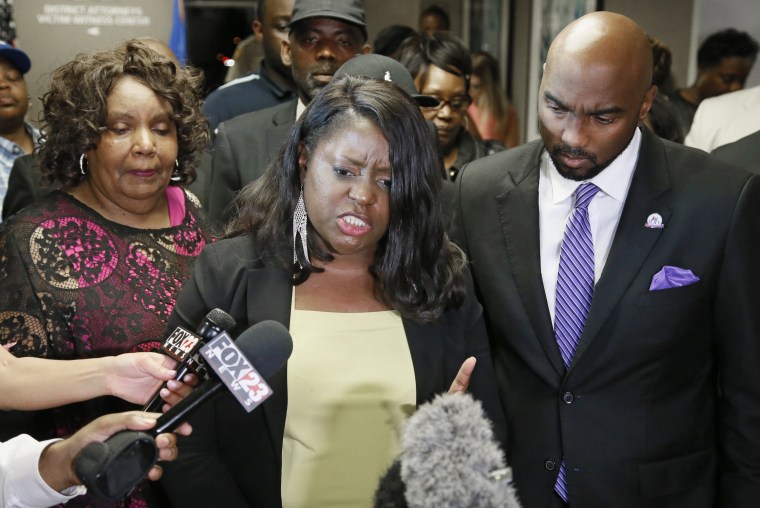 An emotional Tiffany Crutcher, Terence's sister, spoke out at the press conference on Thursday. "We want full justice. We don't want his name to be another hashtag," she said.
As Goss listed the names of other unarmed black men who have been shot and killed in recent years, he said there is little shock value anymore. It has become the "new norm," he said. Police officers, he noted, are sworn to protect and serve, so their motive should be to make sure everyone they are sworn to protect and serve gets home safely. "It just hurts me that every young African-American man is a predator or a threat somehow and it just doesn't seem right to me."
A father himself, Goss said it's discouraging having to sit down with young African-American men in the community and training them how to conduct themselves when they are stopped by the police. They have no right to free speech, he said, and instead they have to follow a script so their lives won't be threatened.
Related: Jury Acquits Tulsa Officer Betty Shelby in Shooting Death of Terence Crutcher
"And it shouldn't be that way," he added. "They shouldn't have to fear for their lives because they get pulled over by a cop."
At the six Tulsa-area Boys and Girls Clubs, the issue hasn't come up, said executive direction Richard White. But it's something he will watch over the coming days.
"The kids are much more used to the diversity and living together," he said. "It's the culture of our clubs to be diverse to begin with. We don't see many issues of racial tension in our clubs at all."
If there are any, he said, a program director might hold a special session or have a sit-down with the kids.