A Colorado mother is devastated after a video she took in March shows a Universal Orlando character making a hate symbol on her biracial 6-year-old's shoulder.
Tiffiney Zinger, 35, a U.S. Army veteran who lives in Colorado Springs, Colorado, said she and her husband were excited to bring their two young children to a breakfast with characters from one of their daughter's favorite movies, "Despicable Me."
But those fond memories have been tainted after she and her husband were looking through photos and videos in August and noticed the hate symbol.
Tiffiney Zinger, who is black, said she and her husband, Richard Zinger, who is white, were helping their now 3-year-old son with a school project when they noticed the OK gesture on their daughter's right shoulder.
According to the Anti-Defamation League, the OK symbol is used to express white supremacy in extremist circles. The symbol was added to the organization's Hate Symbols Database in September.
Zinger said she was shocked and devastated by the symbol of hatred directed at her child.
"Oh my gosh. Oh no. What is this? Am I seeing what I really think I'm seeing," Zinger said she thought when she first noticed the hate symbol.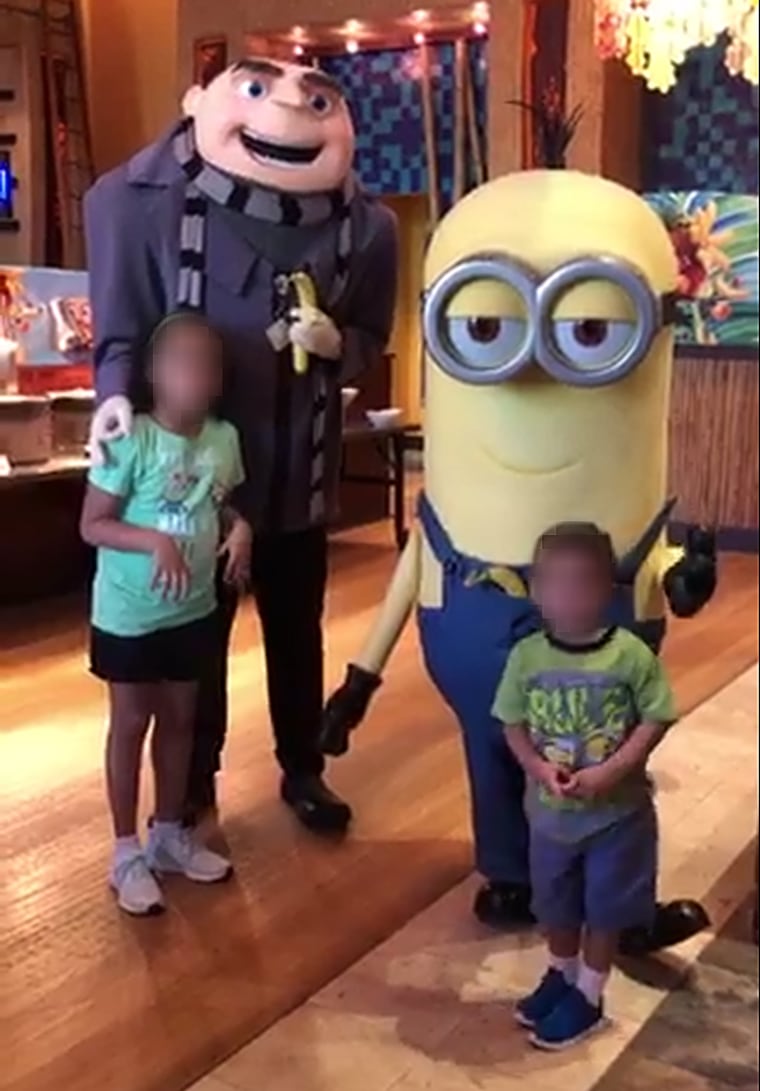 Zinger said she reached out to Universal Orlando just one or two days after noticing the hate symbol in the photos and videos. She said she received a generic response from Universal Orlando guest services apologizing for the incident.
"It seemed like protocol," Zinger said. "It didn't feel genuine."
Zinger said she contacted Universal Orlando again in September after not receiving any updates about her initial complaint. She said that Universal Orlando did not seem to take the situation seriously until she sent them video of the character making and holding the hate symbol on her daughter's shoulder.
"When I found this video and sent it to them, everything went into motion," Zinger said.
In a statement to NBC News, Universal Orlando spokesperson Thomas Schroder apologized to the family.
"We never want our guests to experience what this family did. This is not acceptable and we are sorry — and we are taking steps to make sure nothing like this happens again," Schroder said. "We can't discuss specifics about this incident, but we can confirm that the actor no longer works here. We remain in contact with the family and will work with them privately to make this right."
The incident was especially hurtful, Zinger said, because she and her husband are both U.S. Army veterans who have had multiple deployments to Iraq.
"All of that hard work soldiers do for Americans...it feels awful that someone would use their freedom for hate," Zinger said.
Zinger warned other parents to always be vigilant when their children are interacting with adults, even if the situation feels safe.
"It's hard to watch everything at once, but be aware that there are people who don't have good intent, even if it's in an area that's supposed to be safe and family-friendly," she said.
Firing one employee is not enough, she said, adding she wants Universal Orlando and other companies to revamp their hiring practices and do more research on who they hire.
"They need to make sure that there's training [and] supervision," Zinger said. "Situations like this can become deadly like we've seen with El Paso and New Zealand."
NBCUniversal is the parent company of NBC News, as well as Universal theme parks.