Fencing. It's the sport where you don't know who's competing until they unmask themselves. The athletes are almost completely concealed, and so is the coverage of their sport.
However, there is a diverse group of fencers whose athleticism and persistence to be the best, and often the first of their kind, represent why you should pay more attention to their sport. This year, five black athletes made the trek to Rio with the U.S. Fencing team. Here are their stories.
1. Nzingha Prescod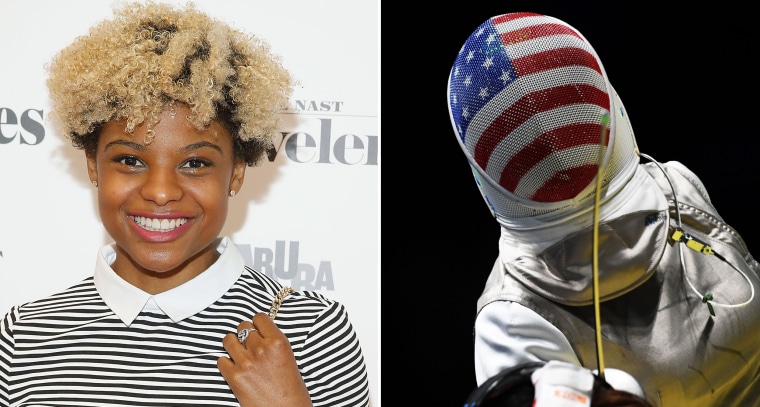 The Brooklyn-native was named Ivy League Rookie of the Year during while she fenced at Columbia University. At Columbia, she majored in political science with a concentration in race and ethnicity.
She's been fencing more than half her life. The 23-year-old began fencing at the Peter Westbrook Foundation. Westbrook made every U.S. fencing team from 1976 through 1996. He received a bronze medal in 1984, becoming the first African American to win a fencing medal and the first American to win an Olympic medal in fencing since 1960.
Westbrook's non-profit foundation's mission is to bring fencing to youth in underserved communities in the New York area. Prescod continues Westbrook's legacy of setting records. She became the first African American woman to win an individual medal at the Senior World Championships in 2015, and the first U.S. women's foil fencer to win a Grand Prix title in 2013 in Marseilles, France.
In Rio, her second Olympics games, Prescod did not win a medal. She won her first bout in the round of 32, but lost in the round of 16 in women's individual foil. She finished at 11th place in the world.
Prescod was featured in ESPN's Body Issue and shared her motivation to inspire more black girls to fence in the way Erin Smart inspired her.
"A lot of black girls look up to me, and I want to make them proud," Prescod told ESPN. "I want to show them that they can do this and give them a platform to achieve.
"Erinn Smart [a black fencer who won a silver medal at the 2008 Games] has done that for me. I don't know without her what I would be doing. She made it very clear that this was possible. I saw her have success when she was training and competing, so I knew what I was working toward was achievable."
2. Ibtihaj Muhammad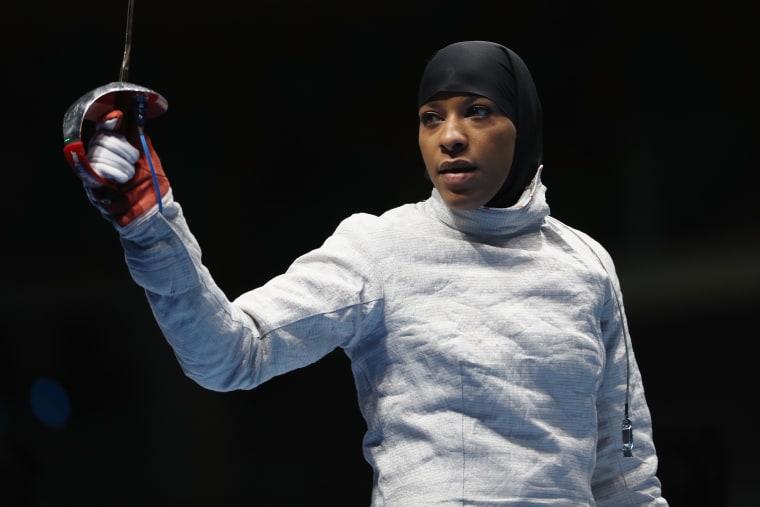 This is the 30-year-old's first trip to the Olympics, and it's been a historic feat. She won a bronze medal in the women's team sabre finals against Italy.
Ibtihaj Muhammad is the first U.S. Olympian to compete in a hijab. In women's individual sabre she made it to the second bout and lost to Cecila Berder of France.
Growing up in Maplewood, New Jersey, the Muhammad family searched for a sport where Muhammad didn't have to stand out by altering the uniform to remain modest—she'd often wear sweatpants when others wore shorts or longer sleeves when others left more exposed. Fencing caught Muhammad's mother's eye because of its modesty and suggested the sport for her daughter to try. She, too, trained with Westbrook.
Though Muhammad sought out fencing because it fit her conservative lifestyle, that did not guarantee a rosy road. She struggled with people not believing she belonged because of her race and religion. But went on to Duke University to become a three-time All-American. She also won team gold at the 2014 Senior World Championships—it's almost as though she performs so well to spite the naysayers.
Despite any backlash, the fencer feels as though the sport is the perfect fit because she can be who she is without aking the adjustments she had to when she was a kid.
"What I love most about my sport is that once I had my uniform on, and my mask went on," Muhammad said, "people didn't see me for my race, they didn't see me for my religion, they didn't see me for my gender."
Off the mat, Muhammad has a clothing company called "Louella" catering to those who wish to be clad more modestly.
3. Darryl Homer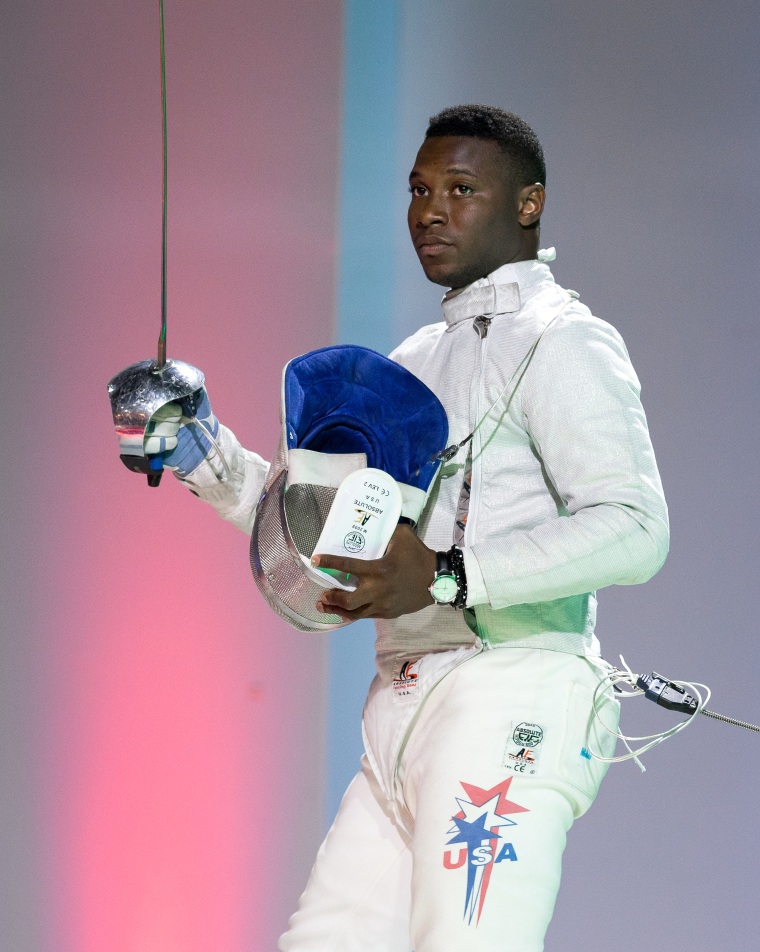 Darryl Homer, 26, grew up in the Bronx after his family moved there from St. Thomas when he was five years old. This Olympic games, Homer brought home the silver medal in men's individual sabre fencing. He's also the first American to win a silver medal in men's individual sabre in 112 years. He is the first American to win a medal in the men's individual sabre since Peter Westbrook took bronze in 1984.
Homer got his start at the Peter Westbrook Foundation as well.
This is Homer's second trip to the Olympics. He placed sixth individually at the London games. Daryl Homer made his Olympic debut at the 2012 London Games where he placed sixth individually.
As a kid growing up in New York City, Homer spent his evenings fencing. The constant bustling energy of the city taught him the importance of finding peace and tranquility and to be alone with his own thoughts. The fencing gym for him was a place to ignore all of the the outward influences in life and focus on himself and becoming the best fencer possible. Though fencing brings Homer peace, it's paradoxically a very aggressive sport.
"The matches are battles," Homer said. "You're literally trying to kill someone or take someone's soul as people call it or just destroy someone. And there's a lot of psychological warfare, there's a lot of screaming—it's very aggressive."
While finding peace in an aggressive sport, Homer has gained more recognition for his achievements.
But he stays humbled, and rooted in his mission to continue to break records.
"I feel like my potential is the sky," Homer said. "I just want to keep pushing up, and pushing up, and pushing up, and leaving a legacy behind."
4. Jason Pryor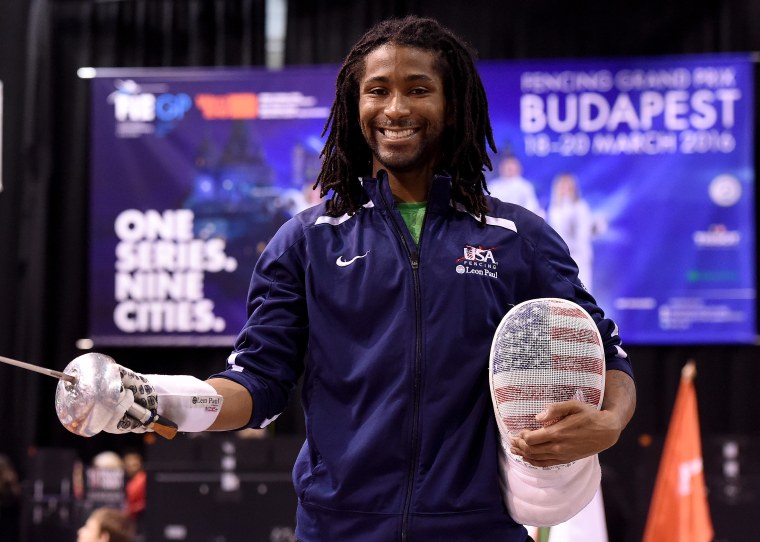 Jason Pryor began fencing when he was 11 years old. Now the 28-year-old is in Rio as a member of the U.S. Fencing team. He is America's only Olympic epee fencer.
Pryor is an Ohio native, but he has been a full-time resident athlete at the U.S. Olympic Training Center since April 2010.
Though he's an Olympic athlete now, he grew up lazy and unfocused when it came to sports. Jason Pryor played soccer as a child but it wasn't a good fit—he didn't like team sports. His parents would only let him quit if he chose another sport. He chose fencing because he thought it would take his parents a while to find a place for him to begin, as he told Joe Posnanski.
Just as he wanted to quit because the fun sport with swords and stabbing that he was drawn to actually turned out to be hard work. But in a whirlwind of challenge and fear, he got hooked when his coach put him in his first competition.
"It was the strangest feeling," he says. "I was scared, and I hated it, and then I loved it. It was the craziest mix of feelings. And, of course, I was terrible, and I lost mostly, but something comes over me when I lose. I am like, 'Man, I've got to get better. I've got to climb up. I've got to win.' I become crazed."
Though Pryor lost 14-15 in his first bout to Benjamin Steffen of Sweden, he's not defeated now either. As he put it on Instagram, he's "hungrier" and will be back in the 2020 Olympic Games in Tokyo.
5. Miles Chamley-Watson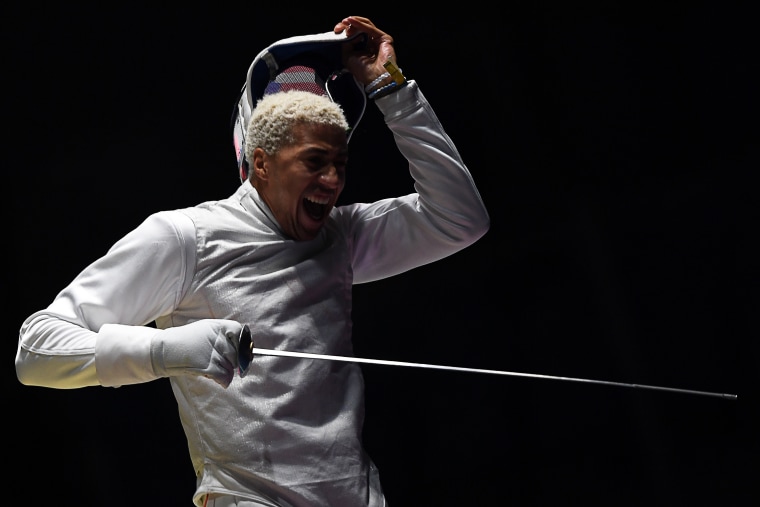 Miles Chamley-Watson, 26, is a native of London, competing for the U.S. Fencing team. In Rio, He won a bronze medal in men's team foil against Italy. This win was historic, as the U.S. has not won a medal in the event since they won bronze in 1932.
Coincidentally, he made his Olympic debut at the London Games, where he finished fourth in the team event and 25th in the individual event. Since then, Chamley-Watson became the first U.S. fencer to win an individual Senior World Cup Championship title—he even has a tattoo to commemorate the date in 2013 that he seized that title. Then he won team gold at the 2016 Paris World Cup.
His family moved to New York when he was 10 and he also spent some of his childhood in Philadelphia. At Penn State he won two NCAA championships.
The 6-foot-4 athlete has a signature move called the "Chamley-Watson" which involves scoring a touch over his shoulder and behind his back.
If you don't recognize his moves, you may know him from one of his endorsements or modeling gigs.
Though Chamley-Watson spreads himself between his many passions—fencing, fashion, modeling, etc—he remains persistent in staying true to the art of fencing, and inspiring kids to follow in his footsteps.
"It used to be a combat sport, it used to be really fighting for your loved ones," he told NBC10. "I want to come back to that... intense aspect that it used to have. I think it needs a new face. I want kids to identify with me."