A Black football player at a northwest Illinois high school is seen on video sitting down in a locker littered with banana peels after a teammate threatens to break his knees if he doesn't comply.
Moline Police Chief Darren Gault called the incident at Moline High School a "disturbing racist scene." Detectives interviewed student athletes, coaches and staff members over the weekend and turned their findings over to prosecutors, Gault said.
The investigation centers on an 11-second video clip in which another player, whose hand can be seen but face doesn't appear, threatens the Black player to sit in the locker "or I'll break both your knees." When the player sits down, others can be heard shouting, "Yeah!"
Gault said the investigation determined the people involved were teammates "of both different and similar races to the victim." He also said all players involved have been identified.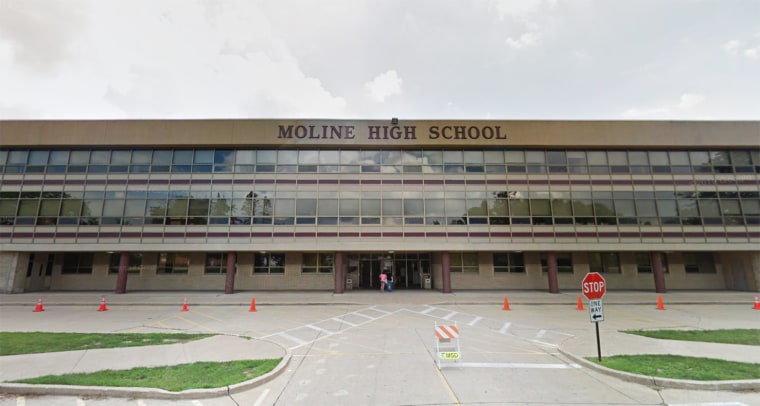 "Regardless of these facts, we all agree that this is a disgusting way to treat a fellow teammate, a fellow human being and most certainly a friend," Gault said.
The teenager at the center of the incident released a statement through Rock Island County State's Attorney Dora Villarreal, according to KWQC.
"I want to make it known that I'm fine," the student said. "Everyone is worried about me and showing concern for me and I really appreciate it. Second, can everyone please stop talking about the incident and video? I understand everyone wants justice for me and they want what they think is right to be done, but I already made my feelings known to the police and my friends about how I feel about everything. I love the football team I'm on and they're good guys. I know that personally. I talked to the people involved individually and they apologized. We had a heartfelt talk about it and I told them how I felt. So please don't harass, bully, or threaten them at all. Lastly, I want to get my life back together, and my student-athlete life back on track, so if you do ever see me or know who I am, treat me as a human first, not a victim."
Villarreal also asked the public to respect the student's privacy and to stop sharing the video.
According to published reports, the video was shot Thursday and authorities learned of it after it was posted on social media and widely viewed in the community Friday night. Teams around the state had their season delayed until the spring because of the COVID-19 pandemic, and the Moline team played an away game Friday night. When the players arrived back at the school shortly before midnight, detectives were there to speak to them.
The Moline-Coal Valley School District had conducted an investigation of the incident to determine if there were any school code violations or violations of district polices. Rachel Savage, superintendent of the school board, spoke of the incident on Monday KWQC reports, and said that while the investigation is ongoing many of the details of the incident cannot be disclosed publicly, out of concern for students' privacy. 
"While it is understood that the context of the behavior plays a vital role," Savage said, "that the students involved were all of color, that they are friends, and admitted to joking around, but it also highlights a greater calling from all of us, adults and students alike, to ensure we as a community and district are doing all we can to coach and guide our youth in a way that encourages respectful and accepting treatment of all in and out of the classroom, on and off the field, and inside and outside of our schools."
Moline Mayor-elect Sangeetha Rayapati, who is also the school board chair, said in a statement that adults have "a responsibility to hold individuals involved in this incident accountable."
"I speak from the heart when I say we have a responsibility to teach them a better way. It's awful to know a child was treated that way. It's awful to know that that child will be marked forever by the incident and the disrespect they received. And it's awful to know other children would see this as a joke," she said.