CHICAGO - Last night, along with the rest of the world, the staff of The Daily Beast watched the police dash-cam video of a black Chicago teen, LaQuan McDonald, being shot 16 times by a white cop. Within hours the publication had produced a GIF of the teen's death. You could watch the skinny 17-year-old die, in a never-ending loop, over and over and over and over again.
And the Internet clapped back. GIFs are usually reserved for funny stuff, not serious stuff. And McDonald's death is very serious stuff. The Daily Beast removed the GIF and offered a Twitter apology, but, according to those who saw it, the damage was already done. Once again, the actual image of a black body being desecrated, killed, dragged, drowned, castrated, burned alive, dying or whipped to death was the stuff that brought clicks, sold papers, moved mail and brought in the viewers.
"It's hard to avoid at this point, so we need to talk about it."
It also brings on distress. And that's what we should all be cautious of, say experts.
"Human beings have a perverse curiosity," says Dr. Carl Bell, a well-known psychiatrist affiliated with Chicago's Jackson Park hospital. Bell said that the more animal part of the human brain, the limbic lobe, affects whether humans freeze, fight or run at certain stimuli. That same lobe is affected by the video of McDonald's death. "That's why when there's an accident, everybody slows down so they can see some blood or a cut off head or something horrible, unfortunately."
GALLERY: Laquan McDonald Police Shooting Video Ignites Chicago Protests
Images of McDonald, and of other black men and women who have been killed or assaulted on camera, can cause immense distress for blacks while also tickling the limbic lobe for others, says Bell. In those cases, people may need to talk about the issue to get some relief from the stress, or distress.
In fact, the Chicago School District sent a note home with students Tuesday, reminding parents that counseling is available for children who are upset by the video or by the graphic details that could come out of the video's wide-ranged viewing.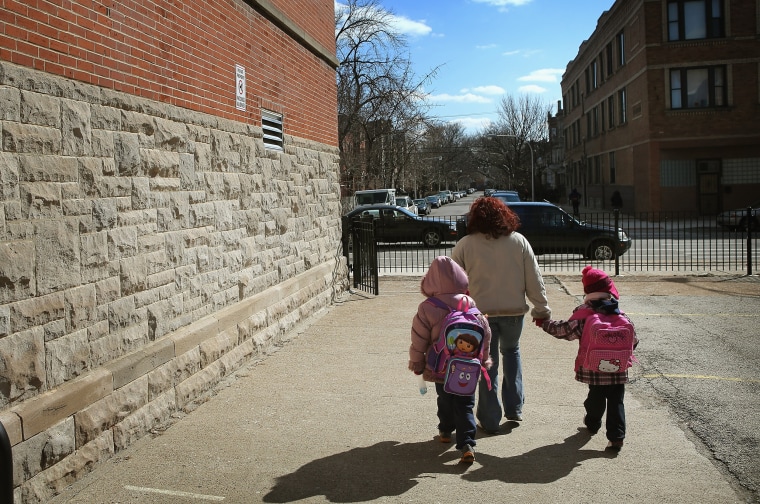 "I'm glad they did," said Jeanine Hampton, who has a 14-year-old son enrolled at a school on the city's West Side, not far from where McDonald was shot. "I hope he hasn't seen the video at all but I know it's on everyone's Facebook or Instagram page, and it's on the cover of the newspapers and it's on the news and on my phone. It's hard to avoid at this point, so we need to talk about it."
RELATED: A Chicago Mother's Vigilance Against Violence
Evan Lamarre has two children in the Chicago public school system. One is in sixth grade and the other in high school. Both attend schools on the city's south east side. The youngest didn't get a note home, says the accountant. The oldest - his son - did. The two already discussed the tape because he says as a father, he has a duty to discuss police interactions as his eldest approaches driving age.
"I have friends who are [Chicago] cops and they joke that their job is to hunt black men," says Lamarre. "My son isn't traumatized by this tape because we talked about it. But I can imagine that children who watch this alone will need help processing. Counseling is a good idea as long as the counselors understand that young black men are often innocent targets."
Back this past summer, experts cautioned against repeated watching of a video of a police officer slamming a bikini-clad, black young girl on the ground after a pool party. Some people got too much of a kick out of seeing a young girl thrown around by a big man and, at a certain point, black activists asked media to stop showing the images. Very few acquiesced.
According to Bell, there is a link between the animalistic thinking that, for example, led whites to enthusiastically attend lynching picnics back in the day – and take pictures with the castrated, burned hanging bodies – and people today who can't stop looking at video of trauma upon blacks.
"Human nature hasn't and is not going to change," says Bell. "There are people who like that part of their brain stimulated and that's why people like fear, scary movies, horror, roller coaster rides, blood and guts…That video plays to that part of the brain and people get trapped in it."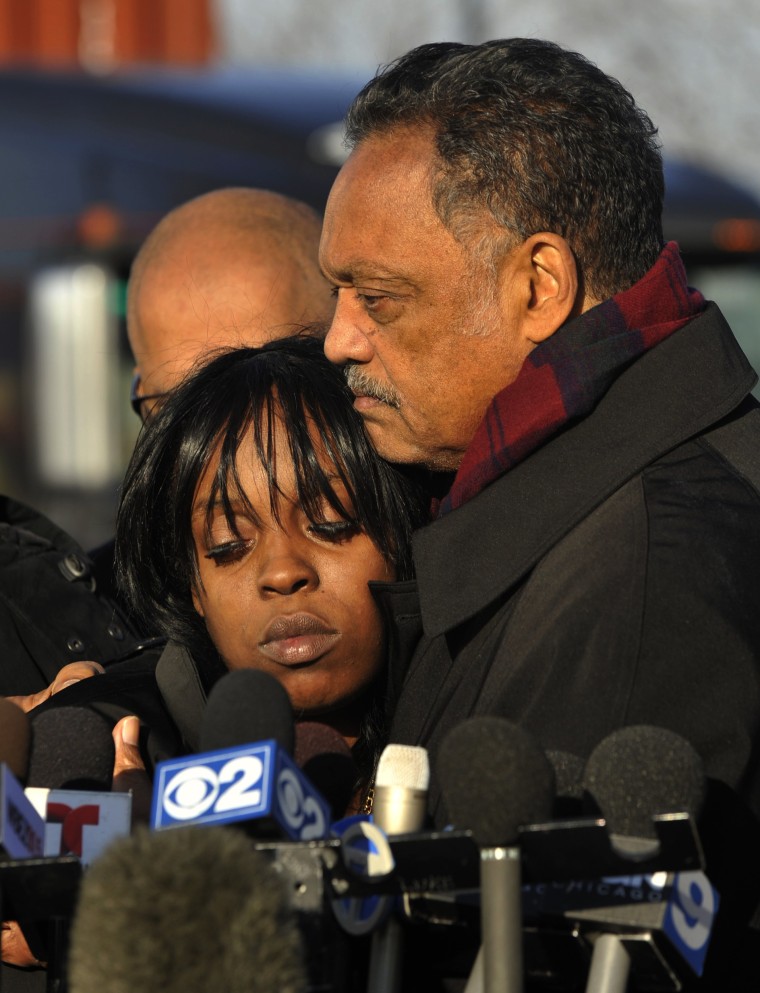 Meanwhile, the city's Black Caucus – a group of black elected aldermen – held a press conference to announce their repeated desire for Mayor Rahm Emanuel to remove police superintendent Garry McCarthy from his position.
RELATED: Chicago Braces for More Protests Following Dash-Cam Video Release
Many in the city questioned the Black Caucus and other aldermen upon learning that a $5-million settlement was paid out to McDonald's family before anyone on the caucus had seen the video. Caucus members pointed out, during the press conference, that settling was cheaper than going to court, where the amount might have moved up to the millions.
They also want more questions answered about McDonald's death at the hands of Police officer Jason Van Dyke, namely why it took ten months for the local State's Attorney to file charges and why the other officers or agencies who were complicit in the shooting are not also being held accountable. The Caucus also suggested that an independent prosecutor should be brought in to replace State's Attorney Anita Alvarez.