WASHINGTON — The White House announced Monday that former Cincinnati Bengals running back and tech entrepreneur Johnathan Holifield will lead its initiative on Historically Black Colleges and Universities, a move that garnered praise from some who had expressed concern over the Trump administration's commitment to those schools.
Speaking to a packed room of over 200 students, college presidents and administration officials during the opening ceremony of the annual White House summit on HBCUs, Holifield expressed his optimism for the initiative and said he is thankful for the opportunity to serve.
"There is no patent to sustain new job creation, shared prosperity, and enduring national competitiveness without the current and increased contributions of historically black colleges and universities," Holifield said.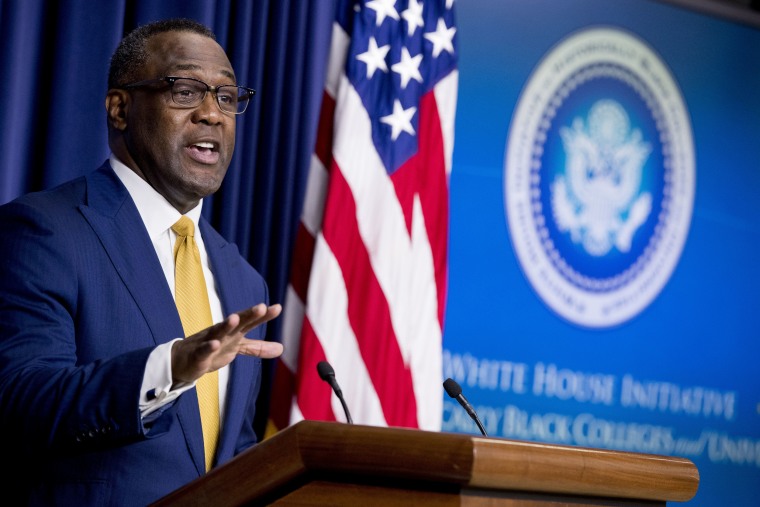 In a statement, President Donald Trump praised Holifield's business experience and said Holifield will "lead the movement to strengthen the capacity of HBCUs to provide a high-quality education."
Omarosa Manigault Newman, assistant to the president and director of communications for the Office of Public Liaison, said Holifield was chosen because he has "experience, temperament, is incredibly engaging, and knows his stuff."
Holifield is co-founder of ScaleUp Partners, a company that aims to advance "inclusive competitiveness throughout the U.S." and former president and CEO of the Urban League of Greater Cleveland as well as a member of Omega Psi Phi Fraternity, Inc. He is an alumni of West Virginia University, the University of Cincinnati, and a graduate of The University of Oklahoma's Economic Development Institute — none of which are HBCUs.
Ahead of the official White House announcement, some stakeholders were skeptical of Holifield's lack of educational experience with HBCUs.
But on Monday, Michael L. Lomax, president and CEO of the United Negro College Fund, said he was pleased with the Trump administration's choice.
"We look forward to learning how [Holifield] will champion meaningful actions to advance HBCUs and ensure that more African-American students have the opportunity to go to and through college," Lomax said in a statement.
Related: OpEd: Trump Must Make Good on his Promises to HBCUs
Manigault Newman said it's hard to find a candidate everyone can agree on, but that everyone can agree that "he has the experience and skills to carry out the job he's been asked to do."
"He will oversee the day-to-day management of the office. He will manage the staff and the resources. I don't think you have to be from an HBCU to be a great manager and to carry out what's been outlined in the executive order," she said, referencing the order Trump signed nearly eight months ago declaring HBCUs "a priority" of his administration.
But since the order's signing, critics have decried Trump's administration for seeming to put the issue on the back-burner.
Lomax had initially requested that the HBCU summit be postponed "due to lack of progress by the Trump administration on policy initiatives that serve the best interests of HBCUs."
Rep. Alma Adams, the Democratic founder and co-chair of the Congressional Bipartisan Historically Black Colleges and Universities Caucus, had also called for the postponement of the summit. But she conceded Holifield's appointment was a "first step" by the White House to repair its relationship with Congress and HBCU leaders and said she looked forward to "working with [Holifield] to advance meaningful change for our HBCUs."
In the conference's opening ceremony at the Eisenhower Executive Office Building, Holifield welcomed the new class of the White House Initiative on HBCUs All-Star program — 62 college students who were selected for "their dedication to academics, leadership, and civic engagement." Chosen from 56 HBCUs, the students will serve as ambassadors to the initiative for one year and act as a liaison between their school and the White House, providing outreach to their fellow students. The All-Star program was created in 2014 under the Obama administration.
On Friday, Trump signed a proclamation declaring this week National HBCU Week. The HBCU initiative was started in 1980 by former president Jimmy Carter and expanded under former president Ronald Reagan. Since its creation, the office of the executive director of the initiative has been located at the Department of Education. But Holifield will work in the White House "so that he will be able to better advocate for the initiative, and as well carry out the executive order," a senior administration official said.
Holifield will meet with HBCU presidents, students, and other administration officials about the funding and educational needs of HBCUs during the two-day summit. He officially starts Oct. 2.