WASHINGTON, D.C.— Monica Y. Johnson was just a baby when she lost her mother to violence. Her childhood was spent being shuffled around to multiple homes, she recalls, and her memories of that stage of her life are painful.
"I've dealt with abuse, abandonment…," explains the Texas resident. "As a kid, I was never hugged." Yet through the power of a college education, perseverance and faith, Johnson is now a successful businesswoman, life coach, minister and author. In 2015, she launched a non-profit called `That Girl is S.M.A.R.T.—Successful, Magnificent, Authentic, Resourceful, and Talented.'
The organization hosts bi-monthly meetings for girls and young women (ages 6-to-18), providing them with information on topics ranging from suicide prevention and sexual trafficking to building self-esteem. "I want them to know that what happens in your life doesn't have to define you," says Johnson, 47, who's a wife and mother of an adult daughter. "You can succeed. It's about empowering each other, especially the next generation."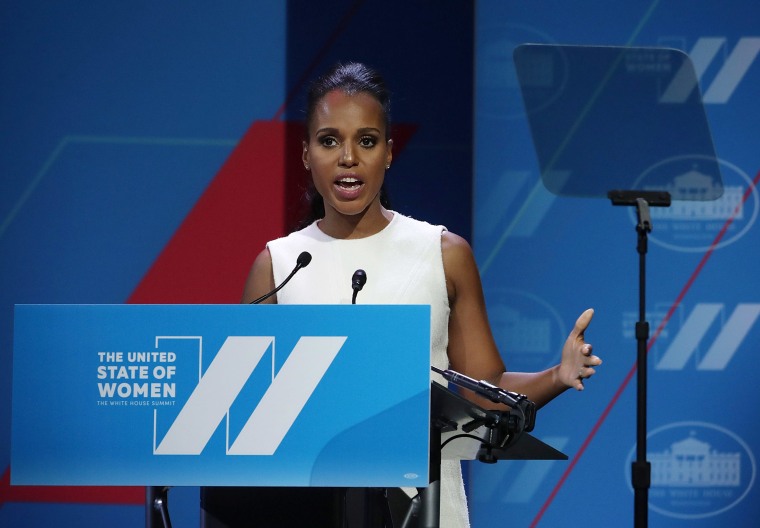 Johnson is among thousands of women who attended the United State of Women Summit hosted by the White House on Tuesday. The inaugural event was designed to bring stakeholders together for dialogue and advocacy around issues that impact women and families.
The confab was expected to draw upwards of 5,000 women (and some men) from across the country and world. Early Tuesday morning, a line of well-dressed participants eagerly awaited entry to the Walter E. Washington Convention Center. Inside the cavernous space, girl power anthems blared through speakers and large screen televisions gave a birds' eye view of the stage that was filled throughout the day with heavy hitters and star power.
President Barack Obama, Vice President Joe Biden, First Lady Michelle Obama, Oprah Winfrey, and actress/activist Kerry Washington were among those on the agenda. Attorney General Loretta Lynch, Rep. Nancy Pelosi and mogul Warren Buffett addressed the audience, along with a host of business, political, and community leaders.
"Today, we come together to both celebrate the progress we have made, and turn our collective focus toward the future, and all we still must do—together-to achieve true gender equality," said Valerie Jarrett, Senior Advisor to the President and Chair of the White House Council on Women and Girls, which Obama established by executive order in 2009. Along with Tina Tchen—Chief of Staff to the First Lady—Jarrett hosted the historic summit.
Sessions ran the gamut: Educational Opportunity, Economic Empowerment, Violence Against Women, along with Entrepreneurship/Business Innovation, Leadership and Civic Engagement and Health/Wellness. Speakers such as Dr. Lori Wilson, a surgical oncologist at Howard University Hospital and a breast cancer survivor, shared stories and expertise. "It's so essential that we address those issues that are barriers to women being equal."
Early on, Biden gave a rousing speech, one that focused on combatting sexual violence against women. He spoke at length about what's happening on many college campuses across America, where data shows that 1 in 5 female students have been sexually assaulted. He urged men to speak out against rape, too. "If we free women, we free men. We free humanity. We make it all better."
Mid-afternoon, President Obama delivered an address that lasted about 30 minutes. The Commander-in-Chief was introduced by Mikaila Ulmer, 11, Founder/CEO of Me & the Bees Lemonade; the young African American entrepreneur gained buzz earlier this year after appearing on the television series "Shark Tank," and nabbing a deal with Whole Foods.
RELATED: How This 11-Year-Old Turned Something Scary Into Something Sweet
"What an amazing young lady," said the president after giving Ulmer a hug. "I will be back on the job market in seven months, so I hope she is hiring," Obama joked.
Telling the crowd "this is what a feminist looks like," the president spoke about changing the cultural paradigm around gender, which he said "shines a particularly unforgiving light on women and girls of color — about how they look, or how they feel or what they should and should not do."
The president said the nation must reject stereotypes about the abilities of women and girls, and he praised the historic presidential candidacy of Hillary Clinton. Obama also spoke about the progress his administration has made to advance policies that impact women, while acknowledging that more work needs to be done. He appealed to Congress to help enact more laws that benefit women.
"It's so essential that we address those issues that are barriers to women being equal." — Dr. Lori Wilson
"We need equal pay for equal work. We need paid family and sick leave. We need affordable child care, we've got to raise the minimum wage," said Obama. "If we were truly a nation of family values, we wouldn't put up with the fact that a woman cannot even get a day off to give birth. We need paid maternity and paternity leave, too."
The summit was a multigenerational gathering that drew different backgrounds and perspectives. Women networked, took selfies and moved among the dozens of exhibitors who represented government agencies, non-profits and think tanks. Sponsors included the Aspen Institute, Civic Nation, the State Department and the Department of Labor; the Ford Foundation, Tory Burch Foundation, Pepsico Foundation and others lent support.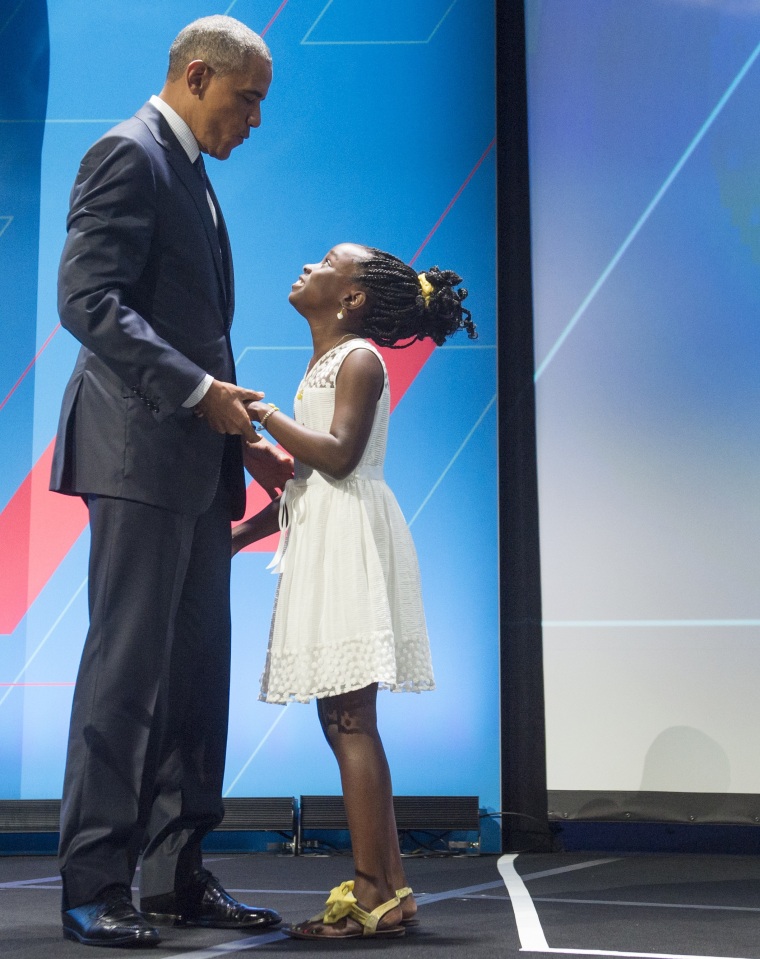 "Being among all these sisters—black, white, Indian, Hispanic—is a celebration of accomplishment," said Nadine Thompson, a New Hampshire entrepreneur who founded the lifestyle company, Soul Purpose. "If you're here, it's because you are doing something to uplift women."
Thompson was among a group of women selected to attend the event through the Goldman Sachs 10,000 Women initiative, which provides a business and management education to underserved female entrepreneurs.
Jessica Johnson-Cope, who heads a Bronx-based family enterprise—Johnson Security Bureau—was also part of the cohort. "To see all the women who are here, being involved, being impactful, it's been great."
The day ended with Michelle Obama and Oprah engaged in a sit-down that encompassed topics such as self-worth and accomplishing one's goals. The First Lady said that she often tells her two daughters and her mentees, "Our first job is to get to know ourselves."