CHARLOTTE, N.C. — In his two successful presidential campaigns, President Barack Obama enjoyed the unequivocal support of black women—even those not named Michelle.
African-American women had the highest voter turnout rate than any other group in 2008 and 2012, and thus an outsized say in the result—and not just by flexing their influence at the ballot box.
Many African-American women did the tough work of registering voters, canvassing neighbors and relatives and making sure not to miss the beauty salons and barbershops, and those supporters included celebrities such as Oscar-winner Octavia Spencer, who made the rounds in Charlotte in 2012.
To win in 2016, the presumptive Democratic nominee Hillary Clinton cannot just rely on the gaffes of her apparent opponent Donald Trump. She needs to energize the Obama electorate, and, while the young people on that list flirted with her primary competition Bernie Sanders and have not historically been the most reliable voters, African-American women have already shown their historical dependability.
How, then to keep up the enthusiasm and the numbers?
Enlist a cheerleader-in-chief to whip up a diverse crowd of thousands that includes a good percentage of African-American women of all ages.
At a Tuesday rally in Charlotte, in the 15-electoral vote swing state of North Carolina, with Clinton sitting behind him and basking in the compliments, President Obama made the case that the only way to continue his policies and vision is to elect the woman who shares them.
Obama was honest in describing a relationship that started with primary bitterness in 2008, evolved into working together when she was Secretary of State in his administration, and has resulted in friendship.
Through it all, said Obama, Clinton has always had his respect: "I saw the passion that she feels for anybody who's experienced injustice, anybody who's faced discrimination, anybody who does everything right and still can't seem to get a fair shot, whether it was workers who had lost their jobs, or kids unable to afford college. And you could tell it was personal to her because she had seen struggles in her own life. She had known challenges in her own life. And she could identify and empathize with people who were doing the right thing and wanted to make sure that they got a fair shake."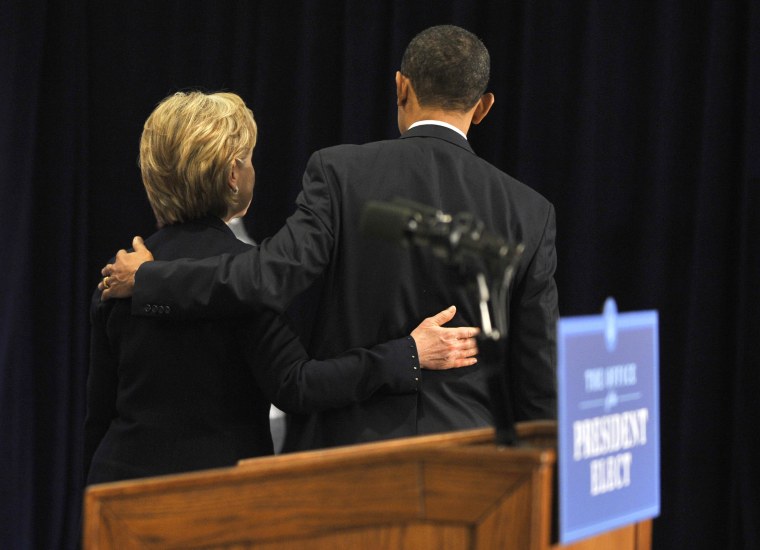 President Obama said he knew he was preaching to the choir. But they had come to hear a sermon. Not that the relationship has always been a lovefest.
Some younger African American women, such as the founders of Black Lives Matter, have said that some black women – immigrant women, cisgender and transgender women, for example – don't often get the president's attention. Critics of the White House My Brother's Keeper initiative have asked, what about the challenges of women and girls, suspended at high rates in schools? And why has there never been an African-American woman on the short list for a Supreme Court vacancy?
Still, black women have stuck with him, and so far, with Clinton. In the 2016 primary, black women had already formed the Hillary Clinton firewall in southern states that helped her build a big delegate lead, despite a few high-profile Sanders supporters such as former Ohio State Sen. Nina Turner.
Hillary Clinton appreciated how much they need each other. Was she speaking especially to the black women in the crowd when she mentioned the "brilliant" wife and "amazing" daughters of the president? In a list of all of Obama's achievements, his family, Clinton said, could be "the most impressive accomplishment of all."
RELATED: Baltimore ChangeMakers: Nykidra Robinson is Bringing Girl Power to the Polls
Terry Robinson, 58, is one of the women Clinton was speaking to. She brought her grandmother, 97-year-old Thelma Metts, braving the 90-plus-degree heat to hear the president she never thought she'd live to vote for and the woman who is running to succeed him.
Robinson is one of the African-American women who were so crucial to the Obama campaign, and she has been working just as diligently for Clinton, registering voters every day, even the day before, the rally on the Fourth of July holiday. "We didn't register anybody," she said, "but we were out there."
Trump has been an incentive, she said, for enthusiasm on the other side. "He doesn't have any policies, except he's for the rich." She added that she would like to see his tax returns.
Robinson called the Obama-Clinton appearance "a great strategy," particularly in a state that trended toward the right after Obama won in 2008.
The Sunday before the rally, Ashley Alston, 28, went to Charlotte campaign headquarters to make signs bold enough for Obama and Clinton to see in the crowd. "Teachers 4 Hillary" was appropriate for Alston, a history teacher at Olympic High School in the city. "Most of my students are minorities; they need schools to work for them and not fail them," Alston said. "Especially in North Carolina, education is not a priority for most of our legislators." She said the president got it right with plans to pull back on mandatory testing and focus on kids and after-school programs.
As for Clinton, Alston said, "She's been working for kids her whole life. As a mom I can trust her more with my son's future," pointing to Micah, 6. Alston, who identifies as biracial, said that when her son, a brown boy, sees Obama, he sees that not only one type of guy can lead the country. Clinton, Alston said, is another example that the possibilities are endless. "I want him to see that."
She said that in North Carolina, at least, the vote is going to be really close, but "I think she's going to do it."
To win the country, Hillary Clinton—with the help of onetime rival now chief supporter—will need to win over the women who have proven they know how to do it. Terry Robinson is doing her part. "We promised Hillary that after Obama, we'd set her up next," she said with a smile.
As the Hillary-Obama show goes on the road, Clinton is counting on it.