Editor's Note: This report is part of a project on voting rights in America produced by the Carnegie-Knight News21 program.
In at least 20 states, lawmakers have stripped locally elected school board members of their power in impoverished, mostly minority communities, leaving parents without a voice – or a vote – in their children education, according to a News21 state-by-state analysis of school takeovers.
More than 5.6 million people live in places where state officials took over entire districts or individual schools in the past six years, according to News21 data collected from state government agencies. About 43 percent are African-American and around 20 percent are Hispanic. On average 29.2 percent of people in those areas are living below the poverty level. The U.S. average is 15.5 percent.
In Highland Park, Michigan, where grass grows knee-high around decaying, long-abandoned schools, the state turned the troubled suburban district over to a private company and shut down the city's only high school.
"As a voter, what do you do when they stole your vote?" said Danielle Floyd, a mother in Highland Park. "I can't say that we can go out and vote. Because we've done that. And it didn't work."
In the Delta town of Drew, Mississippi, education advocates say there aren't enough books to go around four years after state legislators consolidated the small school system into a countywide district.
In Little Rock, Arkansas – a historic symbol of school desegregation – black parents worry that the city's schools once again are becoming segregated. They say their concerns have fallen on the deaf ears of the state, which removed the city's school board more than a year ago.
And in New Orleans, the majority of the public schools are under the jurisdiction of the state, but charter companies make most of the educational decisions, a trend that was further accelerated after Hurricane Katrina in 2005. Charter schools are tuition-free, independently operated public schools.
Typically in a school takeover – sometimes referred to as "intervention" – a state will assume broad authority over a district, dramatically reducing and sometimes eliminating the power of a local school board, elected by community constituents.
"It feels like we don't have much control over our kids' education and how they're being educated," said Lashanda Mayberry, another Highland Park mother, sitting on her front porch just 400 feet from Northpointe Academy, the public school her children used to attend before the building was closed down two years ago.
"One of the big downsides of takeovers is that communities feel and, in some cases, are substantially disenfranchised," said Kristi Bowman, an associate dean at Michigan State University's college of law who studies these takeovers. "If we need the community to be a partner with the school district and then we effectively tell the community 'Hold on, we're taking away all of your elected representatives,' that could be really difficult."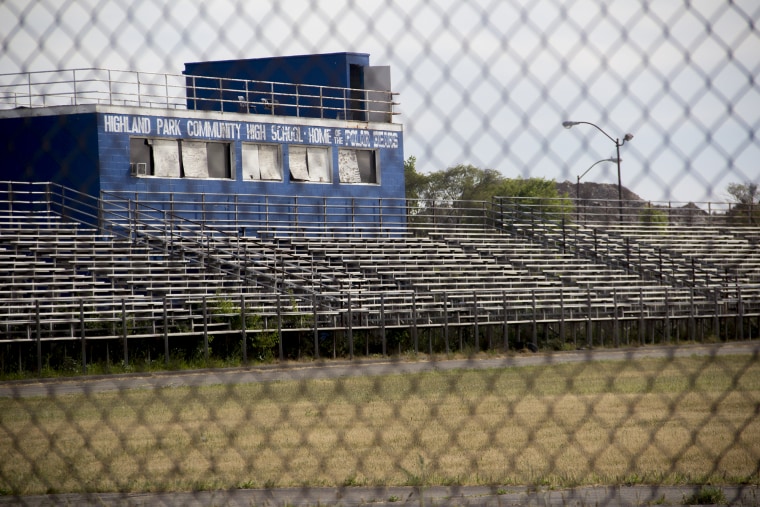 Highland Park, Michigan
Highland Park, Michigan, a small city within Detroit's boundaries, was once called the "City of Trees." Thick greenery lined suburban blocks crowded with single-family homes built for a growing middle class. Henry Ford pioneered the assembly line at his automobile plant on Woodward Avenue, the city's main thoroughfare. The suburban school district was considered one of the top 10 in Michigan, according to a report from the U.S. Commission on Civil Rights in 1962.
Today, most of Highland Park's trees are gone. Overgrown, empty lots and burned-out houses outnumber occupied homes on some blocks. The Ford plant stands empty. And parents say Highland Park's once-proud school district has collapsed, hastened by four years under state control.
In 2012, the district was in "financial freefall," according to a news release quoting then-state Superintendent Mike Flanagan. A state financial review found that the small district suffered from declining enrollment and an $11 million deficit. The only solution to save the Highland Park School District was to take control of the system entirely, state officials concluded.
Republican Gov. Rick Snyder appointed an emergency manager to run the district under the state's Public Act 4. The manager was given all the powers of the local governing board.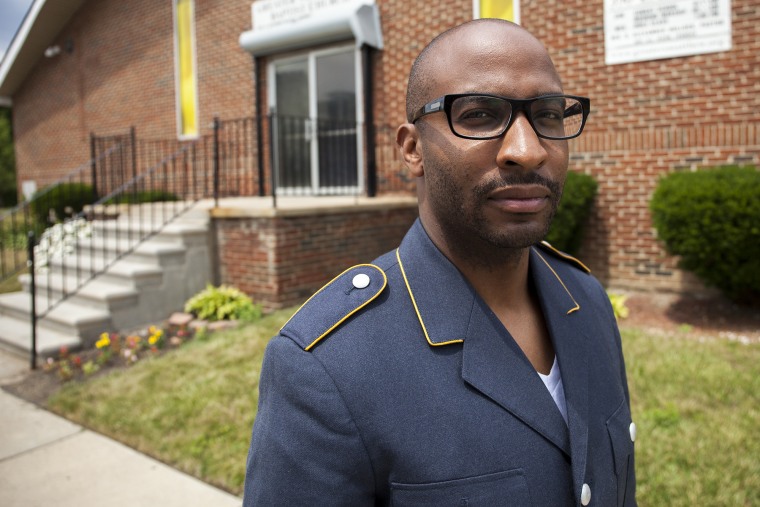 Highland Park is one of three school districts in Michigan under state control. The others are Detroit itself and Muskegon Heights. These cities are more than 75 percent black, according to census data. Including city takeovers, half of Michigan's African-American population has been under an emergency manager at some point in the past six years.
"I think one of the things emergency management does, if it doesn't destroy democracy, it definitely suppresses democracy," said David Bullock, pastor of Greater St. Matthew Baptist Church in Highland Park. "It suffocates the civic impulse. Why would I be engaged in a process where there's no accountability for the person who runs the school? The school board has no power."
Highland Park is a microcosm of the Rust Belt. Ask most longtime residents and, chances are, their parents worked for one of the Big Three automobile companies, like the Chrysler Corp., founded in Highland Park in 1925. By 1950, the city's population was 46,393 people. But then factory jobs declined. Chrysler moved. And people left, while vacant lots and empty, crumbling houses appeared. Today, census data show it's down to 10,951 people.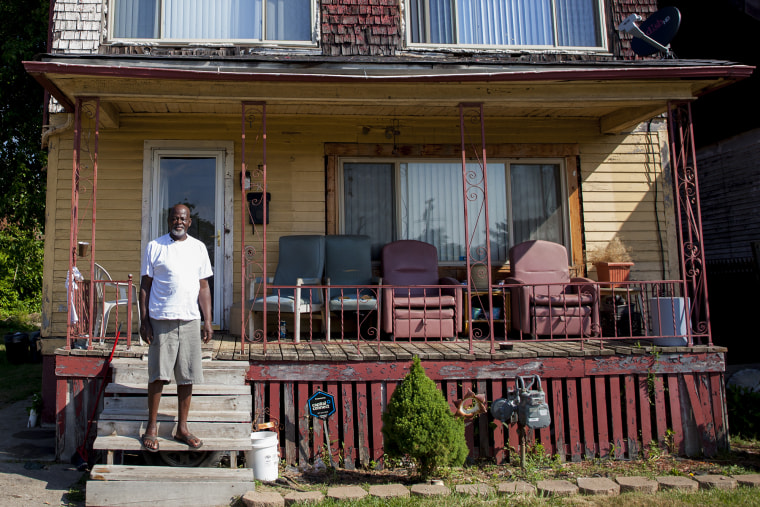 School enrollment also dropped. From 2005 to 2010, Highland Park's school district lost 72 percent of its students, going from 3,438 children to just 974 – 970 of whom were black.
Under emergency managers, Highland Park's school district continued to decline as more schools closed and students left. Joyce Parker, the district's second emergency manager, split the district into two. The old district remains only to pay off debt, while a new district, the Highland Park Public School Academy System is run by a charter school management company.
Don Weatherspoon, another emergency manager, announced the closing of Highland Park's only high school in 2015, citing declining enrollment. Parents say many of those students are now in Detroit's Public School System, where a local school board hasn't governed in more than seven years.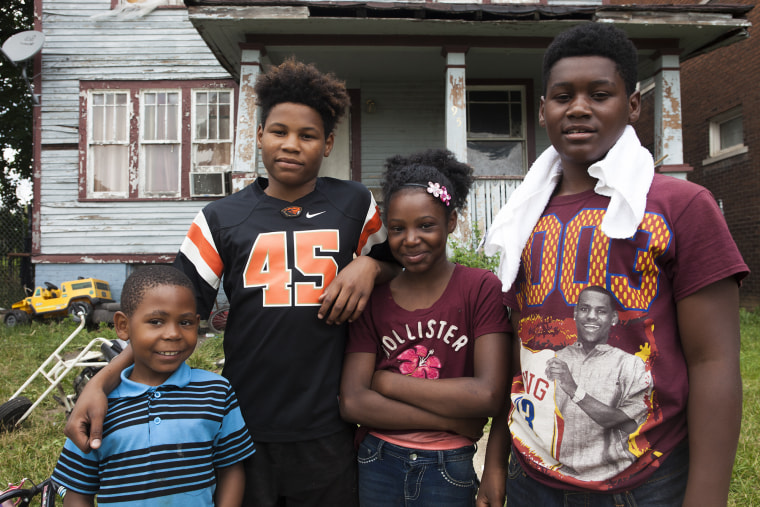 George Washington Carver Academy is one of Highland Park's remaining schools. That's where Lashanda Mayberry's children go. Her 13-year-old son, Keon, who is about to start seventh grade, only reads at a fourth- or fifth-grade level. Despite his struggles, he made the school's honor roll. Mayberry worries the school ignores critical problems.
"How did you put him on the honor roll if he can't read? I feel like there's so much going on that is far above my head; I think that they're doing whatever they want to do," she said. "We don't really have a say, we don't know what's going on, and we're just down here. They're playing the fiddles."
A spokesman for Gov. Rick Snyder directed News21 to the Michigan Department of Treasury for comment. It, in turn, provided a 2012 news release in which Flanagan said, "We must do everything we can to protect the students and educators from feeling the brunt of the impact."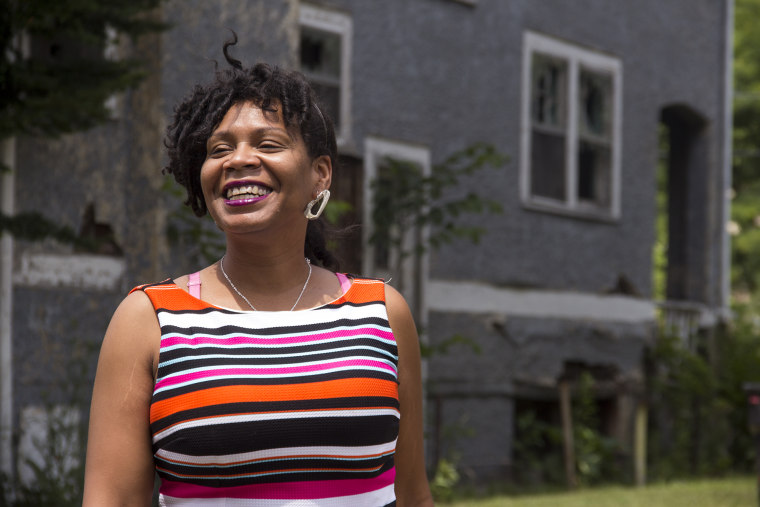 Danielle Floyd grew up in Highland Park and is a graduate of the now-closed Highland Park High School. When it came time to send her three children – including a cousin she's raised from birth – to school, she first sent them to Highland Park's Cortland Elementary School, which has since closed. But she said few resources were put in the schools. She used the copier at her job to print off worksheets for the children in her son's class, because the school couldn't provide them.
"You used to just walk down the street and go to school and you can't even do that anymore, because there's no school in your community," said Floyd, who now sends her children to a charter school in Detroit.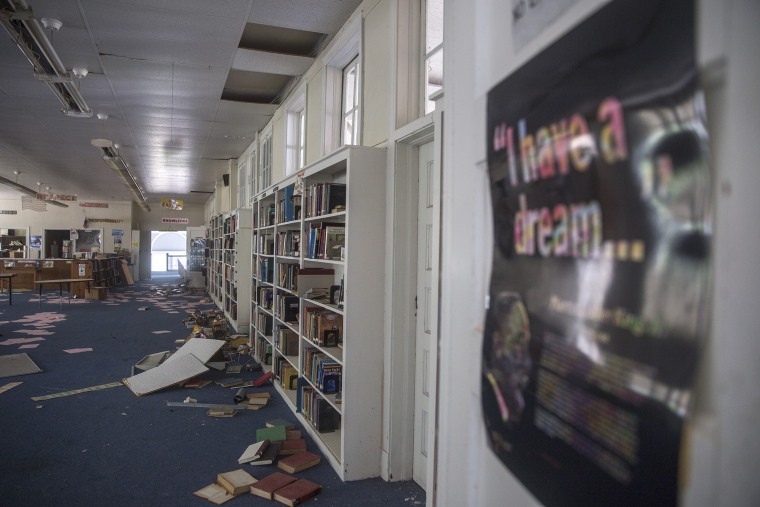 Drew, Mississippi
In Drew, Mississippi – a predominantly black community of fewer than 2,000 people – residents say the school district represented the Delta town's identity. Its high school colors were navy and orange and its mascot an eagle. But legislation drafted 120 miles away in Jackson marked the end of theDrew School District.
In 2011, when the Mississippi Department of Education took over Drew's schools, the town's 540 students used just two buildings. In a proclamation triggering the takeover, the governor declared Drew's schools in "an extreme emergency situation." State officials found that poor academic performance and a dire financial situation jeopardized "the safety, security, and educational interests" of the district's children.
People in Drew don't deny the district needed help. But the takeover left community members without a say in school operations with a state-appointed conservator at the helm.
In 2009, Gloria Dickerson, an adamant crusader for reconstructing her community, founded We2gether Creating Change, a nonprofit that works with the area's children. She said she initially wasn't opposed to the state's actions, but also wasn't sure whether a state-appointed conservator would improve anything.
"The conservator came and said, 'This is what we're going to do,'" Dickerson said. "Those decisions were made outside of the community. The community did not have anything to do with those decisions."
In 2012, the state did away with the district and eventually merged it with two other struggling districts. Republican state Rep. Rob Roberson said the takeovers and consolidations are unavoidable for lawmakers when districts are failing and the tax base declines. "Do I believe that some of these people feel disenfranchised?" he said. "I honestly think that that's their own belief. But I also believe that they have to take some responsibility in moving the ball."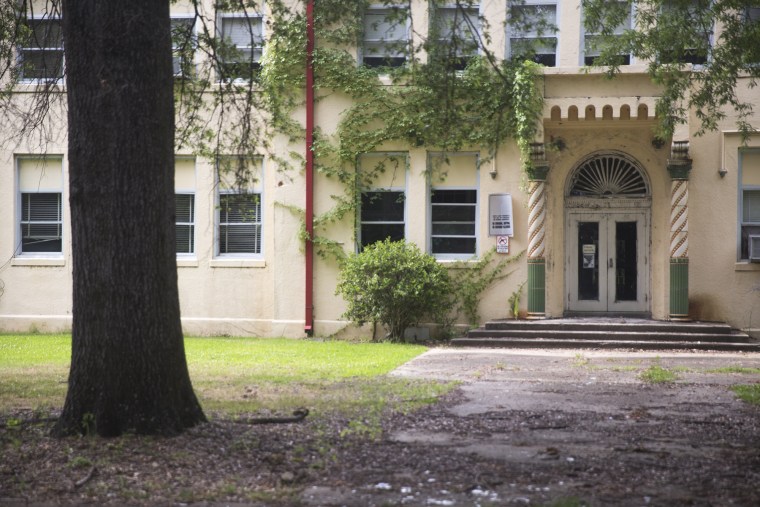 Not long after the district consolidation legislation, Drew's high school was closed. "It felt as though we were losing part of our identity," said Maria Thigpen, a math teacher at Drew Hunter Middle School. "It just was a big change, was having to lose a school that was our tradition."
Most of those affected in Drew are African-American children. The city is 81 percent black and the poverty rate is 48.7 percent. In 1965, Dickerson and six of her siblings became the first black students to integrate with white students in Drew. "When they totally integrated in 1970, they threw out the Freedom of Choice Plan, then most of the white kids and the support for the public school was gone," she said.
Legislators in Mississippi say they're making hard choices when it comes to schools. In Drew, almost half of the money came from the state, with less than 20 percent coming from the local taxes, according to data from the Mississippi Department of Education.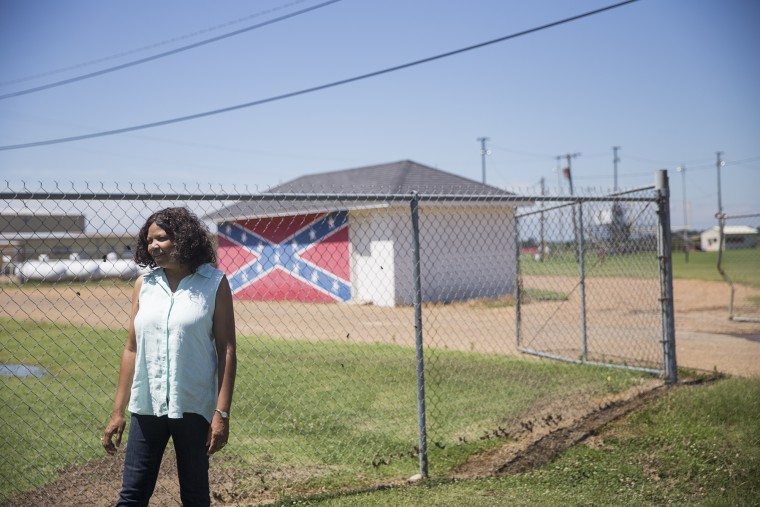 "We have a history here, in the Delta, that most African-Americans do feel powerless," Dickerson said. "The expression is, 'They going to do what they want to do anyway, so why should I spend my time at meetings talking about,' because in the end, what we say is not going to matter."
Little Rock, Arkansas
Like many parents in theLittle Rock School District, inequality is Toney Orr's chief complaint. At the beginning of third grade, Orr and his wife sent their twin sons, both diagnosed on the autism spectrum, to different schools because each son had individual special needs the schools could better address separately.
One son, also named Toney, went to Don Roberts Elementary on the far west side of town, while Antonio attended Booker T. Washington Elementary in the center of the city. Roberts is 58.3 percent white, while Washington is 93.8 percent black. They each had dramatically different experiences at school, something Orr said he wasn't expecting.
Toney used new books. There were on-site counselors, on-site math coaches, and he had a full-time nurse. At Washington, Antonio's books were secondhand. Math and literacy tutors showed up once a week, or just once a month.
Last year, the Arkansas State Board of Education approved the district's takeover. At the time, the number of academically distressed schools stood at six out of 48, just more than 12 percent of the district. Students were showing troubling scores on state exams.
Three of those distressed schools are about 2 miles from one another, in southwest Little Rock, where mostly Hispanic and African-American families live. About 7 miles away is Little Rock Central High School, where in 1957 nine black students, surrounded by the National Guard, first integrated the school district.
Orr wants to be involved in the decisions made in the district, and he wants to advocate for equality for all students. But he feels like he can't. There is no local school board.
"I feel like my rights as a parent is being taken away," he said. "I feel my rights as a citizen are being taken away. I feel my rights as a taxpayer are being taken away, and the people that I talk to could care less what I'm saying."
Isis Pettway graduated from Little Rock Central High School in 2000. "It's just amazing to know that you walked these same halls and for me personally what nine students went through so I could walk these halls," she said, sitting on the school's front steps.
Pettway, whose son goes to school in the district, worries the schools are becoming more segregated. "I want my son to have diversity while he's in school learning," Pettway said. "I want him to see what the world is going to look like in the future."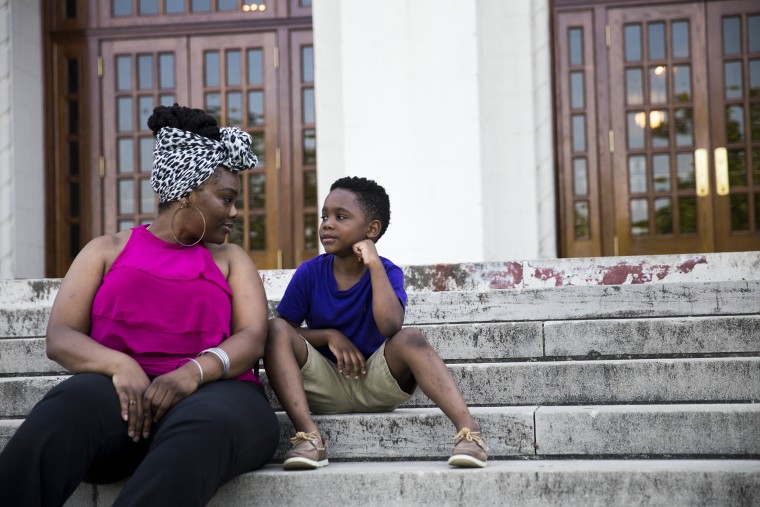 One former local board member, Joy Springer, says she ran on a platform of fighting inequality in Little Rock Schools in 2014. Springer, a paralegal for a Little Rock civil rights attorney, visited every school in the county at least four or five times. "We wouldn't continue to favor the white students in the school district because that's basically what was taking place," she said.
About four months after Springer was sworn in, the state removed the school board and took over the district. Officials from the state's department of education declined to comment on the takeover, citing a lawsuit from former board members and unnamed parents directed at Arkansas Education Commissioner Johnny Key, the state's board of education and a former superintendent.
But in court documents on the case, an attorney for the Arkansas Department of Education wrote, "It is within the State Board's broad discretion to determine what action 'is needed to assist and address a public school classified as being in academic distress,'" citing Arkansas state law.
John Riggs, a former Little Rock school board president in the late 1990s, supported the takeover. The biggest problem, to him, was governance: namely, the school board, whose meetings he said resembled a "zoo." "I thought (the takeover) was the best thing. That was one of the boldest and best moves we've had in education in Little Rock in a long, long time" Riggs said.
Vicki Hatter is the mother of two children in Little Rock. Her son attended McClellan High School – one of the district's six "distressed" schools. Hatter said she is confused by the takeover, a move she now sees as political. "Our educational system has been hijacked," she said.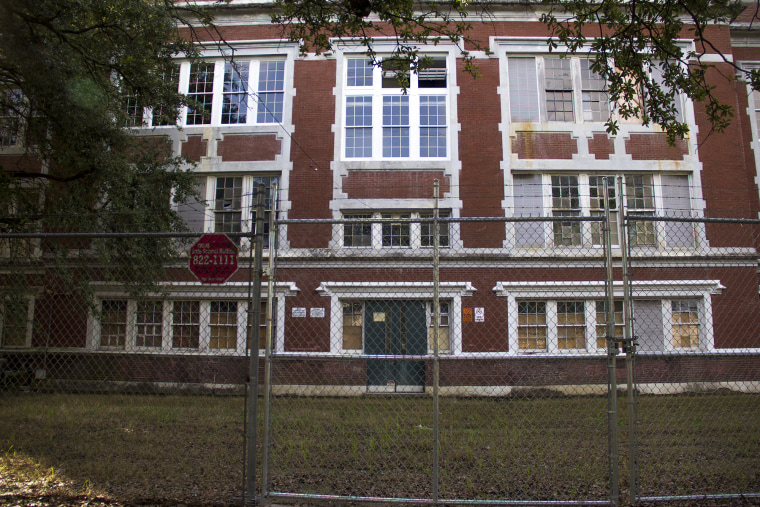 New Orleans
In 2005, Hurricane Katrina wiped out the already failing New Orleans public school system. By then, the state-run Recovery School District had taken control of five of the city's poorly performing schools from their locally elected leaders.
Ashana Bigard, a parent and product of the New Orleans school system, said there had been a noticeable disinvestment in the predominantly black school district. She was ready for schools that reflected the community's voice, priorities and diverse cultures.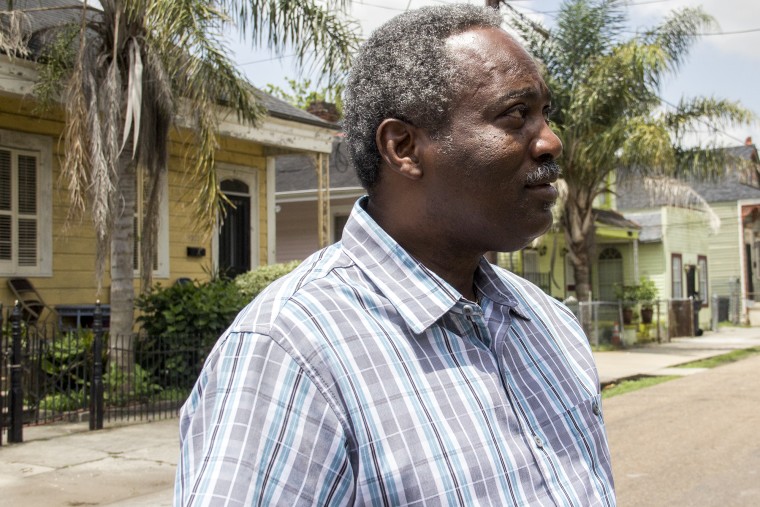 "When we first heard the idea that the schools were being invested in when we were getting this new school system, a lot of folks were very excited, myself included, because we really needed new schools," she said. "We need more innovation in our schools."
But the rebuilding that took place in the aftermath of the storm has shifted decision-making power almost entirely out of the hands of New Orleans' locally elected school board. With schools closed and parents and students displaced, lawmakers revisited the state's takeover policy, enacting legislation that broadened the state's definition of "failing schools," a criterion for takeovers.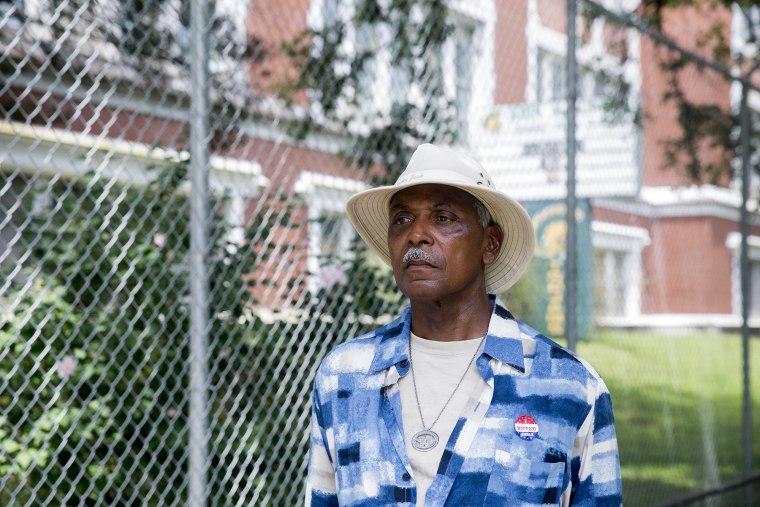 State officials from the Louisiana Department of Education could then more easily wrest control of schools from locally elected leaders, especially in New Orleans where the schools were ranked at the bottom of state lists. RSD Superintendent Patrick Dobard said the state takeovers and the RSD's capabilities are a method "to help drive the visions that are going to best serve kids."
Karran Harper Royal, a parent and advocate for improved education, was invited to join an RSD advisory committee to offer her input on rebuilding the city's schools. But she called it "an advisory committee in name only," because she felt RSD officials ignored her advice. She sees the takeovers as a method for state officials to take away the power of locally elected leaders they don't like, diminishing the power of the people.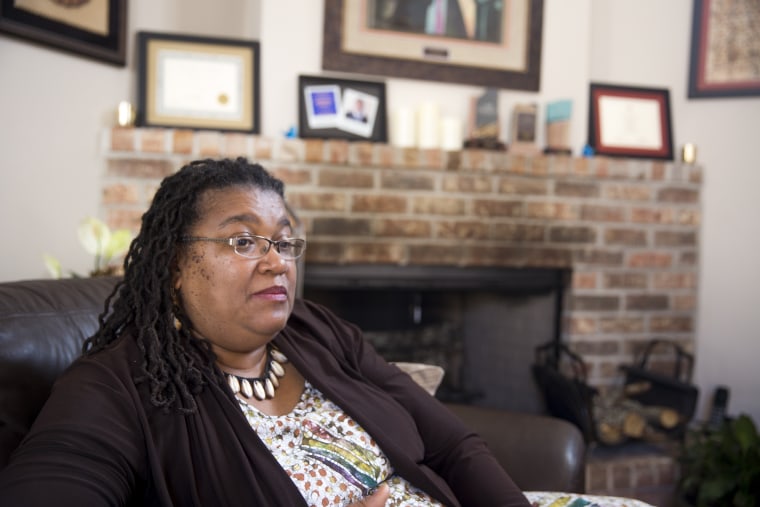 "It makes me think about the period after the Civil War when African-Americans began to get some amount of political control, and then after that, whites basically pushed them out of office and enacted laws to keep African-Americans down," she said. "It was like the beginning of the Jim Crow period."
Not only have more than half of the city's public schools been taken over by the state, but almost all of the schools – including those still under the jurisdiction of the locally elected Orleans Parish School Board – have been handed over to charter operators. While charter schools are required to comply with certain state laws and the policies of an elected state or local board, they also possess a level of autonomy not seen in the traditional public school setting.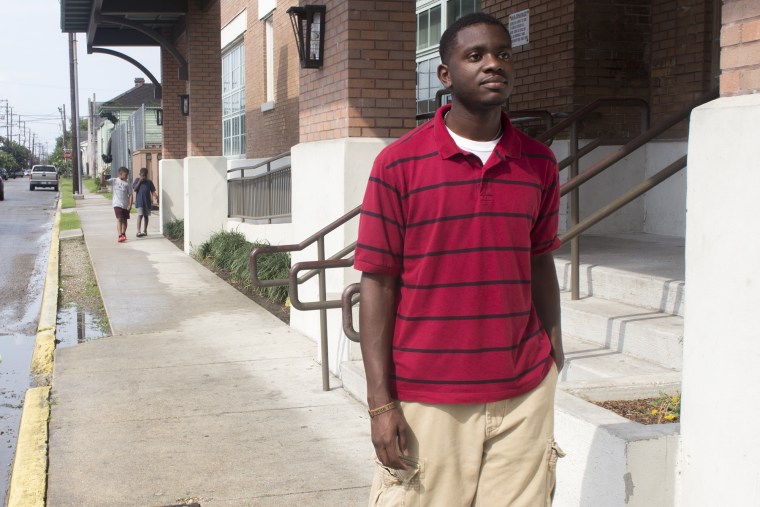 New Orleans has 82 public schools, according to the OPSB's 2015-2016 annual report. There are more than 30 separate, unelected charter boards governing aspects of public education such as curricula, hiring, school day organization and how money is spent in 75 of those schools. Dobard said the RSD's intention in New Orleans was always to convert the schools to charters, with the state simply acting as the authorizer.
"So that means that you don't run any day-to-day operations," Dobard said. "You don't put limitations on them around curriculum, around calendar, around service contracts, that sort of thing. Future hiring and firing, all of that is totally autonomous."
Though the OPSB still exists and has authorized some of the charter schools, it doesn't have control over many of the educational decisions in the city's schools.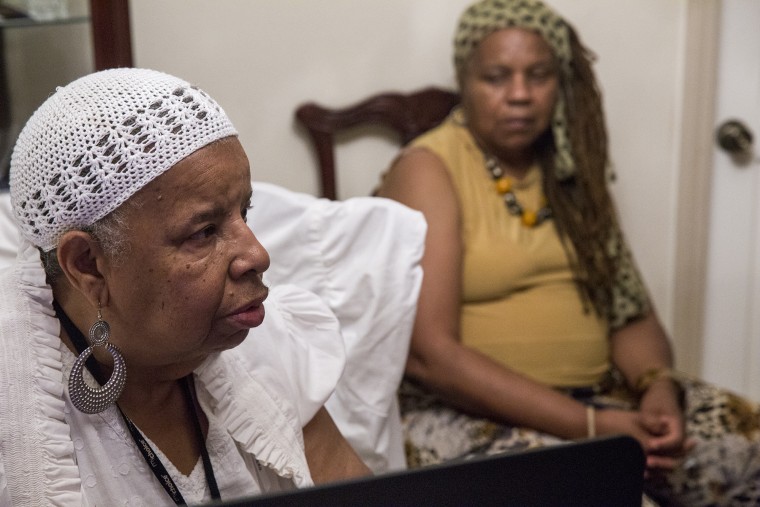 Ta'niyah, 11, has attended two different schools in the New Orleans area since kindergarten. Each was run by a separate charter operator – one authorized by the state board and the other recently returned to the locally elected board. Tashyra Marshall, Ta'niyah's mother, said she has had issues with busing, testing for gifted programs and enrolling her daughter in a school that's walking distance from their house. But Marshall said the locally elected school board has been unable to help.
"I called the New Orleans school board. 'We can't do it. You have to go to school to talk to them,'" she said. "I did it. Still no hope. They say it's better. It's a little bit better, but I don't like the school system."
In many of New Orleans' predominantly black and hardest hit neighborhoods, such as the Lower Ninth Ward, few of the public schools reopened after Katrina. Today, the Lower Ninth Ward has one charter school with two campuses that serve elementary, middle and high school students.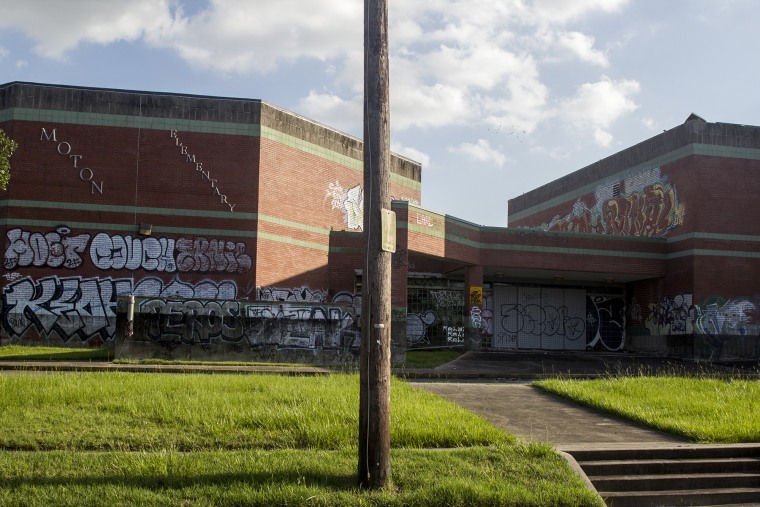 That charter school recently returned to the jurisdiction of the locally elected school board. However, the Rev. Willie Calhoun Jr., a lifelong resident of the Lower Ninth Ward, said the "elected body has less authority than the charter management groups."
"With the democratic process, you can see what's really going on," Calhoun said. "We are losing voice. We are losing control over what we say we want to happen. As for electing people to represent us, they no longer have the authority to do so by law."
Though state lawmakers this year passed a measure to return RSD schools to local boards by July 2018, critics say it won't make any difference because the law still maintains charter schools' operational autonomy.
"If a senator from outside of your area wants to make sure the legislation is so strong that your elected school board couldn't touch those schools, what does it really mean that the schools are coming back?" Harper Royal said.
Natalie Griffin contributed to this report.
---
This report is part of the project titled "School Takeovers Leave Parents Without a Voice in Education," produced by the Carnegie-Knight News21 initiative, a national investigative reporting project by top college journalism students across the country and headquartered at the Walter Cronkite School of Journalism and Mass Communication at Arizona State University.