On July 6, 2016, Jackie Carter was at home in Pennsylvania celebrating her son's 30th birthday when she heard the news that a Minnesota man, 32-year-old Philando Castile, had been shot and killed by a police officer.
Castile was driving with his girlfriend and her child when he was pulled over by officer Jeronimo Yanez. Yanez claimed to see Castile reaching for his gun and fired several shots. Yanez would later testify in court he "had no choice," and that he "thought he was going to die."
Moments after the shooting, Castile can be heard saying he "wasn't reaching" for his gun.
Carter, who doesn't know Castile, remembered thinking to herself, "Someone has got to come up with a solution."
From her perspective, Carter says the critical moment during the traffic stop was when Castile reached for his license. That gave her the idea to create a small, clear identification pouch that can be attached to the driver's side air vent of the vehicle. She thought that would keep young men from reaching around their cars while looking for license and registration documents and setting off potentially dangerous interactions with the police.
She calls the pouch "Not Reaching!"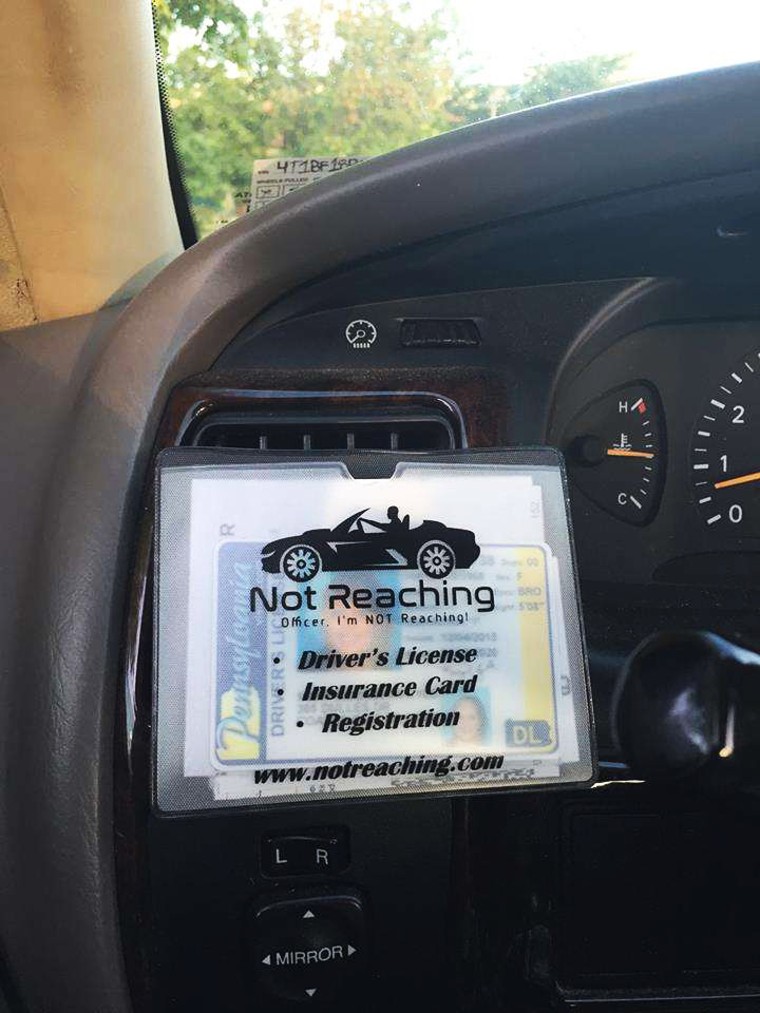 "I'm more fearful [for my son] in a car here than [when he's serving] in Afghanistan," Carter tells NBC BLK.
Since its launch three years ago, the pouch has sold more than 1,000 units, and Carter says she has given the product away to just as many drivers around her community.
"Anything that you can't see throws you into that red flag or heightened mode," says Washington, D.C., police officer Evan Douglas. "But," he tells NBC BLK, "it should never lead you to just assume that they're trying to kill you."
With four years on the force, Douglas believes incidents like Castile's death come from cultural ignorance and he believes that's something law enforcement can work on.
From an officer's perspective, the question of "is the driver reaching for a gun or weapon" has been a consistent theme of all types of police-involved shootings. In 2014, a white South Carolina officer was charged in the shooting of an unarmed black motorist who had reached back into his vehicle for his wallet.
The officer, Sean Groubert, initially said he feared for his life but later admitted in court he made a "horrible mistake" firing his weapon.
Valerie Castile, Philando's mother, supports Carter's product. But she also says it's upsetting that it's come to this — having to create a device in the hopes of preventing a fatality.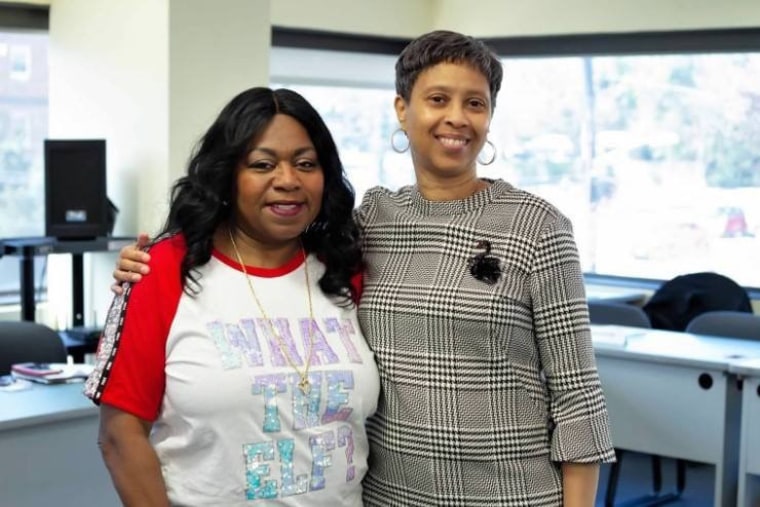 "The murder of my son started with a police stop," Valerie Castile says.
Having the pouch, she says, could have helped her son survive.
"Who would think reaching for your wallet would be your demise?" she asked.
Carter started distributing the pouch by reaching out to Sgt. Rodger Ollis, an officer in her hometown of Coatesville, Pennsylvania, about an hour outside of Philadelphia. Ollis describes the pouch as "simplistic, yet brilliant" and believes it will cause "less stress for everyone involved."
Others aren't as optimistic.
"It's possible it will stop a small amount of stops from escalating," says community activist and Brooklyn College sociology professor Alex Vitale.
Police killed 89 people during routine traffic stops in 2017, according to Mapping Police Violence, an activist research group that collected the data from news and police reports.
Amy Shoemaker, a data scientist with the Stanford Open Policing Project based in California says there's no question that black drivers are racially profiled.
She explains a color-blind study showing that African-American drivers are just as likely to be pulled over as any other race or ethnicity during the night. In fact, during the night, African-American drivers are stopped 5 percent less. However, during the day when the race of the driver is visible, African-American drivers were more likely to be pulled over than other motorists.
Shoemaker points out while this study does not account for whether or not these stops escalate to violence, the report demonstrates racial profiling does occur.
Former federal prosecutor and current NBC News/MSNBC legal analyst Glenn Kirschner has worked with the police all his life. He says that the majority of officers are good and hardworking people but when it comes to traffic stops — the data shows bias exists.
"Some [officers] seem to overreact or go into traffic stops with a certain mindset," Kirschner says. "Perhaps they're more aggressive than they need to be and I think that's where the situation can become volatile and sometimes fatal."