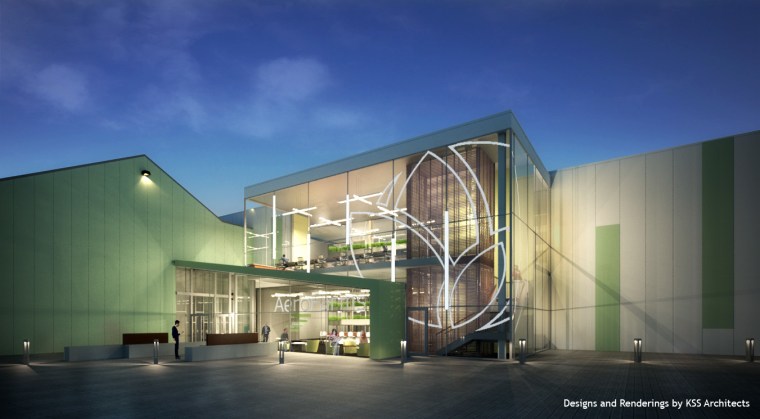 The world's largest indoor vertical farm is coming to the city of Newark.
City officials broke ground on 69,000 square foot and 30 million dollar facility that will become corporate headquarters for AeroFarms, a commercial leader in urban agriculture on Thursday. The project is expected to create nearly 80 jobs for local citizens in a community where the unemployment rate is twice the national average.
"New Jersey has a long agricultural tradition, and we are not only known for our rich farmland and high-quality product, but also as a leader in new agricultural technologies," said New Jersey Secretary of Agriculture Douglas H. Fisher.
Vertical farming involves converting buildings into high-tech grow houses that use artificial lighting, hydroponics, and climate control to increase crop productivity 70 times greater than field farmers.
Fisher expects lower transportation costs and reduced spoilage, since the farm will be supplying local restaurants and supermarkets, and the indoor farm will eliminate seed contamination and harsh weather conditions.
"Any sort of urban farming will have a positive impact on the physical health of its citizens. There will be opportunities to educate our citizens about eating smart, even on a budget," said Mayor Ras. J. Baraka of Newark, New Jersey.
"Many students who grow up in urban communities never experience rural living—they have never seen fruits or vegetables growing from their source. What an incredible science lesson it will be to bring classes to this urban farm."
The innovation presents Newark as a destination city for environmentally-friendly commerce and brings jobs to the city and engages and supports local communities and businesses. When completed, AeroFarms says the world's largest indoor vertical farm is capable of growing up to two million pounds of baby leafy greens, kale, arugula, herbs, and other salad greens annually, without the need for soil or natural sunlight.
The farm replaces a former steel mill. AeroFarms has partnered with the Ironbound Community Corporation to create a recruiting and job training program targeting local residents.