Year after year, as he meticulously swept the dining hall floors at Yale University, Corey Menafee passed beneath the stained glass window depicting African American slaves carrying bales of cotton in a snowy white cotton field.
And year after year, as black students protested the window's presence and the school refused to remove it, Menafee kept his head down and just kept on sweeping. His job as a maintenance worker in the school's Calhoun College, named after former Vice President John C. Calhoun who advocated for slavery, depended on it.
Then one day, Menafee said he just decided he couldn't take it anymore.
He swung the broomstick and shattered the glass.
"I thought, I'm tired of looking at this, I'm about to break this," Menafee said. "It's the 21st century, why do I have to go to work and look at this?"
His solitary act of civil disobedience in breaking that window initially cost him his job and made him a cause célèbre on a campus that, like many places in the country, has found itself in the midst of tense conversations on race.
Yale University has since said it is not pressing charges nor seeking restitution and his working with his union "to resolve this as compassionately as possible".
Earlier this week, the school said it will allow him to return to work on July 24.
The school is no stranger to controversy and has received backlash for Calhoun College's name. In April, the university announced the change of the title of faculty living in residential halls from "master" to "head of college" saying it"no longer felt it appropriate to be addressed in this way," according to the school.
"After the window was broken in June, the Committee recommended that it and some other windows be removed from Calhoun, conserved for future study and a possible contextual exhibition, and replaced temporarily with tinted glass," Yale said in a statement. "An artist specializing in stained glass will be commissioned to design new windows, with input from the Yale community, including students, on what should replace them."
However, the name of Calhoun College, the school has said, will remain to "confront, teach, and learn from slavery."
Related: Yale Worker Destroys Stained-Glass Window Depicting Slaves
Imani Perry, an African American Studies professor at Princeton University, said Menafee's destruction of an image that he sees as glorifying slavery is not only an act of civil disobedience, but an example of how African Americans are speaking out more broadly against institutional racism.
She and her husband attended Yale and, for them, Menafee's act has special significance. Her husband even protested at his graduation to have the stained glass window removed.
"What Corey did is meaningful and as an alum it's moving," she said. "We had to look at the stained glass images and for years students protested but the school wouldn't remove them. The images made you feel like you didn't belong."
There is a direct arc from Rosa Parks refusing to give up her seat on an Alabama bus to recent incidents of hundreds of people marching in the streets across the country to protest police brutality, African American studies experts say. However those individual protests which were connected to a broader movement.
"In the 1940's and '50's, there were tight organizations in black communities and acts of civil disobedience were connected," Perry said. "We don't have that now and acts are not connected to a larger strategy that everyone agrees on like back in the day. Communities aren't connected now like they were before."
And while the protests in such places at Baton Rouge and Dallas have been large and public and Black Lives Matter has been effective in highlighting police brutality against minorities, Menafee's act was silent, singular and unexpected.
Related: Complaint Filed Against Yale, Dartmouth, and Brown Alleging Discrimination
Growing up in New Haven Connecticut, Menafee dreamed of being a journalist. He pursued his dream by studying mass communications at Virginia Union University and combined his passion for sports and writing by becoming a sports editor for the VUU Informer, a college newspaper. After college, he returned to his hometown and interned for hometown newspaper the West Haven Voice.
Like many college graduates, Menafee was unable to find a job in his chosen field. So to try and make ends meet, he accepted a temporary position as a substitute teacher in the New Haven Public School system.
He made $50 an day as a substitute teacher, but the work was spotty. After nearly four months, Menafee took a general services position at Yale, a janitorial position which paid more.
"I was at a crossroads," said Menafee, a father of two young children. "Yale paid more money and it was more financially secure. Over time it became a career."
Menafee took pride in his work — cleaning dining halls, sweeping, mopping floors, and taking out the trash.
"Being a dishwasher isn't glamorous, but it's like an art," "Menafee said. "You learn techniques. It's more to sweeping a floor; you have to make sure the broom is clean before you start."
Related: Yale Keeps College Named for Slave Owner but Pulls 'Master' as Faculty Title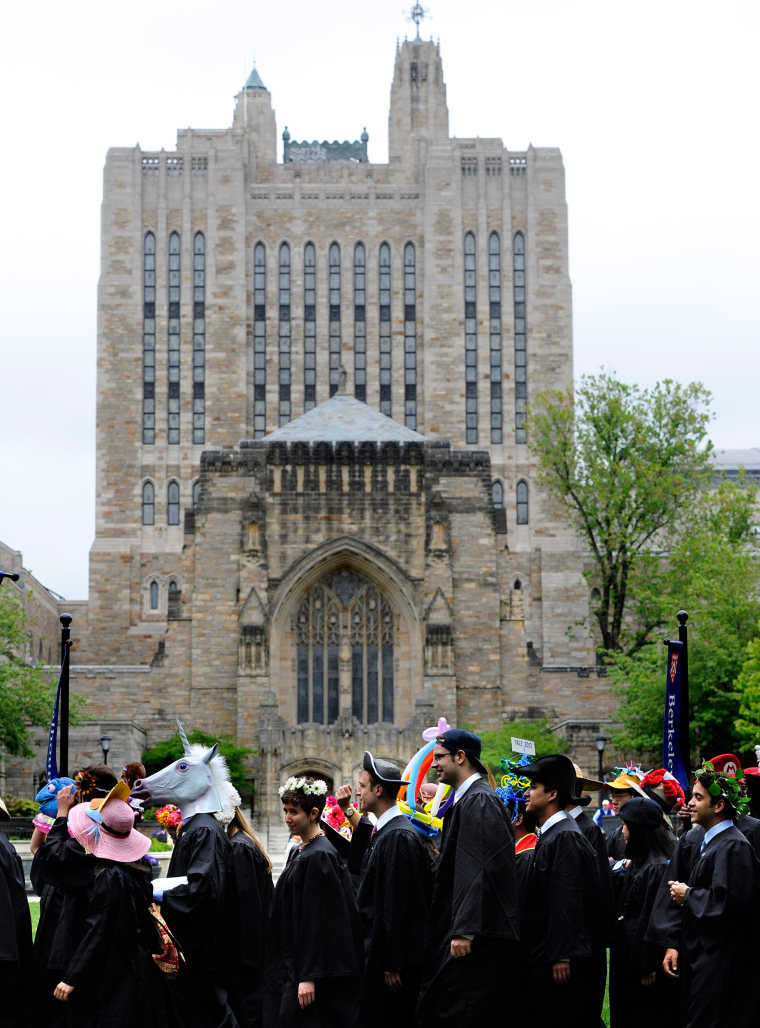 Though he is sorry he broke a rule and lost his job for a while, Menafee is glad no one else has to see a picture reminding them of one of the horrors of slavery. He encourages others to speak out on things that offend them.
"If you see something, say something," Menafee said. "Speak up for yourself if you feel degraded."
Students at Yale and others around the country have praised Menafee as a champion for civil rights. Menafee doesn't consider himself a hero and didn't do what he did for recognition.
"I'm not an activist," he said. "What I did is not on the level of Rosa Parks and other greats like Martin Luther King. I'm just regular guy who had enough and I broke it."