NEW ORLEANS —Valerie Castile held nothing back as she described feelings of outrage at the lack of impact that video evidence of police shootings has had in convicting officers who disproportionately use deadly force on black people.
"You saw what I saw, you heard what I heard, & you felt what I felt... In a lot of these cases it's cut and f----ing dry'," Castile said at the W.E.B Du Bois Plenary, a discussion which takes place during the National Association of Black Journalists' annual convention.
Valerie Castile's son, Philando Castile was shot and killed by Minnesota police officer, Jeronimo Yanez during a traffic stop in July of 2016. Although the shooting was captured on a Facebook Live stream video and although Yanez initially faced several charges, including second-degree manslaughter, a jury acquitted him on all counts in June.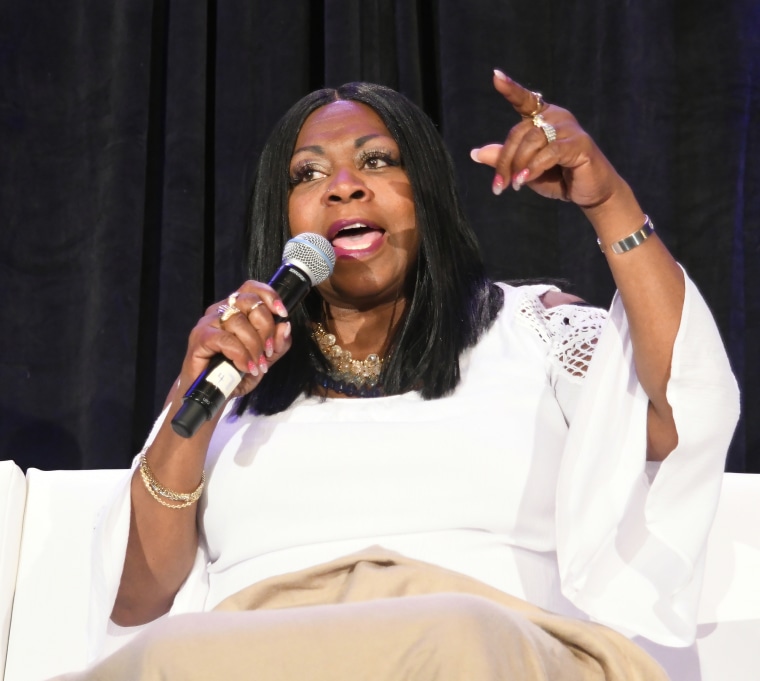 "We have a systemic problem with injustice in Minnesota and across America," she said after noting that there was no advice she could offer black youth on how to deal with police, because as she stated, her son did everything right and was still killed by law enforcement.
Valerie Castile shared her story alongside Sandra Sterling, whose nephew Alton Sterling was killed during an altercation with police officers in Baton Rouge, Louisiana last summer.
Related: Black Community Coping With 'Recycled Trauma' After Charleena Lyles
These women were two of seven featured speakers during this year's session, "Black and Blue: Raising Our Sons, Protecting Our Communities," which started off strong and yielded fruitful discussion, but quickly took a turn once Omarosa Manigault-Newman, director of communications for President Trump's Office of Public Liaison took the stage.
NBCBLK spoke with Castile about the work she is doing with local police departments in Minnesota to improve community relations, starting a foundation in her son's honor to help other families, her thoughts on the focus of the session being overshadowed by Manigault-Newman's heated exchange with veteran journalist and Bounce TV Host, Ed Gordon and her determination to positively preserve her son's legacy.
NBCBLK: The W.E.B Du Bois plenary session "Black and Blue" was separated into segments, starting with a discussion featuring you and Sandra Sterling. The last part of the plenary session featured Omarosa Manigault-Newman, Director of Communications for the White House Office of Public Liaison. Did you remain in the room when she spoke about her experiences with violence and losing family members to violence? What did you think about what she had to say overall?
Valerie Castile: I have compassion and sympathy for anyone that loses someone. I mean any type of death. We're all human and we have those emotions and there is no two ways around that. I feel her, you know, yes, you lost someone but were any of them killed by police?
Yes, your father died and you have my sincerest sentiments and sympathies but it's different when someone who is supposed to protect and serve kills one of your loved ones. That's absolutely different. And, it just amazed me that she is supposed to be a representative from The White House. The way she displayed herself…. She turned it into Jerry Springer and I thought that she was very, very unprofessional to say the least.
You have a difficult job. Everyone knows that. Everyone knows that being a police officer is difficult, but you can't be afraid.
You shared with the audience that you thought you were protecting your son Philando, by instructing him to always tell a police officer that he had a licensed firearm should he ever be pulled over. You believed that would eliminate a problem but instead it created a problem. How do you hope the work you are now doing with police departments in your community will help begin to help bring about solutions?
All that stems around training. If I'm not mistaken, they will be using that video [of what happened to my son] as a part of their training material because that should have never happened, under any circumstances.
You had a trigger-happy police officer… You have a difficult job. Everyone knows that. Everyone knows that being a police officer is difficult, but you can't be afraid. So, once they get the training program going and they take away the get out of jail free card, it will give these officers pause before they use deadly force.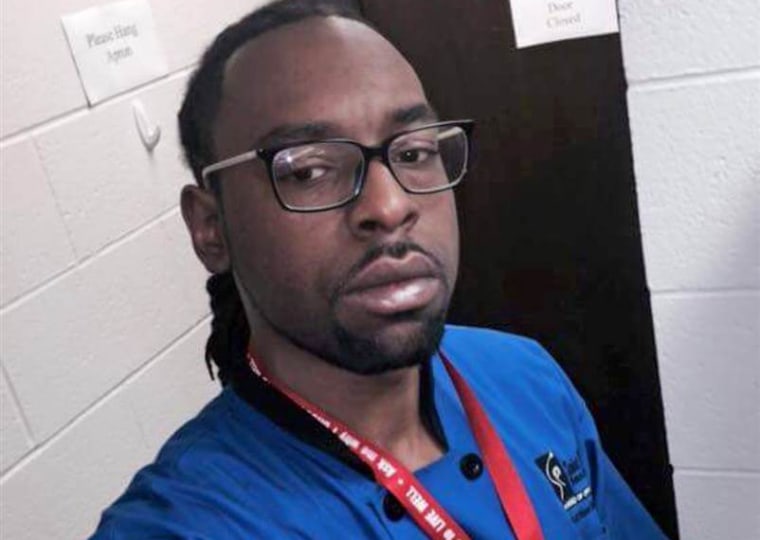 In addition to the work you are doing with police departments in Minnesota, you started a foundation in your son's honor to help families whose loved ones were victims of gun violence. What kinds of resources will the foundation provide to these families?
I established the foundation following the murder of my son. It's here to give a little relief during the grief process. It's called the Philando Castile Relief Foundation and it's a work in progress. I have met with several parents who have lost children to gun violence. I had a young girl who lost her daughter; her daughter got shot and also a couple of other ladies whose sons got shot and were killed.
Related: Girl Pleads With Mother After Castile Killing: 'I Don't Want You to Get Shooted!'
What I do is I meet up with them and talk with them and pray with them, hug them, cry with them and then I also give a small donation just in case they need help with a headstone or clothes, or food. I then work on referring them to grief counseling.
The foundation is just starting out but I want to do more and everything will be up and running officially by October. We will have official non-profit status by then.
A near $3 million dollar settlement was reached with the city of St. Anthony in Minnesota in the death of your son. How will that settlement aid in the work you want to do with the recently founded Philando Castile Relief Foundation?
I was rich beyond any monetary value having my children, having my son and my daughter. I was rich already. I didn't need that money. I would prefer if I had my son back.
You know every household struggles, but we good because we had that love. We loved each other. That money means absolutely nothing. I'm not crazy now, I am going to do something with some of it for my family, but absolutely some of that money will be put into that foundation to help victims of gun violence and provide some relief for the grieving.
Related: Opinion: Lessons From Alton Sterling: When Will the 'Walking Dead' Live Free?
Another recent high profile case in Minnesota was that of Justine Damond, an Australian woman who was shot and killed by a police officer in July. That family's attorney, Robert Bennett, who also represented your family in reaching a settlement over the shooting death of your son, referred to Damond as "the most innocent police shooting victim" he's ever seen. How did that make you feel?
You know when I saw that, I was like yeah, great choice of words. I've gotten to the point with my age and my understanding where a lot of things don't bother me. I just looked at it like, yeah right, poor choice of words. I did feel some type of way, but I can't do anything about that.
When things are out of my control, they are out of my control and I don't let it bother me. I'm not going to take on that stress.
"I was rich beyond any monetary value having my children, having my son and my daughter. I was rich already. I didn't need that money. I would prefer if I had my son back."
"Create a paper trail in the police department." That was the advice former LAPD police sergeant Cheryl Dorsey gave during the discussion on issues of policing in communities of color. She elaborated on that by saying that if an officer mistreats you; file a complaint so that there is an official record of it. In the work that you are now doing with community groups and through your foundation, what component of that will be education on taking such steps?
I speak on that a lot as far as I've always said we need to stop just taking it. If you go and get in your car and you get pulled over by police and they snatch and grab on you, and throw you against the car and then tell you oh okay and let you get back in the car, you have to complain…. Complain about these people, don't just keep on taking it and just sucking it up because you are just happy you didn't get a ticket and get arrested. You were mistreated. Complain!
It's like they do things and then say I got away with it and that felt good. Then they get a little more aggressive and a little more aggressive because if you are constantly doing things and you're getting away with it, you keep on and it escalates and it becomes a serious problem. However, there's nothing in his file, so he looks like a really great police officer, meanwhile he has done all these things but you will never know about it.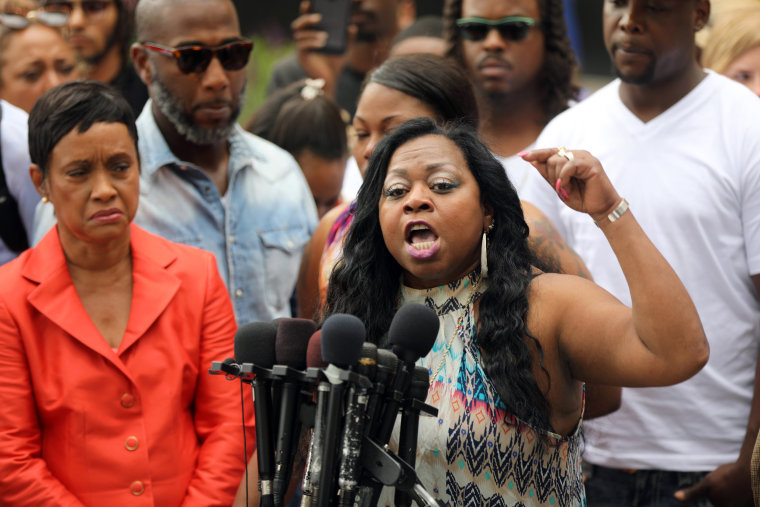 What are some things that you want people to know about your son Philando and who he was?
People need to know who my son was and what he represented. He was a wonderful human being. He would do anything for his family. He did everything for us and he is truly, truly missed.
There are a lot of things going on. We are still working on the permanent monument for him. I'm also looking forward to working with the Minneapolis Institute of Art. People showed their grief and their sympathy in so many ways, through music, poetry and art.
I have so much artwork in my house and people have artwork everywhere and I just look forward to sharing it through an art exhibition that will honor my son and his memory at the Minneapolis Institute of Art in early 2018.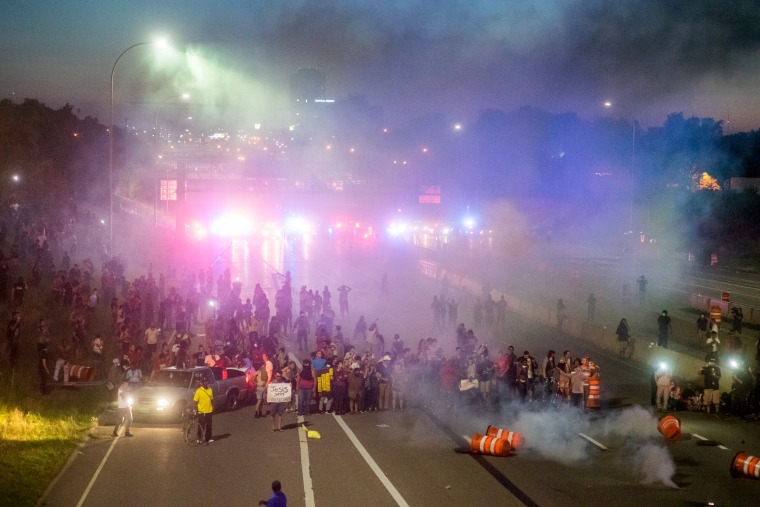 How has your local community supported you and your family in this past year?
Girl, they went out there and shut down highway 94. They went to jail. They sat out outside of the governor's mansion and after the verdict we marched down on the capitol. They are so very supportive…. You have people of all nationalities that are really, really focusing on justice.
They want change just as we do.
Like I said to that audience you could be next. You'll be in this f---ked up mother's club. That's what I call it because it's f---ked up. It is. Them people harassed my son. He was stopped like 48 times. They harassed him until they ultimately killed him, bottom line.